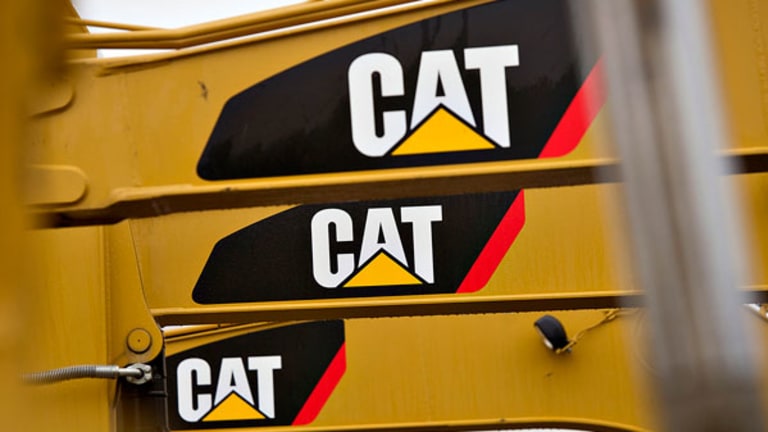 Blue Chips Get Sacked by Strengthening Dollar, Lower Oil Prices
The strong U.S. dollar and lower oil prices are hurting U.S. corporations' profit and sales. A host of blue-chip companies that reported quarterly earnings cut their outlooks for 2015.
NEW YORK (TheStreet) -- The strong U.S. dollar and lower oil prices are taking a bite out of some U.S. corporations' profit and sales. As a result, a host of blue-chip companies that reported quarterly earnings cut their outlooks for 2015.
Here's a roundup of companies that reported.
Microsoft (MSFT) - Get Microsoft Corporation (MSFT) Report  tumbled on Tuesday after it projected weak third-quarter revenue of between $20.6 billion and $21.4 billion, below the $24 billion expected, a result of a strong U.S. dollar.
The tech giant said Monday after markets closed that quarterly profit fell to 71 cents a share from 78 cents a year earlier, but still met analysts' estimates. The tech giant said restructuring efforts and last year's $7 billion acquisition of Nokia's mobile phone business undercut operating income. Revenue of $26.47 billion rose 8% from last year.
United Technologies (UTX) - Get United Technologies Corporation Report disappointed after the company cuts its 2015 profit outlook to a range of $6.85 to $7.05 a share, down from $7 to $7.20 a share, citing currency. Analysts had expected $7.19 a share for the full year.
The company reported earnings of $1.62 a share for the fourth quarter on sales of $17 billion.
DuPont (DD) - Get DuPont de Nemours, Inc. Report reported quarterly profit from continued operations of $668 million, or 73 cents a share, compared to $183 million, or 19 cents, a year earlier. The company reported adjusted earnings per share of 71 cents vs. 59 cents last year. However, sales fell in the quarter to $7.4 billion vs. $7.7 billion in the same period last year, partially due to "negative currency impacts," DuPont said.
DuPont forecast operating earnings between $4 and $4.20 a share for 2015. The company noted that its estimate includes about 60 cents a share of "negative currency impact due to the recent strengthening of the dollar."
Procter & Gamble (PG) - Get Procter & Gamble Company Report saw quarterly revenue slide 4.4% to $20.2 billion due to a stronger dollar, while profit for its fiscal second quarter of $1.06 a share fell from $1.15 a share in the prior year's quarter and missed estimates by 7 cents. The consumer products giant said the outlook for the remainder of its fiscal year will remain "challenging."
P&G forecast that foreign exchange will reduce "fiscal 2015 sales by 5% and net earnings by 12%, or at least $1.4 billion after tax."
Pfizer (PFE) - Get Pfizer Inc. Report reported earnings of $1.23 billion, or 19 cents a share, for the fourth quarter. Revenue fell 3% to $13.11 billion from last year's quarter.
For 2015, the drug company forecast revenue between $44.5 and $46.5 billion and adjusted EPS between $2 and $2.10 reflecting product losses of exclusivity for key drug treatments and "recent adverse changes in essentially all foreign exchange rates relative to the U.S. dollar compared to foreign exchange rates from last year."
Caterpillar (CAT) - Get Caterpillar Inc. Report plunged more than 7% after reporting profit fell in the fourth quarter to $1.23 a share compared to $1.54 in the fourth quarter of 2013. Excluding restructuring costs, Caterpillar reported earnings of $1.35 a share vs. $1.68 last year. Revenue of $14.24 billion was down from last year's $14.4 billion.
Caterpillar forecast sales to decline to $50 billion in 2015, compared to $55.18 billion for 2014, as a result of the "dramatic decline in the price of oil."
"The relatively slow growth in the world economy and continued weakness in commodity prices-particularly oil, copper, coal and iron ore-are expected to be negative for our sales," Caterpillar said in its release.
3M (MMM) - Get 3M Company Report , the diversified technology company and maker of Post-It notes, reported earnings of $1.18 billion, or $1.81 a share, compared to $1.1 billion, or $1.62, in last year's quarter. Sales rose 2% to $7.71 billion. Forecasts were calling for 3M to report earnings of $1.80 a share on revenue of $7.77 billion. The company reaffirmed its 2015 earnings guidance of $8 to $8.30 a share.
Other big companies set to report after the closing bell include Apple (AAPL) - Get Apple Inc. (AAPL) Report , AT&T (T) - Get AT&T Inc. Report and Yahoo! (YHOO) .
- Written by Laurie Kulikowski in New York.