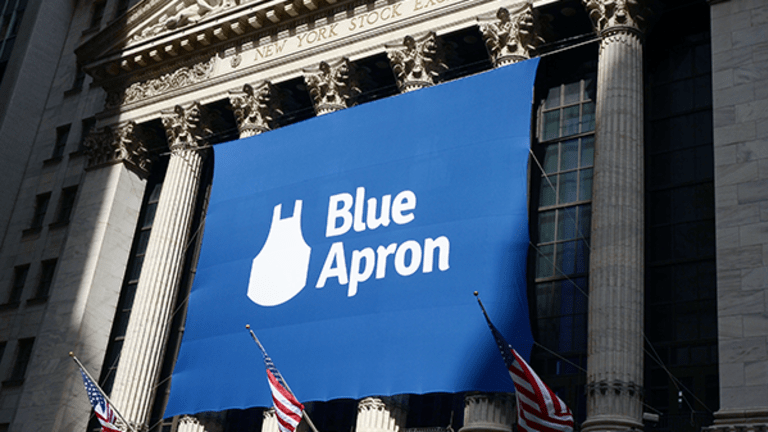 Publish date:
Blue Apron Hiring Freeze Comes After Meal Kit Company Takes These Big Blows
Behind-the-scenes the meal kit service company's IPO has become the latest focal point.
Behind-the-scenes the meal kit service company's IPO has become the latest focal point.
Blue Apron Holdings Inc. (APRN) - Get Report has set up a hiring freeze for certain positions and laid off 14 members of its recruiting team, in a move that comes as actions the meal kit delivery company set up to avoid activist investors down the road continues to backfire.
Blue Apron, based in New York, has made changes to its organizational structure and is still hiring for some positions in at its corporate headquarters and for hourly fulfillment center worker positions. CEO Matthew Salzberg said Blue Apron has "temporarily paused hiring" for certain positions while keeping others open for its 2018 "resource allocation process," according to the report. "We implemented a small reduction in staff on our recruiting team," Salzberg said in a statement. 
Nevertheless, the news of the layoffs come as Blue Apron trades at $5.25 a share, about 50% below its $10 a share late-June IPO price following a dispiriting Q2 report.
A key problem for Blue Apron and its share price involves a structure it set up for its public offering that was installed to protect he meal kit delivery company from a potential onslaught of activist hedge fund managers. It issued three classes of shares in its IPO, including one that gives its CEO and insiders stakes with ten votes per share and another that is made up of only-non-voting shares that could give the company's C-Suite even more control later.
Looks Like Apple Just Killed the iCar
Apple iPhone 8's 'Crown Jewel' Has Everything to Do With Your Face
The goal was to allow the company to grow independently without worrying about being pressured by an insurgent investor into a sale. For example, an activist investor will have a difficult time winning a director-election proxy contest to install dissident directors and drive a sale of the business when insiders control a large stake. 
However, that move is clearly backfiring. In July, the FTSE Russell moved to exclude companies with non-voting rights and those with extremely limited public voting rights from equity indices, including the Russell 3000, after institutional investors expressed outrage over a move by the company behind Snapchat to IPO with shares holding no voting rights.
The FTSE move was also a blow for Blue Apron, which also will be excluded, for now from the FTSE Russell indices, because they offer very limited voting rights to outsiders. Exclusion is a big deal because many big index funds, exchange-traded funds, index funds and public pension funds invest passively following major indices, such as the Russell 3000. As a result, major institutional investors including big pension funds won't invest in companies that aren't part of the indices.
But the FTSE move wasn't the only problem. Earlier this month Blue Apron was dealt yet another blow after the company behind the S&P 500 Index moved to exclude businesses that issue multiple classes of shares giving insiders control of votes from participating in the firm's indices. As a result Blue Apron and its multiple class shares won't be eligible to participate. Finally, MSCI Inc. plans to complete an ongoing review by September of whether it will continue to include companies in its indices with non-voting shares. If MSCI adopts a proposal it has issued, as many expect, it also will likely result in Blue Apron's exclusion. And exclusion will mean that even more big investors won't buy shares in Blue Apron.
MSCI notes that about $11 trillion is benchmarked against its indices as of Dec. 31. S&P notes that there is about $7.5 trillion benchmarked against its indices as of Dec. 31.
Don't miss these top stories on TheStreet:
We Are Astonished By How Far Uber Has Deviated From Its Original Master Plan
Bitcoin's Crash Could Be Epic -- Here's the Price One Firm Sees
We Might Have Unlocked the Secret Behind Amazon's Big Deal for Whole Foods