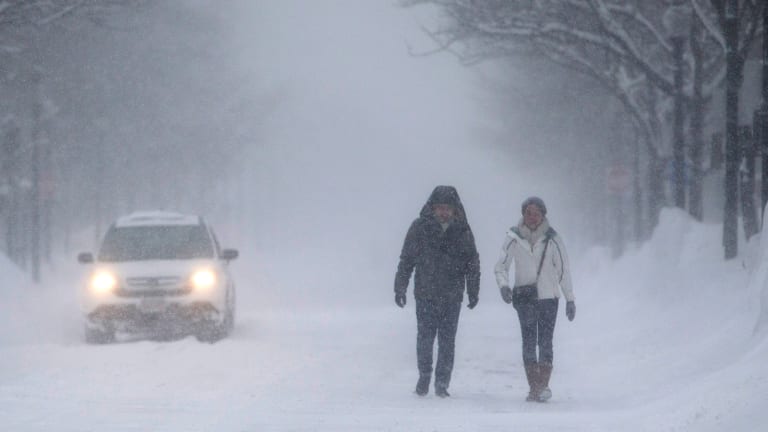 Blizzard Pounds New York, Boston as 'Bomb Cyclone' Cripples East Coast Airports
A 'Bomb Cyclone' snowstorm could dump as much as 18 inches on New York and Boston Thursday, the National Weather Service has warned, as the Atlantic coast faces yet another extreme weather battering.
A major winter storm, which dumped snow in North Florida for the first time in more than three decades, is bearing down on major cities along the U.S. east coast Thursday, crippling roads, airports and power grids amid dangerous blizzard conditions and arctic-like temperatures affecting as many as 35 million Americans.
The National Weather Service said the storm, technically known as having a 'bombogenesis' impact, owing to rapid and extreme drops in pressure amid extremely cold temperatures, would dump as much as a foot and a half of snow on both New York and Boston after covering large portions of the east coast and triggered "state of emergency" declarations in Florida, Georgia, North Carolina and Virginia. 
"The storm will produce heavy snow along the Mid-Atlantic Coast into Southern New England by Thursday morning that will move northward into the Northeast by Thursday afternoon, while ending over the Mid-Atlantic Coast by Thursday evening," the NWS said in a statement on its website. "The heavy snow will continue over the Northeast overnight Thursday beginning to wane on Friday morning. The snow will taper off to light snow over parts of Northern New England by Friday evening."
New York Mayor Bill de Blasio cautioned late Wednesday that the storm could bring "some very dangerous conditions" while Boston Mayor Marty Walsh urged citizens to "be patient" ahead of a 7am Blizzard warning for the northeastern metropolis. 
"With the amount of snow we're getting here, we could be plowing your street and a half hour later it could look like we haven't been there," he told a news conference late Wednesday.
In Boston, the snow storm forced Goldman Sachs & Co. (GS) - Get Report to cancel its Healthcare CEOs 'Unscripted: A View from the Top' conference, which was slated for Thursday. Among the executives that had been scheduled to speak were Mylan NV's (MYL) - Get Report Heather Bresch, Humana Inc.'s (HUM) - Get Report Bruce D. Broussard, AbbVie Inc.'s (ABBV) - Get Report Richard A. Gonzalez, Boston Scientific Corp.'s (BSX) - Get Report Mike Mahoney and Eli Lilly and Co.'s (LLY) - Get Report David A. Ricks.
Goldman made the decision on Wednesday to cancel the event, according to a company spokesperson.
Snow fell on Tallahassee for the first time 30 years overnight, closing schools and the campus of Florida State University as the storm gathered pace and moved along the Atlantic seaboard, taking out power lines in Georgia, North Carolina and Florida.
More than 4,000 flights were also cancelled, according to airline tracker FlightAware, bringing the two-day total to 8,778, with major delays reported at Newark Liberty International, Boston Logan and LaGuardia and JFK airports in New York.
U.S. commodity prices have also been influenced by the storm's impact, with natural gas prices holding about the $3 per million British Thermal Unit (BTU) level for a fourth consecutive session following one of the coldest New Year's Days on record and an all-time peak of 140 billion cubic feet of heating demand.
Global oil prices have also risen in anticipation of increased fuel use, with West Texas Intermediate crude contracts for March delivery trading past a 2.5 year year early Thursday before paring gains to change hands at $61.55 per barrel.
More of What's Trending on TheStreet: