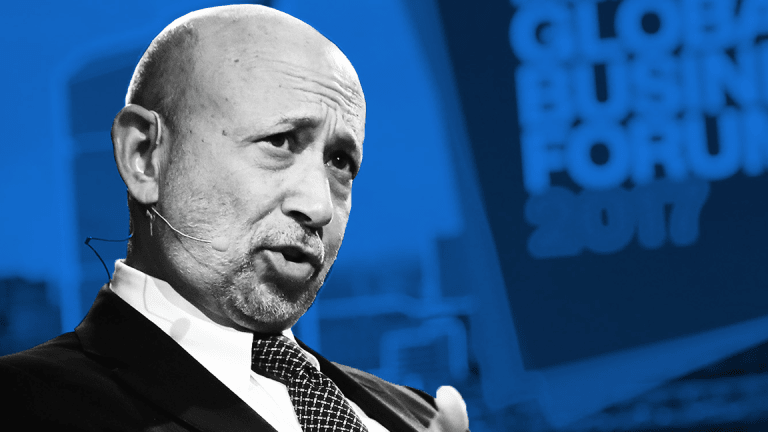 Goldman CEO Blankfein Won't Criticize Trump on Stoking China Trade War Fear
Prospects that the U.S. and China will commence a full-blown trade war are unlikely, Goldman chief says.
Prospects that the U.S. and China will commence a full-blown trade war are unlikely, Goldman Sachs Group Inc. (GS) - Get Free Report Chairman and Chief Executive Lloyd Blankfein said at a luncheon interview on Tuesday.
"I don't know that we're in a suicide pact on this," Blankfein said before the Economic Club of New York. "I suspect that we are not going to cause the economies to collapse."
President Trump has threatened to levy a 10% tariff on $200 billion of Chinese goods. Blankfein referred to the fact that the U.S. buys much more stuff from China than China does from the U.S., and said he couldn't necessarily say that the President's strategy won't work.
"It doesn't make no sense to me," Blankfein told John Micklethwaite, editor of Bloomberg News, who conducted the interview. "If we go tit-for-tat," China eventually runs out of U.S. imports "to apply a tariff to and we don't. So if you want to make that point, you make that point. That's what you would do if you were crazy and really want to end free trade."
U.S. and Chinese markets fell broadly Tuesday on trade war fears. Goldman shares fell 1.3% to $228.32.
On other matters, Blankfein, 63, said he has no intention of running for public office once he steps down from Goldman. He touted the firm's decision to go into commercial banking and said macro-economic risk management is one of the bank's chief strengths.
"Algorithms are in our wheelhouse," Blankfein said.
And he expressed regret that Goldman hasn't named more women to higher roles in the bank. TheStreet looked at Goldman's board here, calling it an old boy's club.
"We have a good record of hiring women at the firm but a poor record of bringing women to top leadership," he said.