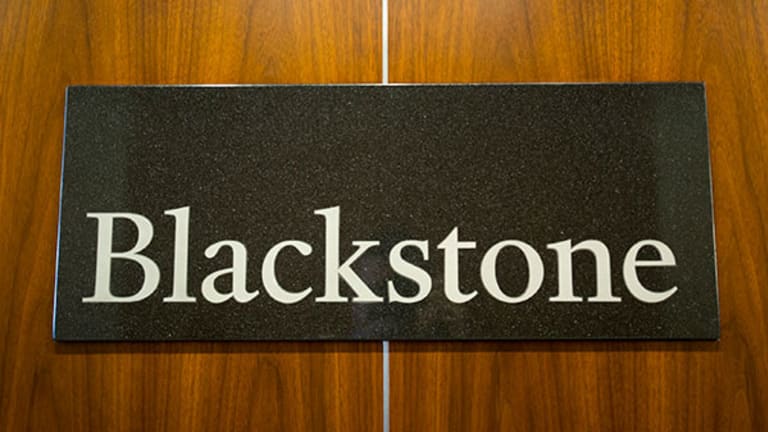 Blackstone, KKR Stock Picks Show Distinctly Bullish Tone
Both firms snapped up a wide variety of stocks in the second quarter, according to their filings to the SEC.
Don't believe everything you hear when private-equity firms say the stock market is overvalued. On Monday, two of the largest firms in the PE world, Blackstone (BX) - Get Free Report  and Kohlberg Kravis Roberts (KKR) - Get Free Report , revealed in filings with the Securities and Exchange Commission they've snapped up stocks across a range of companies throughout the second quarter.
And while the trading behind the scenes can be murky in the PE world, with individual trades not accounted for, the overall tempo is clear: There are still many bulls in private equity.
For those looking for signs of where PE firms have been putting their money on Monday, industry giants Blackstone and KKR did not disappoint, just hitting the deadline for second-quarter 13F filings with the Securities and Exchange Commission. Their filings offer a peek into companies' updated holdings through the end of June.
For the most part, it appears Blackstone chose to diversify its portfolio in the second quarter, while KKR made some heavy investments in food and health care names. Fellow PE giant Carlyle (CG) - Get Free Report , which posted its 13-F last week, added no new positions to its portfolio, instead scaling back in general across a number of positions.
After scrapping positions in companies including renewable-energy firm TerraForm Power (TERP) - Get Free Report  in the second quarter, Blackstone said in its SEC filing it has added a host of new positions to its portfolio, including Canadian online-gambling site Amaya (AYA) , nitrogen-fertilizer producer CVR Partners (UAN) - Get Free Report  and private-label credit card issuer Synchrony Financial (SYF) - Get Free Report .
Based on Monday's closing prices, Blackstone's stakes in Amaya and CVR could be worth as much as $46 million and $118 million, respectively, while the addition of Synchrony is valued at roughly $24 million. Gauging the true value of these holdings is difficult because the filings do not reveal when the purchases were made or at what price.
Blackstone also made a 230,100-share purchase of Walgreens Boots (WBA) - Get Free Report  and bought 263,417 shares of Apple (AAPL) - Get Free Report  -- positions that could be valued at about $19 million and $29 million, respectively, at Monday's closing price. (Both Apple and Walgreens are held in Jim Cramer's Action Alerts PLUS charitable trust portfolio.)
Blackstone, however, did pare its position in NXP Semiconductors (NXPI) - Get Free Report , another AAP holding, by about 21 million shares in the second quarter, leaving roughly 11 million shares remaining in its portfolio, which could be valued at about $974 million. (Carlyle also scaled back its position in NXP Semiconductors by nearly 5 million shares, leaving about 6.4 million remaining in its portfolio.)
On Monday, AAP co-manager Jack Mohr supported the fund's holding of NXP Semiconductors, noting concerns surrounding the recent hacking of security features on Jeep vehicles will not affect NXP's firm position in the auto industry as a provider of software and security systems.
"NXP does have a major hold in the auto market, 15.5% vs. 10% for the next biggest. However, it competes on the highest end and offers a full-suite package from microprocessor to vehicle-networking to connectivity to, most importantly, security," Mohr wrote in a Monday Alert to subscribers, noting the recent hacking of Jeep vehicles has more to do with Jeep's individual UConnect wireless system.
Meanwhile, KKR's largest new portfolio members were added via three purchasesL 4.8 million shares of Amedisys (AMED) - Get Free Report  , 3.5 million shares of Community Health Systems  (CYH) - Get Free Reportand 83 million shares of U.S. Food (USFD) - Get Free Report .
The stakes in Amedisys, a Baton-Rouge based hospice service, and Tennessee-based health care provider Community Health Systems could be valued at roughly $236 million and $39 million, respectively, as of Monday's close, while KKR's stake in U.S. Food may be worth more than $2 billion.
The bull positions unveiled by KKR and Blackstone on Monday indicate that the PE world is still finding value, despite repeatedly voicing concerns over overinflated corporate valuations in the stock market, Real Money's Tim Melvin said in a Wednesday phone interview.
"Everyone in the PE space has been doing more selling than buying, so what they're buying is what's worth paying attention to," he said, noting that Blackstone CEO Stephen A. Schwarzman and KKR's head of global capital and asset management Scott Nuttall warned of high market valuations on their respective firms' second-quarter earnings calls.
Editor's Note: This article was originally published at 6:30 a.m. and updated at 9:25 a.m. EDT on Real Money on Aug. 16.