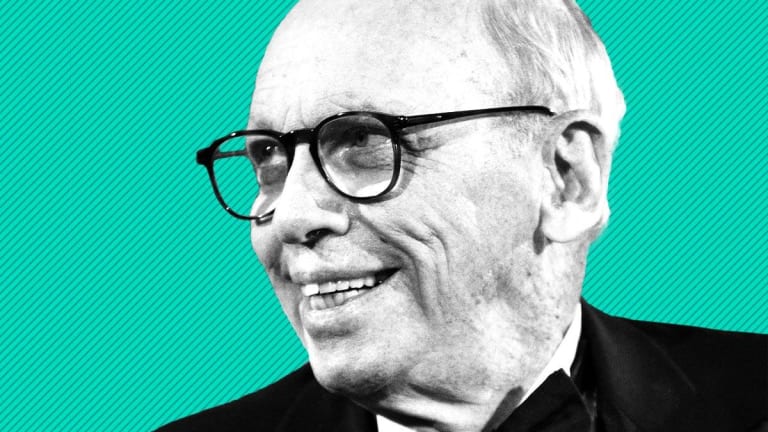 Blackstone's Byron Wien: Why The Bull Market Is Not Over
In the eyes of most market observers, Aug. 22 marks the longest bull market on record. Blackstone vice chairman and investing veteran Byron Wien weighs in on the markets.
The Dow is rocking. The Dow Transports are ripping higher. Let the bull market rage on. 
Aug. 22 marks the longest bull market on record (according to most observers) since World War II at 3,500 days. Since the S&P 500 undefined touched a bear market low of about 676 on March 9, 2009, it has skyrocketed 323% on the back of strengthening profit growth by Corporate America.  
Suffice it to say, the stock market is nearing its bull market record on Wednesday with a good deal of momentum. But Blackstone vice chairman and veteran investing mind Byron Wien, 86, tells TheStreet the bull is far from ending its hard charge. 
"The bull market is not over, we are only in the fifth inning," Wien says. Wien sees the S&P 500 reaching 3,000 by year end, up from 2,865 currently. Powering the market's next leg higher, Wien says, is likely to be strong corporate profits under the business friendly Trump administration. More stocks beyond FANG (Facebook (FB) - Get Facebook, Inc. Class A Report , Apple (AAPL) - Get Apple Inc. (AAPL) Report , Netflix (NFLX) - Get Netflix, Inc. (NFLX) Report , and Alphabet (GOOGL) - Get Alphabet Inc. Class A Report ) should help drive up the market to new records, Wien says, pointing to healthcare and industrials being undervalued sectors.
Others on Wall Street share Wien's longer term sector calls.
Producers and consumers have been retrained to buy goods domestically, as President Trump has enacted tariffs and initiated what some fear could become a full-blown trade war with foreign trade partners. So pricing power may emerge as a tailwind for domestic raw material and industrial companies.
"Looking at the factors at play today, between ongoing tariff tensions and a greater "America-first" focus, producers and consumers are looking domestically for goods and services," said Mike Loewengart, VP of Investment Strategy at E*TRADE. "So with U.S. raw materials, like lumber and tools, growing in demand, it will help drive this sector up."
Wien doesn't see a recession until 2021. While Wien acknowledges the Fed could be a risk to markets, he thinks they will err on the side of being more accommodating on rates.
Rock on, bull market.
What Jim Cramer is saying about FANG stocks.