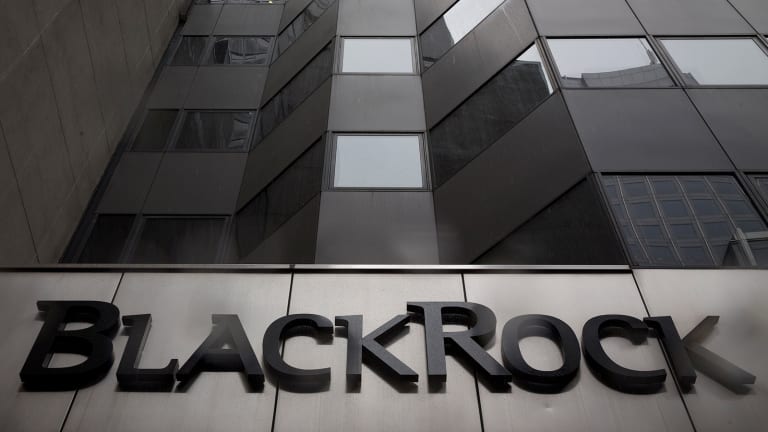 BlackRock Has Support in Bid to Bury Gold Mine Sale, Real Money Reports
Where miner G-Resources sees pain in the gold business, BlackRock sees opportunity.
Editor's note: This article was originally published March 5 on Real Money, the second of a three-part series. Click here for Part 1 and here for Part 3.
BlackRock (BLK) isn't alone in its opposition to mining company G-Resources Group's plan to sell an Indonesian gold mine. Two proxy advisory services have weighed in and urged shareholders to vote against the proposed sale.
"While we readily acknowledge many firms exposed to sagging commodities prices have recently been compelled to explore strategic alternatives to maximize value and improve growth, we consider GRG's overall case fails to persuade," Colin Ruegsegger of proxy advisory firm Glass Lewis wrote in a report last month.
Shareholders are scheduled to vote on the proposed sale at a special meeting held at the Hong Kong Exhibition and Convention Centre on Monday, March 8 at 10:00 a.m. local time.
Due to time differences, neither G-Resources nor BlackRock immediately responded to requests for comment.
In November, Hong Kong-based G-Resources announced plans to sell the Indonesian Martabe mine for $775 million to a mix of private equity firms. G-Resources said that while the mining business has been profitable for the company, volatility in spot prices has had a negative effect on profitability recently. The company believes it is an "opportune" time to exit the mining business and diversify -- namely into financial services and real estate, two areas G-Resources believes are poised to do well in Hong Kong.
BlackRock, which has an 8% stake in G-Resources, takes the opposite view.
In statement released last month, BlackRock said that its decision to invest in G-Resources in 2009 was driven by the company's exposure to the gold sector and the Martabe mine's low production costs, long mine life and significant exploration potential.
Additionally, where G-Resources sees negatives in the commodity space, BlackRock sees increased demand for gold. On Friday BlackRock announced that it had to suspend issuance of new shares in its iShares Gold Trust ETF (IAU) as it hadn't filed paperwork with the Securities and Exchange Commission in time to address increased demand for gold, which has been by global macroeconomic conditions. (Economic uncertainty usually makes hard commodities, such as gold, more attractive to investors.)
"IAU has $8 billion in assets under management, and has expanded $1.4 billion year to date," BlackRock said in a release. "February marked its largest creation activity in the last decade."
While proxy advisory services such as Glass Lewis and ISS don't weigh too much into the gyrations of the gold prices, they do see problems with G-Resources planned sale of the Martabe mine.
Analysts at ISS acknowledge that G-Resources' stock has outperformed the Hang Seng index by 30.8% since announcing the sale, but they doesn't believe that G-Resources has made a "compelling case" for the disposal of its "core asset."
"The proposed dismissal of the mining business may be an abrupt departure from the longer term outlook provided by the board to the shareholders," ISS wrote in a report released last month. ISS also noted that only two years ago, the G-Resources raised capital from shareholders to boost its working capital, when mining was its principal business.
Additionally, ISS notes a potential conflict of interest in the sale as Owen Hagerty, one of G-Resources directors, is also the chairman of EMR Capital, one of the firms expected to acquire the mine. In a statement announcing the sale, G-Resources said Hagerty was excluded from the negotiations tied to the transaction and that he is blocked from participating in Monday's vote. However, ISS notes that he is still "indirectly interested" in the transaction going through.
While BlackRock and Glass Lewis have also acknowledged the potential conflict of interest, their much more pressing concern is G-Resources divesting itself of its core asset and going into a line of business in which it has limited experience.
"The board is proposing to completely eliminate exposure to the asset solely responsible for the entirety of GRG's revenue for its most recently reported fiscal year in order to pursue lines of business to when the company obtained the bulk of its current exposure no earlier than mid- 2015," Ruegsegger wrote.
Indeed, in the plans announcing the sale, G-Resources said it started a money-lending business in June 2015. In August 2015, it entered the securities-dealing business and said that it had the necessary licenses, as mandated under Hong Kong's Securities and Futures Ordinance, for securities dealing and asset management. However, G-Resources is planning to obtain licenses for dealing in futures contracts, advising on securities and futures contracts, and advising on corporate finance.
"To date, the Board has patently failed to develop appropriate resources to build meaningful resources in these areas," BlackRock said, adding that its disclosures and explanations have been "well below" the standards it expects from a listed company.
While Ruegsegger acknowledged that G-Resources might be feeling pressure from commodity volatility, he doesn't see it as affecting the firm's ability to continue as a going concern.
"We see little cause for unaffiliated investors to fully abandon GRG's core operating asset in favor of an uncertain and largely undefined focus on financial services operations management has yet to establish it is suitably experienced to profitably manage on a medium to long-term basis," Ruegsegger wrote.