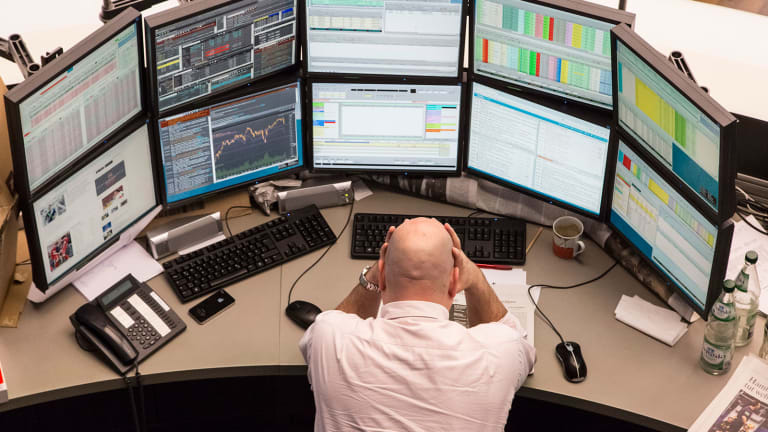 Black Monday -- What Wall Street Is Saying
Analysts at Bank of America, Goldman Sachs and PNC examine a global market rout that's generating stomach-churning drops on the Dow Jones Industrial Average and the S&P 500.
NEW YORK (TheStreet) -- The Twitter hashtag #BlackMonday was already conjuring memories of the crash of 1987 by the time U.S. investors woke up on Monday, at least for those old enough to remember it. Not to mention the even better known Black Monday of 1929, generally associated with the beginning of the Great Depression of the 1930s.
The situation didn't improve much a few hours later when U.S. markets actually opened. China's Shanghai Composite had fallen 8.5% overnight, which caused European markets to sell off and the Dow Jones to open down 1,000 points.
Much of the chaos has been attributed to concern that the Chinese economy is slowing down, heightened by the country's decision this month to devalue its currency in order to boost exports. That followed a massive sell-off in Chinese markets last month, which prompted the government to take drastic measures: IPOs were suspended, trading was halted in over 20% of the companies listed on Chinese exchanges, and shareholders who held more than 5% in a company were barred from selling for six months. 
All of that has Wall Street analysts debating whether the market is merely in correction territory, the dominant view, or if the last few weeks of market mayhem are signaling deeper problems.
-- E. William Stone, PNC (PNC) - Get Free Report: "Global markets have continued to be under pressure this morning, but investors should resist the urge to panic in our view," Stone, the Pittsburgh-based bank's chief investment strategist wrote. PNC expects a week of market gyrations as U.S.  economic data is released and the Federal Reserve holds its annual meeting with other central bankers in Jackson Hole.
-- David J. Kostin, Goldman Sachs (GS) - Get Free Report: In light of Friday's market tumble, when the Dow Jones Industrial Average dropped more than 500 points and the S&P 500 plummeted, Goldman suggests that investors approach the sell-off as a buying opportunity. While Chinese markets fell on weak data and asset values in emerging markets collapsed, the analyst team led by Kostin believes U.S. economic fundamentals appear stable. Goldman has a year-end target for the S&P 500 of 2,100, which implies potential for gains of 7%, Kostin write.
-- Jan Loeys, JPMorgan Chase (JPM) - Get Free Report: JPMorgan analysts say Monday's correction isn't the beginning of the end of the U.S. bull market. While the analyst team led by Loeys acknowledged concerns that Fed policy on interest rates was a driver of the recent rout, his team believes the true culprit is concerns about growth in emerging markets, particularly China. Still, China worries are not yet serious enough to raise recession flags.
"The main threats to risk markets are now that growth stays well below trend, setting off deflationary forces, or worse, that market turmoil feeds on itself and the economy and brings about a recession," Loeys wrote. The odds of a recession appear low for now, but the bank sees a "much higher risk of sustained below-trend growth."
-- Savita Subramanian, Bank of America Merrill Lynch (BAC) - Get Free Report: Like Goldman Sachs, the analyst team led by Subramanian sounded a bullish note on the S&P 500 with a target of 2,200 that tops Goldman Sachs' projection. It's a good opportunity to snap up quality stocks that offer the best risk-reward payoff , the bank says.
"We steered investors toward larger, higher-quality names earlier as our short-term models still preferred defensive areas of the market. Pullbacks of 5% or more occur three times a year on average, so we are likely overdue. But in the aftermath of the sell-off, we parse the last few days and look for the best risk-reward opportunities for investors," Subramanian wrote.
"We like quality not just for the summer, but for the next year and for the next decade," she wrote.
In her view, it doesn't get much better than the S&P 500. The index "represents one of the highest quality equity indices among U.S. and global equity benchmarks, based on balance sheet health, earnings visibility, earnings volatility, size and liquidity, as well as non- quantifiable aspects like corporate governance, transparency, and a focus on innovation and operational excellence."
-- Ivan Feinseth, William Blair & Co.: "This an overall tremendous buying opportunity in the market," Feinseth, an equity analyst, said in a phone interview. "People are just dumping and there is panic. You know what Warren Buffett said? You have to be greedy when the other guy's fearful, and fearful when the other guy's greedy."