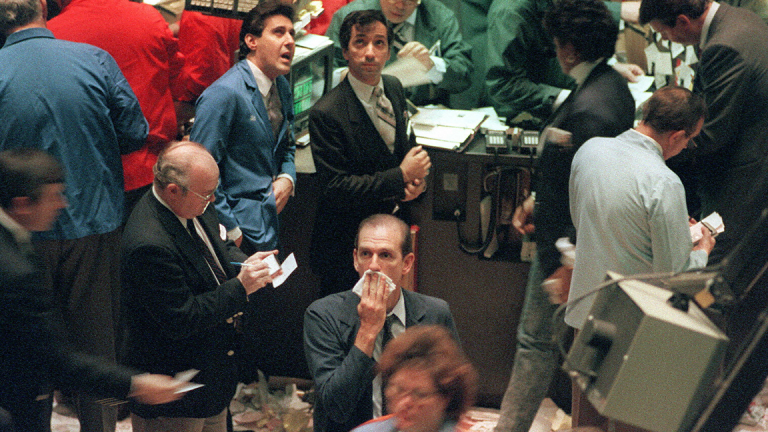 Black Monday Crash 1987: Why Wall Street Is Still at Risk
As part of 'The Crash of '87 - TheStreet's Special Report' we sat down with Diana Henriques, the author of a book on Black Monday, who says 'the 1987 crash was what I call the crystal ball crash... If you really looked into it, you could see the future.'
To the extent that Americans remember Wall Street's crash of 1987, and modern Americans' memories are notoriously short, it's an historic aberration best summed up in the mild words of then-President Ronald Reagan: a "long overdue correction" that wouldn't cause a recession.
Historic, it certainly was: The 22% slide in the Dow Jones Industrial Average on Oct. 19, which marks its 30th anniversary this week, remains the worst in the blue-chip index's history. But an aberration? Not necessarily. More like an omen.
The underlying factors that enabled and exacerbated what happened that day, from high-speed computerized trading then in its infancy to a fragmented regulatory system, complex derivatives and a cherished confidence in markets' ability to regulate themselves, remain firmly entrenched in the American financial system, TheStreet found in a special report on what came to be known as Black Monday. Some have even intensified.
"The 1987 crash was what I call the 'crystal ball crash,'" said Diana Henriques, the author of "A First-Class Catastrophe," a book on the crash published in September. "If you really looked into it, what happened and how it happened, you could see the future. You could see the future we're living in right now."
As recently as 10 years ago, such issues fueled the 2008 financial crisis and complicated the U.S. government's efforts to respond to frozen credit markets after the collapse of Lehman Brothers Holdings Inc., the fourth-largest investment bank. And "interesting parallels" with 1987 remain in place today, David Ruder, who was chairman of the Securities and Exchange Commission at the time, said in a telephone interview.
The two events that prompted the 1987 run, a wider-than-expected trade deficit and a Congressional plan to axe some of the tax benefits for corporate takeovers, weren't enough to cause panic on their own. But computerized trading strategies, such as portfolio insurance and index arbitrage, or profiting on the difference in price between stocks in an index and linked futures contracts, made the early selloff exponentially worse.
'Can't Get Through the Door'
While futures contracts on commodities had existed for decades, those linked to stocks were relatively new.
The market for them had functioned effectively at normal trading levels, but the crisis-level volumes of Oct. 19 showed their limitations and rendered unworkable the computerized insurance tactic of rapidly short-selling futures linked to declining stocks.
"The buy side on the futures market was not sufficient to support the kind of sell demand that came into the market," Ruder recalled. "It was often described by some after the crash as a theater with a fire and everybody rushing for the exits at the same time. You can't get through the door."
And the computer algorithms that dominate today's markets can process transactions infintely faster. The inherent risk is illustrated by the 2010 flash crash, when a mutual fund used such an algorithm to sell $4.1 billion of S&P 500 futures contracts within minutes. Other traders' programs responded, dragging major stock indexes down as much as 6% before they recouped their losses, all within a matter of minutes.
"Under stressed market conditions, the automated execution of a large sell order can trigger extreme price movements," the SEC and the Commodity Futures Trading Commission wrote in a September 2010 report analyzing that event. "Moreover, the interaction between automated execution programs and algorithmic trading strategies can quickly erode liquidity and result in disorderly markets."
'The Gun Is Still Loaded'
It was what had happened in 1987, but much, much quicker, just as Nicholas Brady, the former senator who chaired President Reagan's task force on the crash, had colorfully warned.
"We are looking down the barrel, and the gun is still loaded," he told the Senate Banking Committee in early 1988. 
Minor changes in existing law would remove the figurative bullets from the chamber, he continued, noting that one change would be establishing a regulator with the power to monitor all U.S. markets for building risk simultaneously.
That didn't happen, and 21 years later, fragmented agencies overseeing various portions of U.S. financial markets failed to grasp the level of danger building in the $15 trillion U.S. mortgage market in 2006 and 2007. 
Lending standards had loosened considerably as mortgages of widely varied credit quality were packaged into securities and sold, enabling primary lenders to book the profits without worrying about borrowers' ability to repay.
That pushed up demand for houses as well as prices; buyers could borrow money for a home, then refinance it or sell it after a few years when the price had gone up, boosting their personal wealth in the process. 
When the bubble collapsed, however, many of the riskiest borrowers found themselves owing more than their homes were worth and unable to make their payments or refinance. That made mortgage-backed securities impossible to value and crippled companies like Lehman Brothers that had invested in large amounts of them.
Déjà Vu
Following Lehman's failure, the government spent billions on bailouts of massive financial institutions from Citigroup Inc. (C) - Get Free Report to Bank of America Corp. (BAC) - Get Free Report and insurer American International Group Inc. (AIG) - Get Free Report .
The latter firm, ironically, had made a handsome profit selling credit-default swaps designed to insure investors against defaults on mortgage-backed securities, and it was unable to pay clients who were suddenly demanding their benefits.
It was déjà vu.
From the "too big to fail" players to the poorly understood and untested securities, the pieces of the 2008 crisis were in many ways identical to those of 1987, said Henriques, the author and an award-winning Wall Street reporter for the New York Times. 
Lessons to Be Learned From Black Monday and the Stock Market Crash of 1987
And what compelled her to write "A First-Class Catastrophe" was, in part, the realization that when she talked to people who had been in college or high school, or not even born, on Black Monday, they had "no collective memory of this date," she said. 
"I fear that every generation that arises without a clear grasp of what happened then, what we should have learned, increases the risk that we're going to commit the same mistakes again," she added. 
Indeed, just this year, a new U.S. president, Donald Trump, has come into office promising looser regulations to bolster the economy and unshackle the free-enterprise system -- much as Reagan did in the early 1980s and George W. Bush did in the early 2000s.
'How We Got Here'
Exotic securities abound, from exchange-traded funds built on high-risk bonds to securities that promise holders three times the daily gains -- or losses -- of the S&P 500.
People under 50 today "are living in the market that stepped on stage back in 87," Henriques said. "They need to know how we got here, and they need to know the risks we carried along with them. They especially need to know what we left undone, what we didn't fix about the market they're living in now."
Or what may have been made worse.
Bankers such as JPMorgan Chase & Co. (JPM) - Get Free Report CEO Jamie Dimon aren't the only ones who argue the post-crisis Dodd-Frank law that, among other things, ramped up capital-buffer requirements for lenders, needs some fine-tuning.
In its efforts to prevent future bailouts, which were viewed with public and partisan scorn after 2008, the bill goes too far in prescribing how regulators should respond to financial emergencies, Henriques said. 
"Regulators at the Federal Reserve are going to have go through all these specific steps, check all these little boxes before they can save a systemically important firm whose collapse might crack the financial system," she said.  "You didn't have that much time in 1987; you're certainly not going to have that much time today."
And the partisan gridlock that's stymied some of Trump's plans makes any tweaks to Dodd-Frank challenging, at best.
Inspired Improvisation
"What century are they living in?" Henriques asked. "They think it's going to be a little minuet and we're all going to tap-dance our way slowly over to rescue this firm while social media is going crazy? While everybody who works for this firm is on their Twitter feeds? Please."
What will be needed, she says, is inspired improvisation.
Which is more or less what helped prevent disaster in 1987.
Among other things, Federal Reserve Chairman Alan Greenspan issued a statement the day after the crash that the Federal Reserve was ready to provide liquidity to support the nation's financial system.
The New York Stock Exchange, meanwhile, convinced a number of companies to announce they would buy back their own shares, Ruder recalled, while the SEC waived a rule that would have hindered that effort.
Systemically, however, there was no sense among regulators at the time that anything could be done to arrest Wall Street's slide.
"There wasn't any way in which anybody could say, 'We're fearing a Great Depression and here's what we're going to do,'" Ruder said.  "And there isn't today."
The "Crash of '87 -- TheStreet Special Report" is a series of stories, videos, graphics and other multimedia elements that look at the stock market crash of 1987, also known as Black Monday. TheStreet examines the cause of the crash, reveals some of the hottest stories of the day, and discovers what could cause a similar crash in the future. How can we prevent another Black Monday? Read more about the Crash of '87.
Black Monday made headlines 30 years ago today. Check out our full Crash of '87 Special Report for the ultimate #TBT: