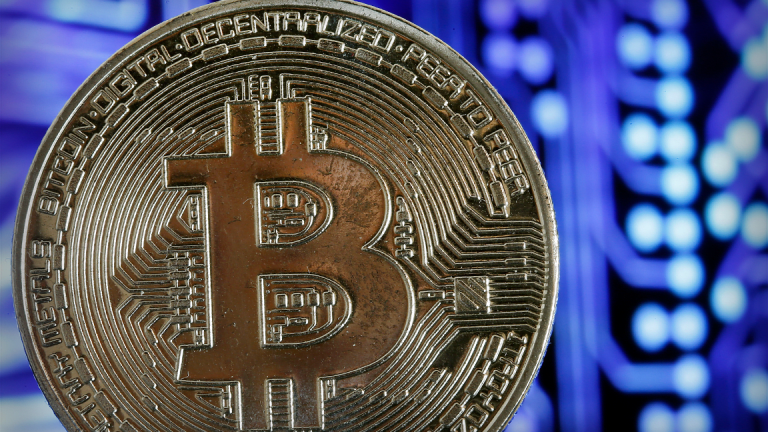 3 Key Factors Behind Bitcoin's Current Slide
A host of developments from U.S. dollar strength to ICO marketing bans are continuing to weigh on the price of Bitcoin and other cryptocurrencies.
So far, 2018 hasn't been kind to Bitcoin bulls.
Down nearly 40% year to date, Bitcoin, the cryptocurrency market's chief barometer, continued its decline relative to the U.S. dollar heading into early April. While a few bullish hints are on the horizon, further consolidation appears likely as investors look to "de-risk" in other markets that affect cryptocurrency prices. Why the recent weakness?
1. The dollar is strengthening in the face of trade wars.
Almost all economists agree that trade wars aren't good for the global economy, even if they benefit local economies in the short run. Markets face heightened uncertainty, too, as investors attempt to guess when and where retaliation is likely to occur.
A classic trade war has unfolded between the United States and other countries as the Trump administration added tariffs on steel (25%) and aluminum (10%) in March and the People's Republic of China responded with tariffs of up to 25% on pork, wine, fruit, and nuts in a menu of 128 affected U.S. exports.
While President Trump has offered up a myriad of rationales behind the tariffs, Commerce Secretary Wilbur Ross summarized the White House's position as one that takes aim at unfairness and cited national security as the principal reason for the tariffs. In response, China's Ministry of Commerce warned of a "firm and necessary" response and asked that the tariffs be withdrawn "as soon as possible so that the trading of products between China and the United States will return to a normal track."
The "firm and necessary" language spooked investors into a predictable "de-risking" trade and as that relates to currencies, investors fled to the U.S. dollar. While some investors now view cryptocurrencies as a safe haven alternative, most see it as a risky bet on an emerging technology in a volatile and relatively illiquid market.
However, bullish cryptocurrency investors remain resolute, with investor Tim Draper explaining that he thinks "Bitcoin is not volatile at all[;] all the fiat currencies are volatile by comparison as they fall away and down as they struggle to justify their existence in the face of the power and flexibility and ubiquity of Bitcoin."
2. Google, Twitter and others have all banned ICO ads.
Newer token and coin sales, many of which marketed themselves successfully on social media platforms and popular search engines faced additional headwinds as Google and Twitter banned new "initial coin offering" or "ICO" ads. ICOs, a means of fundraising for new cryptocurrencies and a play on the equity market's initial public offering terminology, has so far been a successful albeit controversial means of funding for many blockchain-technology based startups.
Startups raised nearly $6 billion from ICOs in 2017 with digital advertising as a key way to reach potential investors. In March, Alphabet's (GOOGL) - Get Alphabet Inc. Report Google -- through its network of Google Adwords partners -- said it would terminate ICO advertising in June. Meanwhile, Twitter (TWTR) - Get Twitter Inc. Report , Facebook (FB) - Get Meta Platforms Inc. Report , Snapchat (SNAP) - Get Snap Inc. Class A Report , Microsoft's (MSFT) - Get Microsoft Corporation Report LinkedIn and most recently the email marketing engine, MailChimp, have all targeted marketing initiatives that included ICOs.
In a public statement, MailChimp wrote that it "cannot allow businesses involved in any aspect of the sale, transaction, exchange, storage, marketing or production of cryptocurrencies, virtual currencies, and any digital assets related to an Initial Coin Offering, to use MailChimp to facilitate or support any of those activities."
With direct digital marketing efforts curtailed, crypto marketing dollars will have to look elsewhere, including grass roots efforts to raise funds. Adryenn Ashley, a crypto-influencer and ICO consultant, predicts that "we'll see fewer scam coins and more of an effort to earn the trust of the community rather than buy it."
3. The specter of the SEC is drawing near.
The SEC, whose mandate is to promote and enforce regulations around markets and trading, said last year that cryptocurrency markets are afforded "substantially less investor protection than in our traditional securities markets." As a result, it's reiterated the need for a stronger, cohesive regulatory framework along with the Commodities and Futures Trading Commission, and has issued subpoenas to dozens of companies that offered marketed ICOs in the past few years.
In a recent Fox Business interview, SEC Chairman Jay Clayton said that "we have seen instances where companies seem to have had trouble raising money in a traditional private placement and then have switched to an ICO in order to raise the money. The business hasn't changed substantively, but it's a form-over-substance way to raise money. That is troubling."
Facebook, Microsoft and Alphabet are holdings in Jim Cramer'sAction Alerts PLUS Charitable Trust Portfolio. Want to be alerted before Cramer buys or sells FB,MSFT or GOOGL? Learn more now.
The author holds stock in investment holding company, Leucadia, and remains a partner in an emerging technology fund. He hold no positions in cryptocurrencies or in any companies that invest in them.