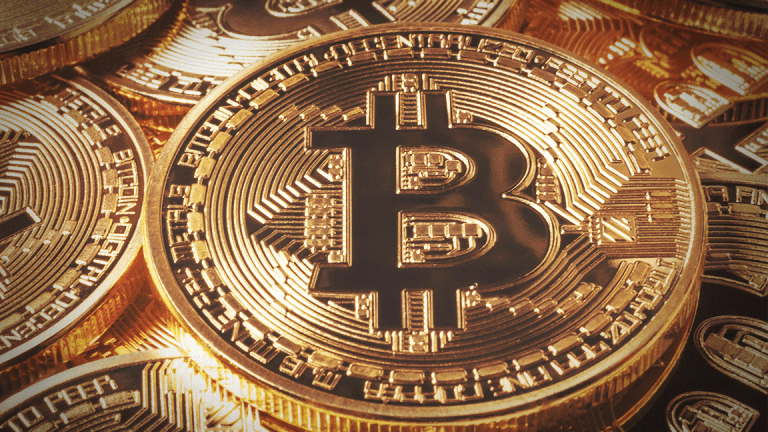 3 Key Reasons Behind Bitcoin's Recent Decline
The price of Bitcoin continued to fall in March after a weak January and February. What is contributing to its 34% year-to-date price drop?
Look out, below?
Bitcoin's spot price dropped to a low of around $7860 before rebounding above the $8,000 mark later on Monday and close to $9,000 on Tuesday. Bitcoin -- the flagship cryptocurrency and blockchain technology's first currency -- is a barometer for other cryptocurrencies and tokens, which now number in the thousands.
Much of the weakness has puzzled investors and after a meteoric rise throughout 2017, Bitcoin's price sits around 34% below its year-end closing price. Already weak on high volume trading in January and February, Bitcoin's price has deflated further in March.
We turned to experts and some of the biggest names in the space to tell us why and what we can expect next. Tax season, regulatory enforcement uncertainty and a predictable pull back following steep gains topped the list of likely reasons, with cryptocurrency enthusiasts very bullish on prices in the long term.
Ethereum co-founder Joseph Lubin, who said he is "highly invested" in cryptocurrency, explained his view: "The weakness is just an opportunity for new investors to join the crypto platform." Lubin, who's also the founder of Consensys, views Ethereum as a base technology with its own currency, Ether, perpetually in demand as applications launch from the Ethereum platform.
Here are three of the key reasons for Bitcoin's plunge cited by experts:
1. It's Tax Season
Richard D. Titus, the Ark venture capital founder who is long both Bitcoin and Ethereum, explained that Bitcoin's 2018 weakness so far must be taken into context.
"The softness is from a number of factors," said Titus. "A lot of people made a lot of money last year and people have to pay taxes on their trades," he added, noting that investors may be taking money out of the market for taxes.
TheStreet previously reported on the Internal Revenue Service's win against Coinbase, a top cryptocurrency exchange and Bitcoin wallet provider, which required Coinbase to fork over the transaction records of its users who traded over $20,000 in Bitcoin between 2013 and 2015.
With those rules in place, a broader cryptocurrency investment base today means a wide swath of investors with tax liability, especially given 2017's strong gains. Further still, with Bitcoin as one of two main "reserve" currencies -- along with Ether -- that investors use to trade between less liquid and less well known tokens and currencies, those investors with taxable gains in lesser tokens convert from Bitcoin to dollars to pay their tax bills.
2. Potential Regulation
A glimpse of the likely coming regulatory framework around cryptocurrency took shape with commentary in February from Securities and Exchange Commission chairman Jay Clayton and Commodities and Futures Trading Commission (CFTC) chairman J. Christopher Giancarlo, with both advocating for comprehensive regulations and broad enforcement powers at their respective agencies.
In an ideal scenario, they said, both agencies would regulate cryptocurrencies and the accompanying options and futures markets in a similar fashion to existing enforcement around traditional securities and commodities.
Sheffield Clark, CEO and co-founder of Coinsource, the world's largest Bitcoin ATM network, noted that markets were still under pressure from regulatory uncertainty highlighted by the March 14 congressional hearing that examined cryptocurrencies and initial coin offerings.
That hearing repeated the February 2018 regulator requests for a regulatory framework and included Congressman Brad Sherman calling ICOs a "fixed, fraudulent gambling scheme with no social benefit." Nor surprisingly, markets responded poorly.
Meanwhile, the SEC doesn't look like it will wait for Congress to act. Before the March hearings, the SEC had issued a raft of subpoenas to crypto companies, a signal of potential enforcement action on the horizon within its current regulatory framework.
3. The Weight of Mt. Gox
Over the last week, rumors turned to evidence as the transcript of a question-and-answer session from the latest Mt. Gox creditor meeting showed trustee Nobuaki Kobayashi make the claim that he did not impact the market price of Bitcoin or Bitcoin cash after a number of multi-million dollar private sales.
Mt. Gox, which at one point handled 70% of Bitcoin transactions globally, was the victim of an 850,000-Bitcoin theft in 2014. The theft led Mt. Gox to suspend trading and then file for bankruptcy, but the company later recovered a portion of the stolen coins and, lacking an alternative, proceeded with a plan to sell them.
We now know that Mt. Gox, with Kobayashi acting as its trustee, sold roughly $400 million in Bitcoin between December and March. The creditor minutes show that Kobayashi's sales were "over the counter" -- although he didn't say so directly -- but investors speculate that the buyers turned right around and sold the Bitcoin received on the open market, depressing the price at each juncture.
The Outlook
Predictably, most cryptocurrency enthusiasts remain bullish. Augmate advisor and crypto investor Gregory Rocco argued that the cryptocurrency market has been weak due to a "cacophony of regulatory uncertainty, profit-taking due to tax season and an offloading of retail investors due to a much-needed market correction."
He added that "this is only the beginning for further on-ramping as institutional investors and banks realize the full potential of this new asset class." Similarly, Bad Crypto Podcast co-host Joel Comm said that "after the meteoric rise we saw late 2017, it's no surprise that Bitcoin had to take a breather. Combine it with negative news such a Mt. Gox BTC being dumped, SEC investigations and tax season, and it makes for what see as an oversold situation."
Watch more below on how to invest in blockchain ETFs.
The author holds stock in investment holding company, Leucadia, and remains a partner in an emerging technology fund. He holds no positions in cryptocurrencies or in any companies that invest in them.