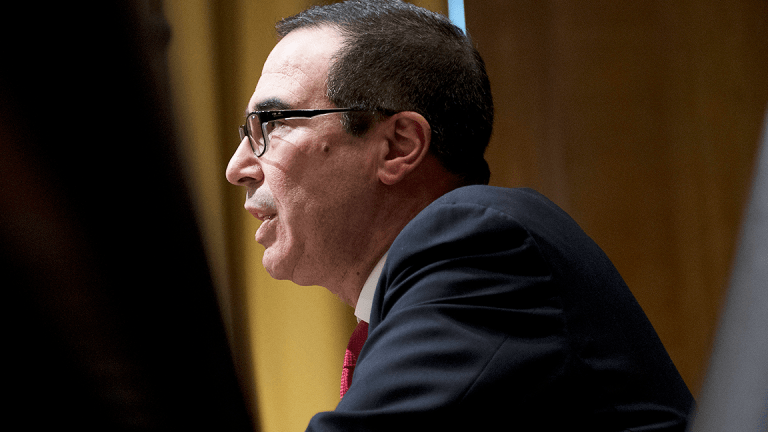 U.S. Has Set Up Council on Cryptocurrencies: Treasury Secretary Mnuchin
'We want to make sure that bad people cannot use these currencies to do bad things," Mnuchin said.
Stricter cryptocurrency regulation could be making its way to the U.S. soon.
Speaking at an event in downtown Washington, D.C. Friday, Treasury Secretary Steve Mnuchin said that the Financial Stability Oversight Council has set up a working group focused on cryptocurrency regulation. 
"We're very focused on cybercurrencies. We want to make sure that bad people cannot use these currencies to do bad things," Mnuchin said, according to the Washington Examiner.
There are currently a few agencies already regulating or monitoring certain aspects of cryptocurrency. One aspect that has received a lot of scrutiny is the digital currency's use in money laundering. 
Bitcoin is actually very traceable through the use of blockchain technology which records and stores each transaction. This has led criminals to filter their bitcoin money through other, more anonymous, digital currencies. 
While there are already certain regulatory options in place, Mnuchin's council reportedly will have the power to make sweeping changes to the process for crypto transactions. 
More of What's Trending on TheStreet:
The U.S. is seemingly joining a growing cadre of countries tightening controls on digital currencies. 
China, with the largest community of bitcoin miners, has cracked down on crypto activity, banning initial coin offerings and halting trading on domestic exchanges.
South Korea has taken a similar tact, announcing their intentions to prepare a bill to ban the trading of cryptocurrencies on exchanges.
"Cryptocurrency trading is looking similar to speculation and gambling. South Korea's [cryptocurrency] trade is considered abnormal abroad," said South Korea's Justice Minister Park San-ki. 
Bitcoin trading remains volatile, though the most popular cryptocurrency was up nearly 5% to $13,933.89 shortly after 10 am EST. Over the last 24 hours, bitcoin was trading at a low of $1,000 less than its current level.