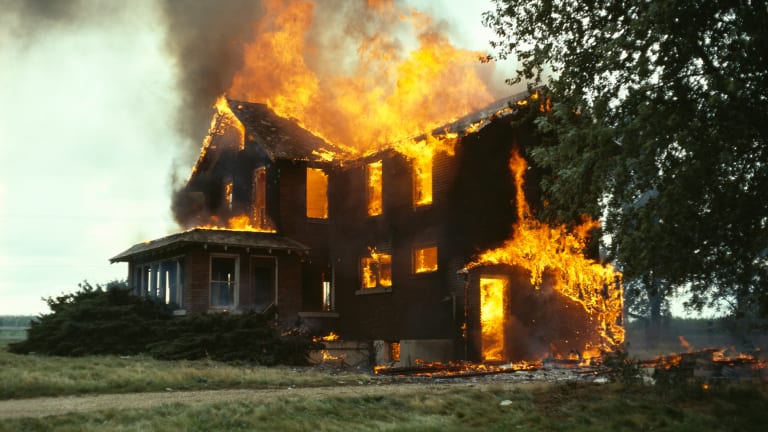 No words.
Feeling Sick Yet?
Bottom line is that right now the stock market has lost its mind. The Dow Jones Industrial Average looks more like a drunk person trying to stumble home after a late-night bender than a sober one confidently driving home from work at 5 p.m. Stocks staged another stunning reversal on Wednesday, Feb. 7, on their way to finishing the session lower. As I wrote this at 6:30 a.m. ET on Thursday, Feb. 8, Dow futures had fallen 160 points vs. down 220 points when I got into the office at 5:50 a.m. Now at 11:40 a.m. the Dow has shed 310 points. In short, buckle up because trading into the weekend could go any of two ways. First, we experience an all-out crash again on various fears (rising bond yields, etc.), including possible terrorist concerns at the Winter Olympics in PyeongChang. Or two, we see a remarkable rally that drives home the notion we have bottomed after Monday's mind-blowing rout. Who knows? But here are some fun reads on markets from TheStreet worth sharing on Twitter: (1) Kinsey Grant chatted on-camera with the real-life 'Wolf of Wall Street' Jordan Belfort about market volatility (yes, for real LOL); (2) Stop exhibiting this behavior as the market plunges, said a UBS behavioral finance analyst; (3) Warren Buffett's favorite saying actually works; (4) The charts said the S&P 500 hasn't bottomed just yet.
Around the Horn
Doesn't Tesla (TSLA) - Get Tesla Inc Report CEO Elon Musk understand how to play the Wall Street game? You under-promise then over-deliver, and in the process watch your stock price go through the roof. Musk has continued to do the opposite, making insane claims that set the stock price up for failure. The latest ones from the Tesla earnings call include Musk hinting at profitability this year and an annual production target for a new semi truck of 100,000 a year in four years. Crazy. Solid analysis of Tesla's quarter here by TheStreet's tech columnist Eric Jhonsa. Former General Electric (GE) - Get General Electric Company (GE) Report CEO Jeff Immelt is no stranger to making big claims that can't be achieved. Perhaps he will resist the urge to do so while serving as the new chairman of Athenahealth (ATHN) - Get athenahealth, Inc. Report . Here's why Immelt's arrival to the healthcare tech player may be a good thing. GE is a holding in TheStreet's founder Jim Cramer's Action Alerts Plus investor club.
Pay Your Taxes Via Bitcoin
Remember bitcoin? I have almost forgotten it exists amid the plunge off the December 2017 highs. After receiving 50 pitches a day from bitcoin experts in December, I am now only receiving five a day. Guess the other 45 folks went back to their day jobs of cleaning toilets at gas stations. Nevertheless, some fun bitcoin news did catch my attention on the trade ride in. Arizona State Rep. Jeff Weninger has co-sponsored a bill (that is on its way to becoming a law no less) allowing people to pay their taxes in bitcoin, according to NewsBTC. If only lawmakers could balance the budget as quickly as getting a bitcoin bill like this one passed, we would all be better off. My take: Long live the United States dollar. 
Subscribe on Youtube for extended interviews, Cramer Replays, feature content, and more!