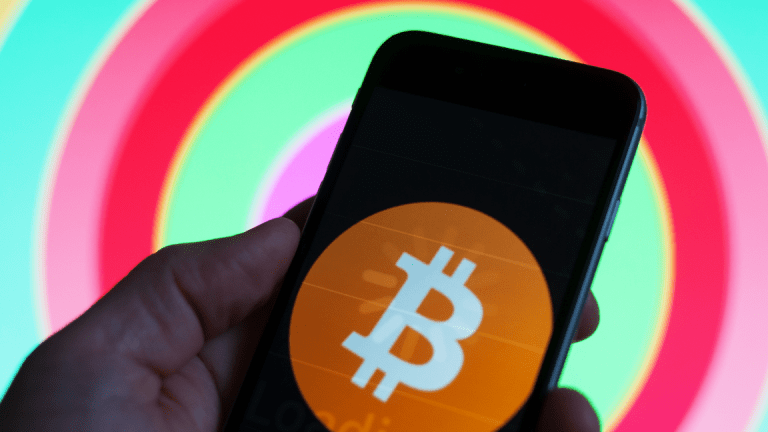 SPECIAL REPORT: Should You Pay $1 for 60 Cents Worth of Bitcoin?
An analysis by TheStreet finds that the popular Grayscale Bitcoin Investment Trust (GBTC) trades at a hefty premium to the value of its actual cryptocurrency holdings.
The Grayscale Bitcoin Investment Trust (GBTC) has become a popular means for traditional investors to gain exposure in the nascent cryptocurrency space. But an analysis by TheStreet has found that investors putting money into GBTC shares are only getting about 60 cents of bitcoin for each $1 invested, as shares trade at large premium over the underlying value of the trust's actual bitcoin holdings.
"In my 17 years as a hedge-fund manager, I have never seen a single underlying ETF trading at a 60% premium to the single underlying asset," said Gabe Hoffman of activist hedge fund Accipiter Capital, which is shorting GBTC.
GBTC closed on the OCTQX market on Friday at $14.99, but trust disclosures dated Feb. 28 say that each share only equals 0.00100567 of a single bitcoin. Given that bitcoin exchange Bitstamp quoted the cryptocurrency at $8,990.07 at 4:00 p.m. ET that day, that means buying a $14.99 share of GBTC only got you $9.04 worth of bitcoin -- or roughly 60 cents on the dollar.
In other words, customers who bought at that price paid what's called a "premium" -- the price of shares relative to a trust's net asset value -- of 65.8%. That premium even soared as high as 100% in December 2017. Grayscale LLC, which runs GBTC, also implements a 2% annual management fee on the trust, and makes clear on its Web site and prospectus that investors can't currently cash in their shares for actual bitcoins.
"Is [buying GBTC] rational? I don't think so," said Jay Hack, an expert on corporate finance and securities and a partner at law firmGallet Dreyer & Berkey LLP. "Once you have committed to buying bitcoin, why buy the fund and flush 65% of your money down the toilet?" He added that Grayscale charges an annual fee that "is not insignificant."
Is GBTC Worth It?
Grayscale declined to comment for this story, but conceded on its Web site that "there can be no assurance that the value of the shares will approximate the value of the bitcoin held by the trust, and the shares may trade at a substantial premium over or discount to the value of the trust's bitcoin."
However, the Web site also touts GBTC as a product that "enables investors to gain exposure to the price movement of bitcoin through a traditional investment vehicle, without the challenges of buying, storing and safekeeping bitcoins."
Blake Estes, co-leader of law firm Alston & Baird's blockchain and distributed-ledger-technology team, said the trust offers investors a variety of possible benefits, from ease of buying and selling to simpler tax reporting than you'd face with actual bitcoins. You also get an institutional-style custodial firm to oversee your shares.
Estes added that because the shares are so-called "titled securities," they're also more easily transferred to your beneficiaries under estate laws if you die. Shares are also eligible to be held in certain IRAs, 401(k)s and other brokerage and investment accounts.
Theoretically, GBTC shares should be selling at near the value of the trust's underlying bitcoin holdings. But Hack said that "scarcity and lack of non-direct investment alternatives" for bitcoin have driven the trust's share price and premium to its underlying assets higher at a time when cryptocurrencies are all the rage.
The expert compared investing in GBTC to owning four bottles of a popular, rare wine that you want to sell. Would you sell them back to the vineyard for the same price you paid, or would you sell them on the secondary market at a premium? "There is a speculative value to the ownership," Hack said. "It's a commodity mutual fund."
He said GBTC trades at higher than its NAV due to demand from investors who either don't want to or don't know how to create and manage so-called "digital wallets" and buy actual bitcoins on cryptocurrency exchanges. In that respect, the trust functions sort of like the SPDR Gold Shares ETF (GLD) , which allows investors to gain exposure to gold without physically buying and storing the metal.
But the big question for investors is whether holding GBTC shares beat out simply buying bitcoin directly.
Estes said the lion's share of GBTC's benefits go to investors unfamiliar with the intricacies of the nuanced cryptocurrency market. "It represents an interesting option for people who like buying securities," he said.
But GBTC could begin losing this utility as digital wallets become more and more accessible. As cryptocurrency exchanges become increasingly ubiquitous, "[GBTC] becomes a less compelling argument," Estes said.
In fact, there are already more investors trading bitcoin and other cryptocurrencies via their own digital wallets than there are retail investors using Charles Schwab  (SCHW) to trade stocks. 
According to industry expert Alistair Milne, Coinbase, which is the largest U.S.-based bitcoin exchange, hit 13 million users in November:
That would mean that Coinbase has about 20% more accounts than Schwab, the No. 2 U.S. broker-dealer, which disclosed in an SEC filing that it had 10.8 million active brokerage accounts at the end of 2017.
Add it all up and Hoffman, the hedge-fund activist who's shorting GBTC, doesn't think the trust is worth it.
"There is certainly some convenience factor for investors to gain exposure to bitcoin," he said, "but it's maybe worth at most 5% to 10%."
Editor's pick -- This item originally ran on March 10.
Want more cryptocurrency coverage? Check out all TheStreet has to offer here: