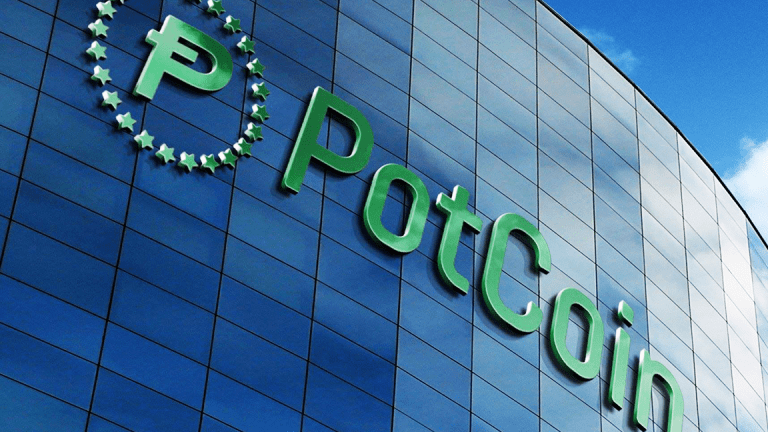 Should You Bet on PotCoin, DopeCoin or Other Marijuana Cryptocurrencies?
Marijuana money is the latest twist in the booming field of cryptocurrencies, with companies like PotCoin and DopeCoin hoping to become the banking solution for marijuana dispensaries and their customers.
The latest investing craze combines two things that are hot right now: Legal marijuana and cryptocurrencies.
But whether pot-based crypto currencies are a match made on high -- or somewhere else -- may depend on who you talk with and your appetite for risk.
PotCoin may be the best known of the budding crop of pot currencies, having enjoyed a burst of publicity when Dennis Rodman, the company's roving ambassador, turned up in North Korea last summer sporting a PotCoin t-shirt.
There are now at least five notable companies in the marijuana cryptocurrency market, startups all launched in the last few years as states across the country legalize medical and now increasingly recreational pot as well.
But already a high-risk sector, the stakes have gotten even higher over the past year with the arrival of the decidedly anti-pot Trump administration.
While marijuana was already officially legal on the federal level, Attorney General Jeff Sessions has scuttled an Obama-era policy that put marijuana dispensaries and other pot businesses far down on the list of law enforcement priorities.
"You just have to realize this administration is not pot friendly," said James Jalil, a partner at Thompson Hine LLP and executive director of the Wall Street Blockchain Alliance. "You are still dealing in a world where what you are doing on the federal level is still illegal."
Still, backers of pot-based currencies forecast a surge of growth ahead, arguing their alternative payment methods will provide the financial glue the budding legal marijuana industry sorely lacks.
Medical marijuana dispensaries and retail stores alike have struggled to build banking relationships, with many institutions unwilling to even open a business account. And the pot sector is all but locked out of the credit card arena as well.
Some pot-based businesses in California have managed to open bank accounts, but they are not rushing to advertise it, notes Sahar Ayinehsazian, director of government and regulatory affairs for national marijuana law firm Vicente Sederberg.
"They would rather tell you their social security number than the bank where their cannabis business has an account," she said.
PotCoin and others like it say this reluctance has created an opening they are eager to exploit, providing a financial platform that pot dispensaries and merchants can use as an alternative to having to rely on cash-only transactions.
Launched in 2014, Potcoin was designed to fill a niche for banking services in the marijuana sector.
While it's hard to find a current list of locations that accept PotCoin, the company claimed last October it had 800 ATM machines in more than 35 countries, with a goal of hitting 1,300 by the end of last year.
Traded on cryptocurrency exchanges (not the main indexes), PotCoin has a market cap of $33.8 million, having increased from $81,547 in 2014, making it one of the larger of the new marijuana currencies.
CannabisCoin and DopeCoin, with market caps of $6.2 million and $9.5 million on cryptocurrency exchanges, are significantly smaller.
CannabisCoin targets the medical dispensary sector, but with a twist: Each CannabisCoin can be exchanged with 1 gram of medical pot. DopeCoin appears focused on product development, having just released the "beta version" of "Crypto Billings," which it boasts will "allow retailers to quickly adopt our secure cryptocurrency payment method into their online retail operations."
By contrast, HempCoin, with a market cap of $41 million, and CannaCoin, with a tin cap of $413,769, are looking to carve out a niche as the financing platform for marijuana growers and pot-product producers.
While marijuana-based cryptocurrencies say they have the solution to the pot industry's banking challenges, dispensaries and other pot establishments have been slow to embrace the proffered solution.
Thompson Hine's Jalil said he is working with investors interested in underwriting pot-based currencies but they remain skittish due to the federal government's anti-marijuana stance.
Vicente Sederberg's Ayinehsazian says there is a definite need for a financial solution for the growing marijuana, and that filling that niche could certainly be profitable.
"The appeal is figuring out a viable solution to the cannabis cash problem -- it is a very lucrative area and a large part of my career is built on cannabis banking," she said.
Pot dispensaries and retailers, though, still need conventional banking services and can't just ride off into the marijuana crypto currency sunset and write off all financial institutions, Ayinehsazian says.
Yet banks are already highly nervous about accepting marijuana cash, adding cryptocurrencies to the mix isn't exactly going to help them to relax.
"Most banks would be very leery to accept funds tied not only to cannabis sales but also to cryptocurrency," Ayinehsazian says.
Still, while the immediate future may be cloudy, some see a brighter longer-term outlook for the growing field of marijuana-based currencies.
One attraction to investors is the bitcoin factor, with the once-obscure digital currency having seen its value soar from a few hundred dollars a little more than a year ago to just under $8,800 as of Feb. 13.
Some investors may see the appeal of snapping up pot-based currencies today, which mostly sell for pennies on the dollar on cryptocurrency exchanges, and hope for a repeat should the federal government someday no longer declare marijuana to be an illegal drug.
"I guess the idea is to buy now and hope for an administration change," Jalil said. "If pot were ever to be declared not illegal, I would want to be the marijuana business. I think it would explode. It would be like coming off of Prohibition."
There is also the potential for marijuana to be traded as a commodity, similar to how corn and other agricultural products are now bought and sold, or as an asset-based security, similar to the way mortgages have long been bundled and sold to investors, said Dr. Stuart Titus, chief executive of Medical Marijuana Inc.
"Eventually we will get around to trading cannabis," said Titus. "The cannabis futures market might be the largest futures market in the world."