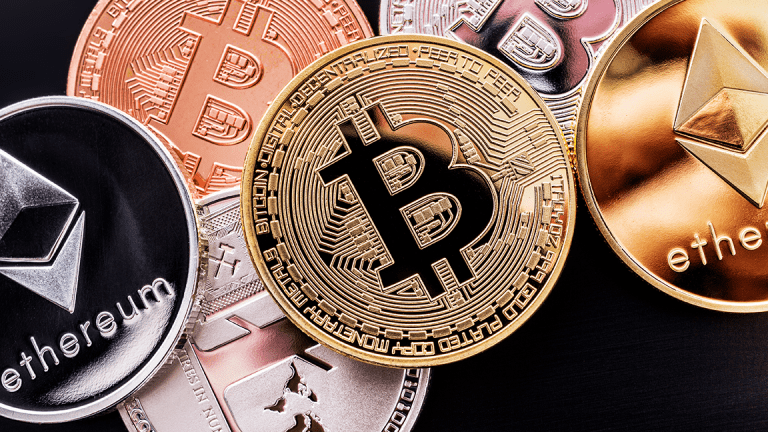 SEC Says Bitcoin and Ether Are Not Securities -- but Prices Stay Bearish?
Cryptocurrencies Bitcoin and Ether are not securities, says the SEC -- a move that could impact their valuation. So why are prices stuck in bearish territory?
Some people see cryptocurrencies - peer-to-peer decentralized money free of government control - as a welcome development in monetary evolution. Others say any form of money existing outside government control spells potential anarchy.
What is the security debate all about?
The regulatory debate centers around whether certain cryptocurrencies are securities. If they are, their issuers are subject to Securities and Exchange Commission rules that govern securities trading, including registration requirements. If cryptocurrencies are not securities, they are commodities, categorically, which falls under Commodities and Futures Trading Commission jurisdiction, with its own set of anti-manipulation rules but futures trading availability and a paradigm under which registration is largely irrelevant.
In other words, being deemed a "commodity" or equivalent and not a security is a good thing.
So far, governments have largely threatened regulatory control over Initial Coin Offerings, or ICOs, a controversial form of crowdfunding blockchain-based projects using a term analogous to the equity market's Initial Public Offering or IPO.
The SEC has spoken
Mid June the SEC provided much-needed guidance on the securities status of the two biggest cryptocurrencies by trading volume: Bitcoin (BTC) and Ether (ETH).
William Hinman, who leads the Division of Corporation Finance at the SEC, said in his speech at the Yahoo! All Markets Summit: Bitcoin and Ether are not securities, but that other coins might be, which would subject them to the SEC's regulations. Mostly, cryptocurrency buyers understand that tokens "do not have any rights, uses ... or features, express or implied, including, without limitation, any uses, purposes, attributes, functionalities or features," as seen in most disclaimers.
Instead, the SEC is paying more attention to how the coins are marketed. "Central to determining whether a security is being sold is how it is being sold and the reasonable expectations of purchasers," Hinman said.
Nonetheless, the SEC's acknowledgement that Bitcoin and Ether are not securities helps to introduce some regulatory certainty into the cryptocurrency industry. CBOE Global Markets president Chris Concannon notes that it might be looking to launch ETH futures soon. In his words:
"...this clears a key stumbling block for Ether futures, which we've been considering since we launched the first Bitcoin futures in December 2017."
Markets ignore the SEC
The reduced uncertainty around the SEC's decision should buoy crypto prices. So why are cryptocurrencies finding it hard to leave bearish territory?
The SEC's decision to deen Bitcoin and Ethereum as "not securities" hasn't triggered bullish momentum among traders and investors. In the last week, the price of BTC has dropped marginally from $6,746 to $6,721, while the price of Ether is up by 1% in the same period. The broader cryptocurrency market has fared worse, with the total market cap of the industry down 3% from $299 billion to $291 billion in the last week.
Big banks attack
One of the main reasons cryptocurrencies are stuck is traditional financial institutions are becoming vocal in their criticism of cryptocurrencies. The Swiss-based Bank for International Settlements just published a paper collating the most urgent criticisms directed at Bitcoin and the cryptocurrency industry. "Cryptocurrencies: Looking Beyond the Hype" tackles the main concerns  - namely, cryptocurrencies' lack of users, scaling problems, high transaction costs, and the massive amount of energy they use.
Economic theorist and financial economist Hyun Song Shin, Ph.D., argues that bitcoin does not have enough users to be considered a successful currency. In his words "money has value because it has users. Without users, it would be a worthless token," likening virtual coins to baseball cards, beanie babies and Tamagotchis.
Classification remains unstable
The second reason the news of the SEC's decision didn't move cryptocurrencies is because the classification doesn't dispel the uncertainty plaguing the general cryptocurrency market. There are more than 1,600 cryptocurrencies in the market, but the SEC narrowly made a decision on Bitcoin and Ether. The silence on other cryptos is deafening as investors are worried they could be hit with securities designations and the supporting cryptocurrency token issuers will need to pay retroactive fines on for non-compliance with SEC regulations.
Tom Graham, founder of TLDR Capital, notes that "there is still a lot of regulatory uncertainty in the crypto markets. Recent indications from the SEC are positive but also in line with market expectations." Similarly, Miguel Palencia, chief information officer at Qtum, notes:t "uncertainty due to regulations not being clear still looms. It'll take a while, both for regulations to become clear in every state and country and for the markets to react."
Institutional investors remain sidelined
Institutional investors, too, remain sceptical about adding cryptocurrencies to their portfolios. Many investors with deep pockets are waiting to see the credibility institutional players provide before they invest. Institutional investors will be looking for transparency and protection of investor funds now seen in equity and bond markets. Jehan Chu, co-founder of Kenetic, notes: "The SEC declaration solved one problem preventing institutional money from entering the markets, but until the right tools are in place, serious money will stay on the sidelines."
The author holds stock in investment holding company, Leucadia, and remains a partner in an emerging technology fund. He holds no positions in cryptocurrencies or in any companies that invest in them.