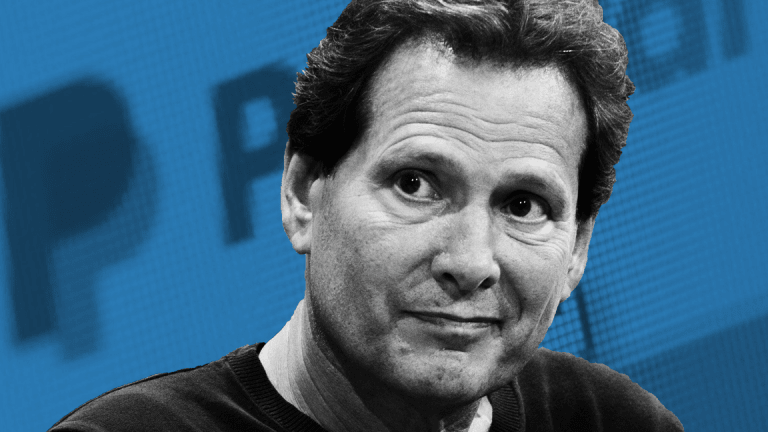 PayPal CEO Says Bitcoin 'Unsuitable' - Here's What He's Really Excited About
Bitcoin is too volatile to serve as a 'real currency,' PayPal CEO Dan Schulman tells TheStreet.
PayPal Holdings Inc. (PYPL) - Get PayPal Holdings, Inc. Report is a leader in fintech, but it's not betting the ranch on bitcoin just yet.
CEO Dan Schulman told TheStreet that his company is all about innovation, but not just surrounding bitcoin. Sure, PayPal delivers on its promise to make managing and moving money for both consumers and merchants easier, but don't look for a crypto exchange on PayPal's Venmo anytime soon.
"I think right now, and we're seeing this maybe more than ever, the volatility of the cryptocurrency makes it actually unsuitable to be a real currency that retailers can accept," Schulman said.
"Because retailers have very narrow margins and when you have a bitcoin bouncing up and down by 15% over a couple weeks period, that can be the difference between profits and losing money on every sale," he noted.
That means every retailer who accepts bitcoin -- such as Overstock.com Inc. (OSTK) - Get Overstock.com, Inc. Report -- has to trade in the cryptocurrency for fiat currency to lock in value. And there's a fee for that.
"It's just not an efficient way to transfer value," said Chris Brendler, Director of Equity Research at Buckingham. "It's not a consumer-friendly process and it's not a merchant-friendly process."
Bitcoin won't take hold at a firm like PayPal until there's much wider consumer adoption, Moshe Katri, Managing Director at Wedbush Securities, said.
"I would say it's more in years," Katri noted when asked the time frame for such a widespread consumer adoption of cryptocurrencies. PayPal, for its part, is unlikely to even consider adopting crypto to its platform until consumers use it regularly.
The key, then, is to disaggregate the cryptocurrency from its underlying technology.
"I think you need to separate out the bitcoin or cryptocurrencies as currencies and the underlying protocol called blockchain," Schulman added.
Schulman said blockchain will be a "real breakthrough" for technologies founded on forms of distributed trust, and PayPal has ample room for innovation in the space for everything from contracts to real estate to financial services.
"I don't think of blockchain as a competitor at all to PayPal or to other financial services companies," Schulman said. "What I do think of it as is an enabling technology that allows innovation on top of it."
Blockchain's value lies in the notion that a company can "use math to eliminate the third party," Brendler said. Just as it's easier to use a public ledger to transfer equities without going through a broker, it's easier to transfer money without going through a bank.
While PayPal has made innovative blockchain moves, it's still "years" behind the likes of Visa Inc. (V) - Get Visa Inc. Class A Report or MasterCard Inc. (MA) - Get Mastercard Incorporated Class A Report , Brendler noted. But even if PayPal were to fully utilize the blockchain technology, we probably wouldn't notice much.
"From a public perspective, we probably don't see it or care," Brendler said.
But it remains an important driver of efficiency, said Josh Beck, equity research analyst at KeyBanc Capital Markets.
"There is some real innovation there...it feels like it's going to reduce back-office friction," Beck said.
Our Experts Tell You How to Invest for Dow 25,000 and Beyond: http://bit.ly/2F1Akgb
Check out TheStreet's Other Influencer Interviews