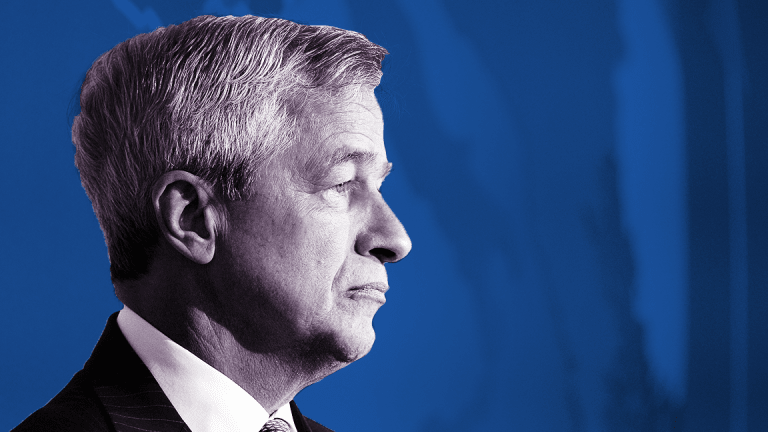 Jamie Dimon Regrets Bitcoin 'Fraud' Dismissal, Says Blockchain Is 'Real'
JPMorgan CEO Jamie Dimon says he regrets dismissing bitcoin as a 'fraud' as the value of the world's top three cryptocurrencies tops the market cap of his own investment bank.
JPMorgan & Chase Co. (JPM) - Get JPMorgan Chase & Co. Report CEO Jamie Dimon said Tuesday that he regretted calling bitcoin a "fraud" but insisted he was not interested in the subject even as the market capitalisation of the world's three biggest digital currencies tops that of his own investment bank.
Dimon famously dismissed bitcoin the virtual currency concept a "fraud" and said he'd fire any of his traders for dealing in it during an unscripted question-and-answer session at the Delivering Alpha investor conference in New York on Sept. 13. Dimon said Tuesday that he is "not interested in the subject at all" but nonetheless regretted some of his incendiary language, which included a warning that it will inevitably "blow up".
"The blockchain is real. You can have crypto yen and dollars and stuff like that," Dimon told Fox Business in an interview with network's Maria Maria Bartiromo at the JPMorgan Health Care Conference in San Francisco. "I don't like the politics of people insulting each other at all, from anyone ever, it makes me kind of angry."  

Bitcoin prices have risen 285% since Dimon's September comments and were quoted at $14,900 each on the bitstamp exchange Tuesday, giving it an informal "market cap" of $251.7 billion. The value of the top three cryptocurrencies -- bitcoin, ethereum and ripple -- is pegged at around $460 billion, according to coinmarketcap.com, well ahead of the $376.4 billion value of JPMorgan based on last night's closing share price of $108.50.
More of What's Trending on TheStreet: