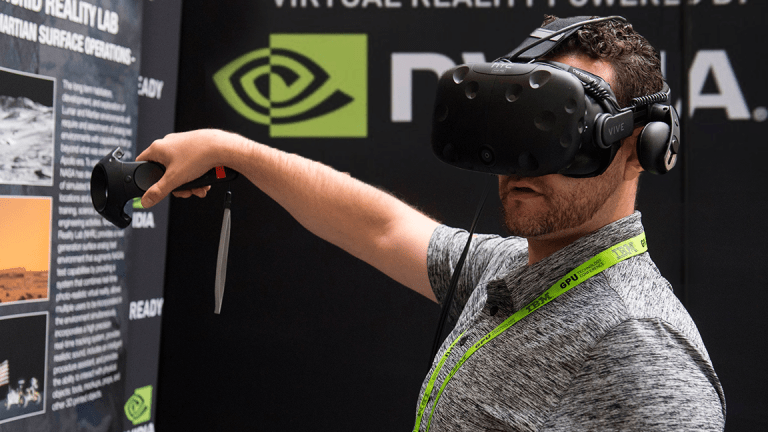 Will Nvidia's Stock Ever Go Down?
A take and hold there, and $240 becomes possible for Nvidia.
Many of you took the 2017 ride to victory in Nvidia (NVDA) - Get NVIDIA Corporation Report . I did as well. We are not smart, or elite, but among the many. The chart, the performance of the industry, the performance of the entire sector tells us that. Though, to our credit, most of us did not screw up this chance to realize large gains. Not that I didn't try, to be honest.
The question now becomes this: Just how much juice can we still get out of this thing? I am sure it's not lost on any of us just how kind the last four business days have been. Let's see if a glance at the charts tells us anything. We'll take this thing back to June, as that was the last major selloff in the name prior to the one just experienced.
There are several supporting indicators that quickly meet the eye. The moving average convergence divergence (MACD) that flipped bullish at the bottom of the recent move now has all three components in the green, though the 26-day exponential moving average (EMA) just got there. Money Flow has resumed its upward pressure on the name, after taking about a month off. Relative Strength is close to, but not yet where I consider a stock to be overbought, and has not hit that level for about 10 weeks.
Your Fib levels (blue) show that a falling knife was indeed caught close enough to a 50% re-tracement in early December, followed by more substantial support up around 38.2% declines. That, to me, means that we can trust these levels should the name again fall out of bed.
The Pitchfork (red) model indicates algorithmic obedience to the lower trend line. This could suggest upcoming resistance at the central trend line. That still gives us at least a few bucks. Think sideways movement around $220/$221.
That will also be where overcoming a double top becomes an issue. This level will not likely crack easily, but how many times has this name in particular overcome technical resistance? A take and hold there, and $240 becomes possible, at least until Nvidia -- which is a holding in the Action Alerts PLUS charity portfolio that Jim Cramer co-manages -- reports. That fateful day comes one month from today, on Feb. 8. Dr. Huang?
(This is an excerpt from Stephen "Sarge" Guilfoyle's Morning Recon, which now appears exclusively on Real Money, our premium site for active traders. Click here for a free 14-day trial and receive Morning Recon every day, along with exclusive columns from Jim Cramer, James "RevShark" DePorre, technical analyst Bruce Kamich and more.)
Watch all of Jim Cramer's full NYSE live shows right here:
More of What's Trending on TheStreet:
At the time of publication, Stephen Guilfoyle was long NVDA, although positions may change at any time.