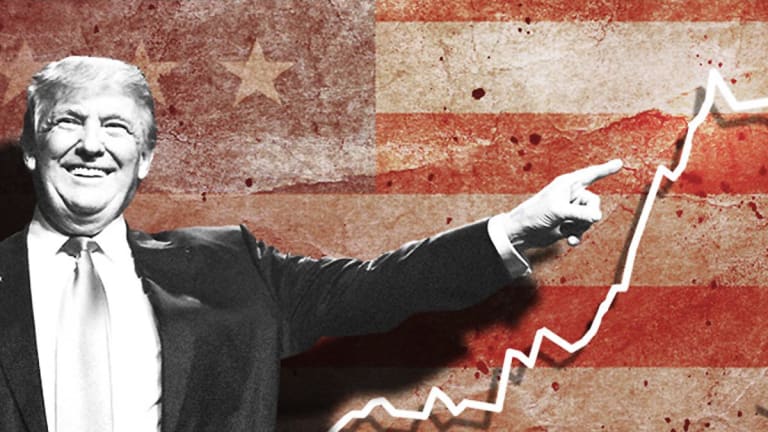 What's More Mind-Blowing: Dow 26,000 or the 2018 Detroit Auto Show?
The stock market is on autopilot and the gains continue to pile up for bullish investors. Investors in auto stocks could have a nice week following optimism off the Detroit Auto Show.
The stock market is on autopilot: Whoever said making money in the stock market was crazy tough was dead wrong -- at least until this bull market gets blown to pieces as investors send Netflix's (NFLX) - Get Report stock to 1,000 times forward earnings in 2019 only to be let down come earnings season. Unless you have been living under a rock, the Dow Jones Industrial Average is on full autopilot. The benchmark index is poised to smash through the 26,000 mark on Tuesday just two weeks removed from ripping past 25,000. Sick. Wall Street's super bullishness on the market is easily seen in new data from Bank of America Merrill Lynch. Average cash balances fell from 4.7% in December to 4.4% this month, a five-year low, said the investment bank. Allocation to equities is now at a two-year high, while allocation to bonds has dived to a four-year low. One no doubt feels the pull right now to Warren Buffett's old adage: Be fearful when others are being greedy. But with market momentum in place, it's hard to buy into that long-time Buffett quote. Now go out and buy some Netflix ...
Here's what is impressive about the Detroit Auto Show: TheStreet's Bret Kenwell is our man on the ground at this year's Detroit Auto Show. He has been expertly manning TheStreet's Instagram account, posting photos of some seriously exotic rides. Kenwell has also been logging a good deal of time with top auto executives. While all of this is great, for this old market watcher it's more positive to finally see auto stocks rally on press releases detailing more years of investment in electric cars and autonomous cars. Auto stocks have been held back (in my humble view) the past few years with investors being concerned about shifts to ride-sharing platforms like Uber and massive capital investments. Tesla (TSLA) - Get Report has also sucked up a chunk of investor dollars once allocated to Detroit's Big 3 automakers. But as TheStreet's Martin Baccardax pointed out, shares of Ford (F) - Get Report and other global automakers are poised to pop on Tuesday with the Detroit Auto Show in full swing. Finally.
To receive the free "Morning Jolt" newsletter, visit here. 
Bits and pieces: (1) Keep an eye on bitcoin stocks such as Action Alerts Plus holding Nvidia (NVDA) - Get Report this week as prices of the cryptocurrency continue to crater; (2) Luckily for Nvidia it has proven that it's way more than crypto -- the tech leader is making another nice showing at this week's National Retail Federation conference with its AI solutions; (3) Shares of General Electric (GE) - Get Report are being hit Tuesday on news of a $6.2 billion charge in its North American Life & Health insurance portfolio -- GE, an Action Alerts Plus holding, had been one of the strongest performing Dow names this year as investors were thinking the worst was over.
What's Hot
Of Course, the Auto Show
Eye candy video by Kenwell on Alfa Romeo from the auto show's floor.
More of What's Trending on TheStreet: