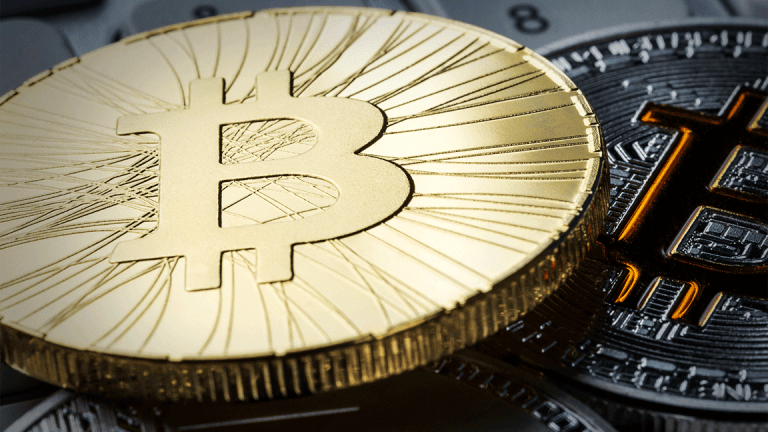 Blockchain Technology May Change the World, But What Are the Risks?
Bitcoin's incredible price swings have gotten blockchain technology in the news. But what's at stake when everything heads to a distributed ledger? Experts weigh in.
Not many mainstream investors knew what blockchain technology was a handful of years ago. But today, anyone who doesn't know the word "blockchain" (or at least "Bitcoin") must be living under a rock.
The applications for the open source, distributed ledger platform linked through cryptography and backing cryptocurrencies including Bitcoin are boundless, experts agree.
"We're bullish on blockchain as part of a broader digital transition for public and private companies," said Bill Briggs, technology chief at Deloitte Consulting. Blockchain could impact every industry Deloitte services, Briggs explained, from government services to healthcare to supply chain analytics.
"It certainly represents a new, unique and possibly disruptive way for people in underserved economies to store value, which they've really never been able to do before safely," said Andrew Ittleman, founder and partner at law firm Fuerst Ittleman David & Joseph. "The investment side of crypto, while I know it's important, that's not really what motivates me."
But with every promised revolution comes risk. What should investors know about the blockchain, its capabilities and its implications?
How big can this get?
Think about how disruptive the advent of cloud computing was 10 years ago. That's how enormous blockchain could become in Briggs' view.
Tech research firm Gartner Inc. predicts blockchain's value-add will grow to $176 billion by 2025, Deloitte noted in a Tech Trends 2018 report in December.
If blockchain's genesis is to be compared to that of the internet in the 1990s, "in terms of development you have to think about it in dog years," said Blake Estes, counsel in Alston & Bird's Financial Services and Products Group and co-leader of the firm's Blockchain and Distributed Ledger Tech Team. Estes means that the pace of evolution is so rapid, it's hardly useful to think about it in a typical time frame.
Right now, we're around the year 1996 if the timeline for the internet and that for blockchain were compared. But just six months ago, Estes said, we were only in about 1994.
"People are still getting AOL CDs in the mail," Estes joked, suggesting there is still a far way to go until blockchain reaches its potential. 
It's important to note that, although Bitcoin is the headline-grabbing blockchain application, it is just a small part of a much bigger picture. Estes said Bitcoin is to blockchain as email is to the internet. It's useful, but it's a minuscule piece of the puzzle.
What can blockchain do for you?
The cross-border payment capabilities of blockchain technology also cross industries, Briggs explained, providing the capacity to merge operations among banking, financial services and trade finance sectors relatively seamlessly.
"A lot of our clients aren't looking at [blockchain] as...'what's the future of finance?'" Briggs said.
"Individuals could use blockchain to manage their financial, medical and legal records -- a scenario in which blockchain might eventually replace banks, credit agencies and other traditional intermediaries as the gatekeeper of trust and reputation," Deloitte wrote.
Estes said it "depends on the industry" in determining when blockchain-based applications will become the norm. For his firm, at least, there appear to be strong sources of opportunity in healthcare, logistics, insurance and more.
"For those types of companies, a lot of it is just working in the background," he said. Even though big companies are pouring millions of dollars into blockchain development, their customers are unlikely to notice much changing. The back-of-store operations are the primary business aspect affected by a blockchain-based application, not the consumer-facing ones.
"None of it is frankly super interesting or flashy from a consumer perspective," Estes said. But blockchain could still make all aspects of running a business worlds smoother.
What about risk?
Challenges persist. As Deloitte points out, there are differing blockchain protocols that cannot integrate easily. To share information from the Ethereum protocol to the Hyperledger Fabric protocol, for example, requires an integration layer in order to reconcile two completely separate enterprise systems.
Beyond the logistical risks tethered to a lack of standardization, there are risks related to the technology's applications. Perhaps the most representative of that inherent risk are initial coin offerings, or ICOs. 
According an ICO risk report from EY, the U.S. is the top market for initial coin offerings with $1.031 billion in originating projects. Next is China, with $452 million and Russia with $310 million.
EY said the fear of missing out drives the valuation of these coins "without any connection to market fundamentals." Plus, more than 10% of ICO funds are lost or stolen in hacker attacks, EY found.
There is also the deep-rooted risk in investing in blockchain-backed cryptocurrencies, the value of which can swing as much as 40% in a day. 
But application risk aside, blockchain technology has become synonymous with financial inclusion and with streamlined operations. After all, there were plenty of risks to the nascent internet -- and look where we are now. 
Watch more from TheStreet's cryptocurrency coverage here: