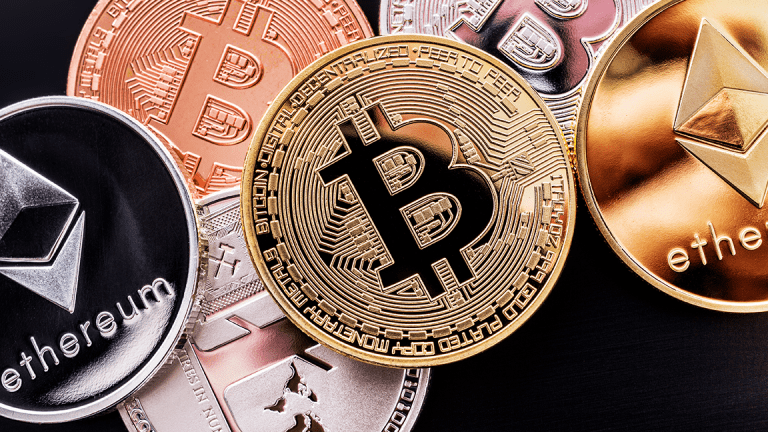 Publish date:
Bitcoin Today: Prices Slump to 3-Week Low Amid Gloomy Outlook
Bitcoin skids well below $9,000 Friday. Here's what you need to know.
Bitcoin skids well below $9,000 Friday. Here's what you need to know.
Bitcoin prices plummeted on Friday as concerns over future demand weighed heavily on what was previously cheery investor sentiment.
After spending most of May rallying upward, the No. 1 cryptocurrency by market cap reversed momentum to trade as low as about $8,500 in midday action. Nearly all of the top cryptocurrencies by market value traded well into the red, too. Bitcoin had not previously notched a low under $9,000 since May 1. Friday's trading put the cryptocurrency at its lowest levels in three weeks.
Here's what you need to know in cryptocurrencies for Friday, May 11.
Nvidia Puts a Damper on Crypto
Nvidia Corp. (NVDA) - Get NVIDIA Corporation Report broke out its cryptocurrency sales for the first time in quarterly earnings released Thursday evening, and the company didn't strike a particularly bullish tone on cryptocurrency. Action Alerts PLUS holding Nvidia said it sold $289 million in chips to cryptocurrency miners in the first quarter amid stronger-than-expected demand. The graphics processing units Nvidia makes are integral to cryptocurrency mining, which requires a great deal of both electricity and computing power. Despite a strong start to the year, Nvidia predicted cryptocurrency-related revenue could shrink about two-thirds in the current fiscal quarter. "Crypto miners bought a lot of our GPUs during the quarter, and it drove prices up," Nvidia CEO Jensen Huang said on the earnings conference call. "And so we're starting to see prices come down. We monitor spot pricing every single day around the world. And the prices are starting to normalize."
Korea's Biggest Exchange Raided
UPbit, the largest cryptocurrency exchange in South Korea, has been raided, according to Coindesk Korea. The firm is said to be accused of fraud for allegedly selling to customers cryptocurrency it does not actually hold. "We have secured hard disks and accounting books through confiscation. Analysis is expected to take days," South Korea's Prosecutor's Office was quoted as saying. UPbit refused to comment on the seizure, but the exchange's support site does confirm there was a raid at their Seoul office. The UPbit raid is the latest in what has developed into a string of crackdowns as South Korea aims to tighten regulatory standards for cryptocurrency firms.
UK Startup Launches Ethereum Futures
U.K.-based startup Crypto Facilities on Friday launched the first regulated platform for ethereum futures. Ethereum, the cryptocurrency that powers the ether blockchain, will now be available for investors to take long or short positions, facilitating the means to "broaden investment opportunities and manage risks more effectively," Crypto Facilities said. Ethereum is the second-most liquid cryptocurrency after bitcoin, with what Crypto Facilities said is "billions of dollars" in daily trading volume. Crypto Facilities will work with Akuna Capital and B2C2 as liquidity providers to help back its contracts.
Crypto Beer Vending Machine?
Palo Alto-based startup Civic is using beer to demonstrate the many uses of blockchain and crypto in everyday life. The company has partnered with AB InBev (BUD) - Get Anheuser-Busch InBev SA/NV Sponsored ADR Report to create a beer vending machine that utilizes blockchain-based identity verification systems to serve beer to those who can use the technology to prove they are of legal age. "We've been thinking about practical ways of bringing crypto technology to a more mainstream audience, and how can we go so niche that it's easy to understand for a regular individual. Proof of age seemed like the best low-hanging fruit," Civic's Titus Capilnean told Coindesk.