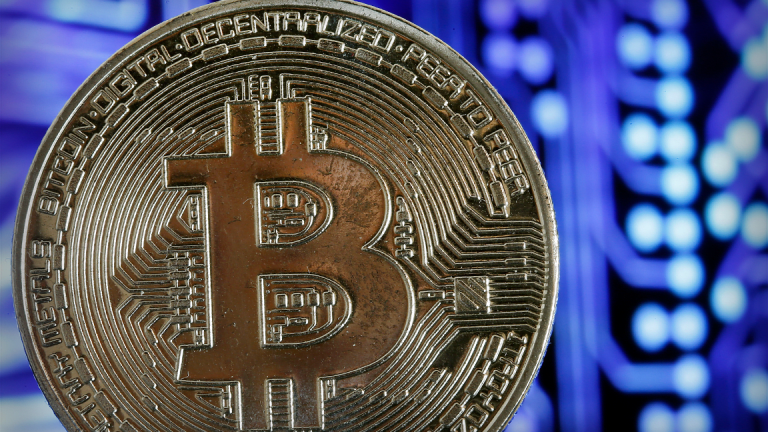 Bitcoin Today: Prices Hold Steady Above $9,000 Mark Following Weekend Momentum
Bitcoin trades close to flat Monday. Here's what you need to know.
Bitcoin prices stayed above $9,000 despite trading near flat Monday following a strong weekend performance. The No. 1 cryptocurrency by market value managed to reach as high as $9,530 in Sunday trading, marking the seventh day in eight that price highs came in above the $9,000 mark. By Monday, trading volume had subsided some, but maintained levels above $8 billion.
These are the cryptocurrency stories you need to know for Monday, April 30.
Buffett: Bitcoin Is a Gamble
Warren Buffett, CEO of Berkshire Hathaway Inc.  (BRK.A) - Get Berkshire Hathaway Inc. Report and veritable living legend in investing, said to Yahoo Finance over the weekend that bitcoin is more of a gamble than it is an investment. "There's nothing wrong with it. If you want to gamble somebody else will come along and pay more money tomorrow, that's one kind of game. That is not investing," Buffett said. Buffett noted that investing in cryptocurrency is banking on the hope that "the next guy pays more." It's not the first time Buffett has criticized bitcoin. In March 2014 he called it a "mirage" and in January of this year, Buffett said, "In terms of cryptocurrencies, generally, I can almost say with certainty that they will come to a bad ending."
Unicef Mines for Charity
Unicef is now seeking donations from charitable givers to offer up their computer power for the organization to mine cryptocurrency. Unicef Australia launched the project on a new site called the Hope Page. The website mines cryptocurrency that will be donated to Unicef Australia using the computer power of those who agree to donate. The non-profit wrote in a statement that the Hope Page "will allow Australians to provide help and hope to vulnerable children by simply opening the page while they are online." The website allows those who visit it to deem how much computing power they want to donate, and the longer the user stays on the page, the more computing power Unicef can access. Whatever cryptocurrency Unicef manages to mine is converted into fiat currency and donated to its projects.
Uptick in Regulatory Queries in Japan
Japan's Consumer Affairs Agency said consumers in the country filed more than three times the average number of enquiries related to cryptocurrency trading and initial coin offerings (ICOs) in 2017 from a year earlier, according to Coindesk. The CAA said there were 2,769 domestic cryptocurrency enquiries filed by general consumers in 2017, adding that the total for all three years before 2017 only represented about half of last year's filings. A majority of the enquiries were regarding concerns about trading platforms, security measures and the legitimacy of ICOs. A narrow majority of the enquiries came from consumers in the 40s and 50s, the CAA said, but most filings were relatively evenly spread among age groups.
Congressman Calls for ICO Ban
U.S. Rep. Brad Sherman (D., Calif.) has called for a ban on ICOs in Congress. "I'm not saying ban blockchain, I'm saying ban the ICOs," Sherman said as William Hinman, the director of the Securities and Exchange Commission's division of corporate finance, was speaking to lawmakers. Hinman told Congress members that his division is "striving for a balanced approach" in regulating crypto and ICOs. "The reason for securities markets is to provide jobs in the real economy. An [initial public offering] does that, an ICO does the opposite. It takes money out of the real economy," Sherman said. Hinman pushed back against Sherman's comments, saying, "Some folks are finding that the ICO instrument allows for a different type of enterprise, on that's more decentralized, and which they think has some value."