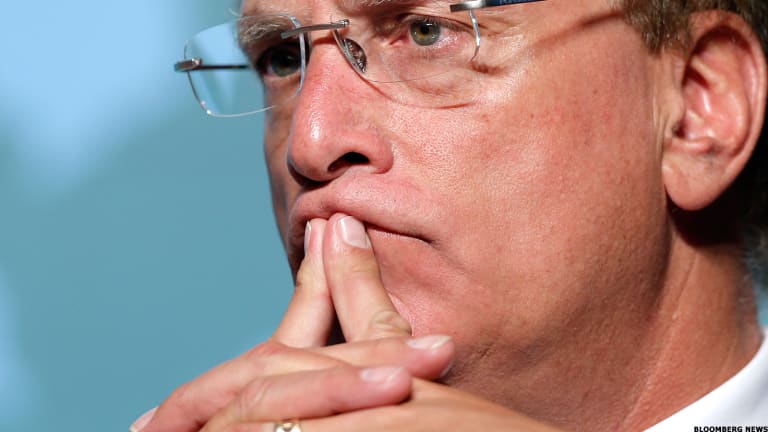 Bitcoin Today: BlackRock's Fink Weighs in From Davos, BoJ Examines Regulation
On a narrow trading day for bitcoin, these are the top headlines you need to read Thursday.
Bitcoin didn't fluctuate as much as it usually does Thursday, Jan. 25, trading within an $800 band around $11,000 for most of the day.
As prices temper a modest uptick from earlier in the week, these are the headlines you can't afford to miss Thursday.
BlackRock's Fink Knocks Bitcoin
"Presently it is more of an index for money laundering than anything else," said BlackRock Inc. (BLK) - Get BlackRock, Inc. Report CEO Larry Fink at the World Economic Forum in Davos Thursday.
Fink gave the answer when asked in a panel if he was ready to start investing in cryptocurrencies. Fink did, however, acknowledge the power of the technology to transform how business is done. "We should not turn our backs to it; we should embrace it and work toward a global solution because if we don't work toward a global solution it will create systemic risk," he said, according to multiple reports out of Davos.
BoJ Says Regulation Tough
The Bank of Japan said that imposing regulation on the cryptocurrency market is not going to be easy, according to a report from Reuters. Senior BoJ official Hiromi Yamaoka reportedly said Japan's top priority is innovation, not strict rules. The country is unlikely, then, to implement any regulation that impedes innovation in the crypto space. Instead, the country wants to "curb excess without discouraging innovation."
Ex-Goldman Banker On Crypto Repo
Alex Grebnev, a former banker at Goldman Sachs Group Inc. (GS) - Get Goldman Sachs Group, Inc. Report , reportedly wants to create a cryptocurrency platform that would allow traders and investors to short one cryptocurrency against another cryptocurrency, according to a report from CryptoVest. Under the current plan for the platform, it should be available sometime in 2018 and is set to target both private and institutional investors looking to cut repurchase agreements among themselves.
Robinhood Gets In On Bitcoin
Stock trading app Robinhood announced plans to start bitcoin and ethereum trading services on its mobile app next month, according to Coindesk. Finra-regulated Robinhood, which was launched in 2013, specializes in democratized trading. According to Coindesk, the company is looking to jump in on the crypto wave while also attracting digital asset customers to its other, more traditional services. The service will start in California, Massachusetts, Missouri, Montana and New Hampshire, with other states following. Robinhood is promising instant transfers for purchases of $1,000 or less.
Get more of TheStreet's total cryptocurrency coverage here:
More of What's Trending on TheStreet: