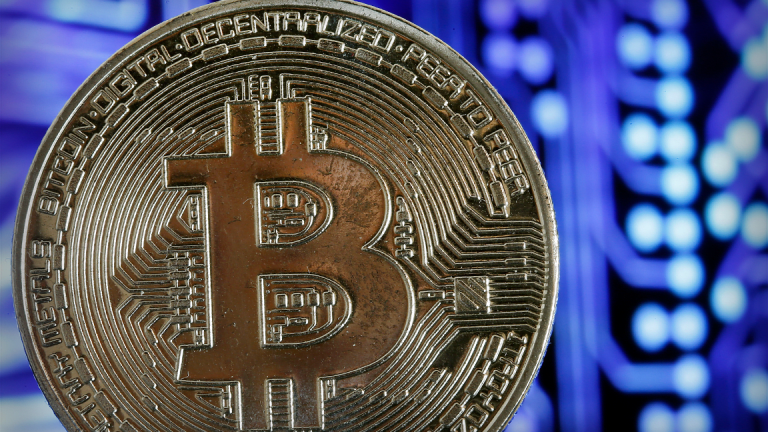 Bitcoin Plummets Below $7,000; What's Behind Its Sudden Tumble This Week?
The price of a bitcoin fell below $7,000 on Friday, its lowest level since May.
The price of bitcoin took a sudden tumble this week to the lowest level the cryptocurrency has seen in months, falling almost 19% over the last five days.
Bitcoin was trading at $6,977 as of Friday morning, marking the first time it has traded below $7,000 since May. Even with the declines, the price of one bitcoin has risen by about 89% so far this year.
Compared to more traditional assets, bitcoin's bull and bear cycles can be difficult to forecast and explain. Bitcoin observers have speculated that recent price action has something to do with moves by China to crack down on illegal exchanges and to formalize the Chinese government's backing of blockchain technologies, as well as recent changes in how hard it is to create bitcoin. China plans to issue its own cryptocurrency, which could launch within the next 18 months. 
Although crypto trading has been restricted in China for years, the country is home to many of the world's biggest bitcoin mining operations. And mining is a good place to look to better understand bitcoin prices, according to Michael Kazley of the asset management firm Crescent Crypto.
"Bitcoin's 'difficulty' is a measure of how likely a miner is to mine a block for a given amount of hashrate and time," Kazley explained. "It serves to keep the network in balance, and aims to keep bitcoin's block time around 10 minutes, adjusting every two weeks," 
Kazley noted that difficulty rallied to new heights in 2018, bringing bitcoin prices along with it. But bitcoin saw a "substantial difficulty decline" two weeks ago, according to Kazley. "Today, difficulty adjusted upwards slightly, but market participants are keenly watching to see if a bearish difficulty trends continue," Kazley said. 
After a slump in the latter part of last year, the price of bitcoin hovered in the $3,000 to $4,000 range throughout the early months of 2019 before skyrocketing again between March and August 2019.
"Historically, bitcoin difficulty has been more resilient than price and even managed to climb during the bulk of the 2018 bear market," Kazley said. "However, we did see a steep difficulty decline in October 2018, which coincided with a very large selloff from the $6,000s to the $3,000s in about a month's time."