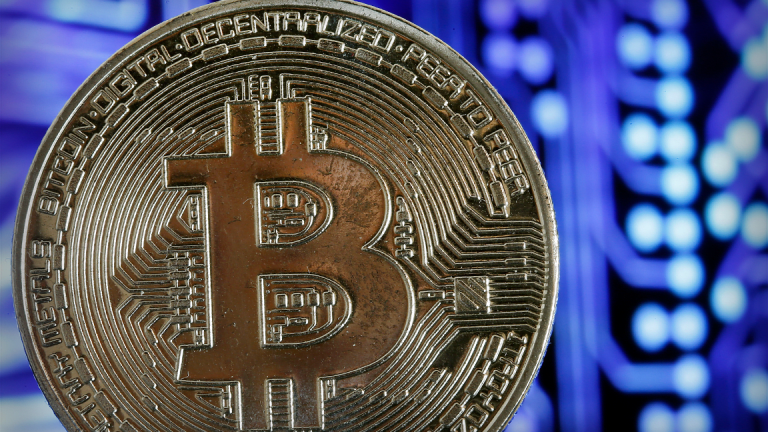 Bitcoin's Recent Surge: 3 Key Takeaways
What can investors learn from the latest recovery in bitcoin prices?
Bitcoin's most recent rally above $8,800 is creating a captivating battle between crypto bears and bulls.
After breaking through the $8,000 mark in mid-May for the first time since last summer, bitcoin endured a sudden drop of nearly $1,000, proving once again that peak ascendancy won't happen in a single swoop.
Now, the digital currency is battling through $8,800 barrier once again. Data compiled by CoinMarketCap shows the digital token dropping to as low as $7,500 on May 23, only to rebound.
For technical traders, these prices place bitcoin firmly in an ascending triangle, a bullish charting cycle that indicates the potential for higher growth in the near future.
While the 30-day moving average suggests that bitcoin might settle around $6,500, the token is currently trying to buck the trend by attempting to exceed $8,800 instead.
The activity caps off a busy month for bitcoin, and it's one that might be indicative of things ahead. Regardless, there are important takeaways from bitcoin's recent powerful resurgence.
1. Bitcoin Is Benefiting From Good Press
In addition to its upward trending price performance, bitcoin is enjoining a flurry of positive press and news. AT&T recently announced that it's making it possible to pay your bill in bitcoin, a move that opens the companies sizable customer base to a usable form of digital currency, and such actions might be contributing to a general bullish sentiment for the token. 
Bitcoin ambassador Tim Draper also reiterated his belief that bitcoin would reach $250,000 by 2022, noting that increased adoption would help the token acquire more market share. The push towards tangible usability is seen as a significant step for the digital token, and it's something that has been mostly elusive until now.
2. Crypto Trading Is Seeing a Resurgence
The renewed enthusiasm for digital currencies has led to a flurry of activity on crypto exchanges, which are reporting high trading volumes. In a tweet, Binance CEO Changpeng Zhao noted, "We are seeing much higher order volumes (number of orders) than Dec 2017/ Jan 2018 (the peak)."
The exchange also unveiled its margin trading feature, which will provide more advanced trading mechanisms to crypto investors while also adding liquidity to crypto markets.
Both of these things contribute to positive sentiments that can impact the token's price.
What's more, as we've seen before, activity begets activity, which consequently impacts pricing.
3. Bitcoin Is Undoubtedly on Top
During the 2017 crypto craze, bitcoin lost a significant portion of its market share, dropping from more than 85% dominance to approximately 35% as altcoins grew in scope and popularity.
Now, bitcoin is rising again. With its recent price surge, bitcoin's dominance tops 55%. Moreover, the digital asset is outpacing its lesser-known rivals in growth, proving once again that it is the de facto standard for cryptocurrency adoption.
Moreover, altcoins are battling it out on their own platforms. Bitcoin Cash recently endured a 51% attack, something made possible by declining hash rates on the platform.
While these positions fluctuate, bitcoin's current standing undoubtedly places it in a position of strength compared to other crypto assets that are struggling to gain name recognition and tangible market share.
What's Next
In keeping with the crypto ethos, anything is possible, but the token's next steps are a critical benchmark for its future. Based on its 50-day moving average, if bitcoin can hold above the $7,600 mark, it's possible that it could push beyond its 2019 high point established in late May.
In contrast, if support fails at that price point, it would be a major sidestep for an otherwise positive trajectory.
Analysts are split on the token's next move, which means that it's up to investors to decide where the token is headed now.
The author holds stock in investment holding company, Leucadia (Jeffries), and remains a partner in an emerging-technology fund. He holds no positions in cryptocurrencies nor in any companies that invest in them.