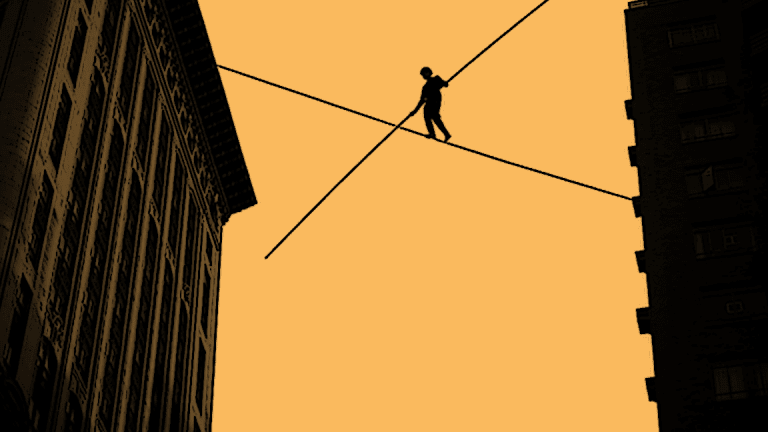 Bitcoin is a 4-Legged Stool With 2 Legs That Look Shaky
Rising interest rates and growing regulation could crush the cryptocurrency's price.
Legendary investor Charlie Munger of Berkshire Hathaway (BRK.A) - Get Report , (BRK.B) - Get Report recently warned that bitcoin is a "crazy bubble," that investing in the cryptocurrency is "asinine" and that you should avoid it "like the plague." Munger joined CEO Jamie Dimon of JPMorgan Chase (JPM) - Get Report , who recently labeled as bitcoin "stupid." Even Goldman Sachs (GS) - Get Report -- which appeared to be on the verge of opening a bitcoin trading floor -- recently backed off when CEO Lloyd Blankfein referred to the cryptocurrency as a "vehicle to perpetrate fraud."
By contrast, John McAfee of computer antivirus fame sees bitcoin as a valid long-term investment that he predicts will rise from around $13,000 today to $1 million by 2020's end. Tom Lee -- the former chief equity strategist at JPMorgan -- is also a bitcoin bull, predicting a 33% price rise in the next six months.
What's an individual investor to do when the experts' opinions of bitcoin are so sharply divided? My advice: Look at the history of financial bubbles.
Bubble Trouble
A commonly accepted definition of a bubble is when the price of an asset greatly exceeds its intrinsic value. Of course, the problem with bitcoin is that determining intrinsic value is hard.
What store of value provides the foundation for bitcoin's market price? Answer: None. And unlike traditional national currencies, there's not even a sovereign government that's making a promise to repay you.
So, bitcoin has no intrinsic value even though its price increased 15x to 20x during 2017. Given that, the question is whether bitcoin is like:
A dot-com stock in the year 2000 (a bubble that's about to burst);
An overpriced U.S. home in 2008 (another bubble that's about to burst);
Mark Zuckerberg offering you a share of Facebook (FB) - Get Report in 2004 (a huge bargain).
To get the answer, we should look at past bubbles for guidance.
Bubbles Are Like 4-Legged Stools
Philosopher George Santayana once famously said: "Those who cannot remember the past are condemned to repeat it."
Fortunately, the history of financial bubbles teaches us that bubbles inevitably contain four characteristics:
A favorable interest-rate environment.
Laissez-faire government oversight of a market.
Evidence of leverage entering the asset class.
Public participation in the asset.
Think of these four characteristics as the four legs of a stool. As long as all four remain in place, an asset isn't in a bubble that's ready to burst. And even when one of the four legs fails, a three-legged stool is still stable.
However, it requires a world-class acrobat to sit on a one- or two-legged stool. So, let's look at how stable bitcoin's four "legs" look today:
Interest Rates
The benchmark U.S. Federal Funds rate is still very low in historical terms, but has slowly risen from virtually 0% in 2015 to a 1.25%-1.5% range today. These progressive increases are strong signals that the U.S. interest-rate environment is becoming less favorable for bitcoin.
A similar case can be made for China, the world's fastest growing major economy. Chinese benchmark rates are also historically low (2.5%), but the People's Bank of China raised its key interest rate three times in 2017. In other words, this leg of the stool looks broken.
Laissez-Faire Regulation
When it comes to regulating financial markets, the Trump administration seems rather laissez faire -- French for "all is fair" (i.e., little or no regulation).
Furthermore, New York Fed President William Dudley recently revealed that the U.S. central bank is "exploring the idea of its own digital currency." Since imitation is the sincerest form of flattery, this leg of the stool would seem to be in good standing from the risk of U.S. regulation.
But it's a much different story in Asia, where the Chinese and South Korean governments have recently banned or severely tightened bitcoin exchanges. So, while this leg of the stool isn't completely broken, it's not as strong as it was six months ago.
Leverage
The potential for massive leverage entered the cryptocurrency world recently when both the CME and the CBOE introduced bitcoin futures.
That means that this leg of the stool remains solidly intact.
Public Participation
Public interest in bitcoin has driven the cryptocurrency's price from its inception, and the CBOE and the New York Stock Exchange recently filed with U.S. regulators for permission to introduce new cryptocurrency ETFs.
That means there's great potential for the investing public to find it even easier to own bitcoin in the near future. So, this leg of the stool looks increasingly solid -- but sadly, history tells us that this leg is inevitably the last one to go.
The Bottom Line
Add it all up and history is telling us that bitcoin investors are sitting on a stool with three legs rather than four -- and that one of those remaining legs is already showing signs of fracturing. In other words: Buyer beware!
Gruver is a professor and the Howard I. Scott Chair in global commerce, strategy and leadership at Bucknell University. Read more about Gruver here.