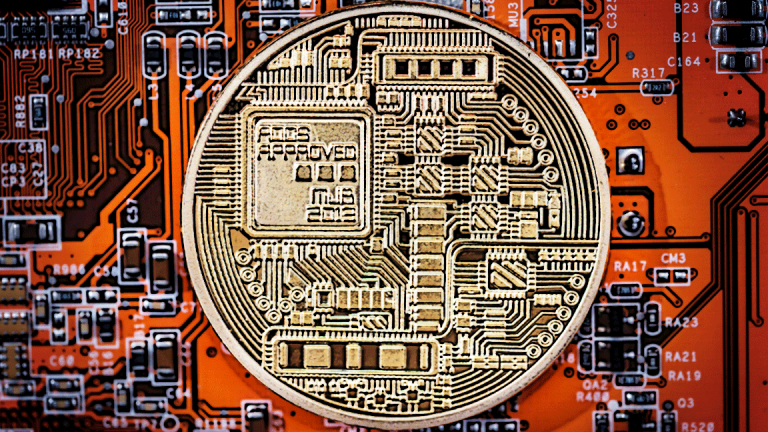 Bitcoin Crash Intensifies as Global Cryptocurrency Market Loses $400 Billion
Bitcoins extended their declines Friday, following the worst monthly slump in three years, amid a broader regulatory crackdown and increasing questions over investment safety.
Bitcoin prices continued their sharp decline Friday, taking the value of the world's best-known cryptocurrency to the lowest levels since November amid a global digital coin selloff that has loped more than $400 billion from its market value. 
Bitcoins were marked at $7,770.00 each on the bitstamp exchange in Luxembourg, which feeds prices into the CME Group futures contract, down 13.6% from Thursday's close and more than 59% from its all-time peak of $19,187 on Dec. 16. The corresponding declines in other digital coins, including ripple and ethereum, have taken the global cryptocurrency "market cap" to $400 billion - around half of the value it commanded at its mid-December peak.
A host of factors have contributed to the recent sell-off, which saw prices fall by more than 25% last month, the worst 30-day decline in three years, but the most significant pressures appear to be linked to a broader regulatory crackdown and recent moves by Action Alerts Plus holding Facebook Inc. (FB) to ban cryptocurrency-related ads from its platform.
Facebook's decision to remove ads that "promote financial products and services that are frequently associated with misleading or deceptive promotional practices, such as binary options, initial coin offerings and cryptocurrency" accelerated bitcoin's decline this week, as did reports that U.S. Commodity Futures Trading Commission officials served subpoenas to one of the world's biggest digital currency exchanges.
Bitfinex and Tether, companies which are connected by the same CEO, were issued the papers in December, according to multiple reports this week, while Bank of England Governor Mark Carney told a a parliamentary committee on Jan. 30 that many use cryptocurrencies to evade law enforcement.
"A lot of the underlying use for these currencies has been illicit activity, particularly money laundering," he said. "One doesn't have anonymity for bank account transactions, why would you for cryptocurrency transactions?"
Sentiment was also hit by a cyber hack into the Coincheck Inc system in Tokyo, which resulted in the theft of $530 million worth of bitcoins from a so-called "hot wallet" and resulted in Friday investigations from Japan's Financial Services Agency.
More of What's Trending on TheStreet: