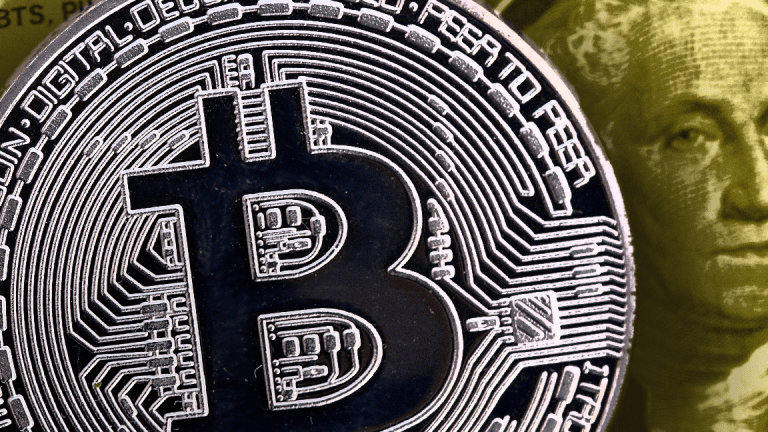 Bitcoin Moves Closer to $6,000, Continuing Its Spring Surge
Cryptocurrency prices have been on an upward swing since the start of the year.
Bitcoin continued its most recent surge on Tuesday, topping $5,900 before falling slightly.
The cryptocurrency has risen about 3% this week and is up close to 20% since April 1, when a private investor reportedly purchased $100 million in cryptocurrency.
Cryptocurrency prices have been on an upward arc since the beginning of the year after losing about 75% of their value in 2018. They are now at their highest level since last November. "The crypto winter is thawing and we're seeing steady price appreciation," Joe DiPasquale, the founder and CEO of BitBull Capital, a San Francisco-based manager of cryptocurrency hedge funds, told TheStreet.
DiPasquale and other observers say that the most recent increase stems at least partly from news on Monday that Fidelity would be launching crypto trading in a few weeks. The financial services firm's interest in the industry has been widely followed as a bellwether of wider acceptance. The company began a custody service for cryptocurrency earlier this year.
In recent months, other major financial services firms have also added crypto services. These include brokerage firms eTrade, Robin Hood, and banking giant JP Morgan Chase (JPM) , which announced in February that it would become the first bank to back a cryptocurrency, the JPMCoin.
These initiatives come as institutional and retail investors grow comfortable not only with cryptocurrency as an investment but also with the blockchain technology upon which it is based. A Fidelity study released May 2 found that nearly half of institutional investors see cryptocurrency as a worthwhile investment. The survey of more than 400 institutional investors found that more than one in five already invest in digital assets with another four in 10 open to such an investment over the next five years.
"More institutional investors are engaging with digital assets, either directly or through service providers, as the potential impact of blockchain technology on financial markets -- new and old -- becomes more readily apparent," said Tom Jessop, president of Fidelity's Digital Assets unit, in a press release accompanying the study.
Last year, Yale, as well as Stanford, MIT and Harvard, invested portions of their massive endowments in cryptocurrency funds. DiPasquale said his firm was recently approached by an Ivy League endowment "educating themselves" about cryptocurrency.
"The industry continues to mature," DiPasquale said. "We've seen additional transactions in the blockchain and additional onramps for investors. These are all things enabling people to diversity with this uncorrelated asset."
Fintech investor Lex Sokolin said that "increasing regulatory clarity" may have also fueled the recent gains. Sokolin said he was encouraged by an increased understanding of "the ecosystem."
"We have more information about how it intersects with the economic world, and more talent is spending time on the space," he said. "So all in, the secular winds are positive."
DiPasquale is predicting that bitcoin will reach $7,000 by the end of May, encounter volatility throughout 2019 but continue to make gains over the next several years. "It takes the larger investment community that time to warm up to an asset class," DiPasquale said. He added: "We've been positive all along. We see this as an outperforming asset."
JPMorgan Chase is a holding in Jim Cramer'sAction Alerts PLUS Charitable Trust Portfolio. Want to be alerted before Cramer buys or sells JPM? Learn more now.