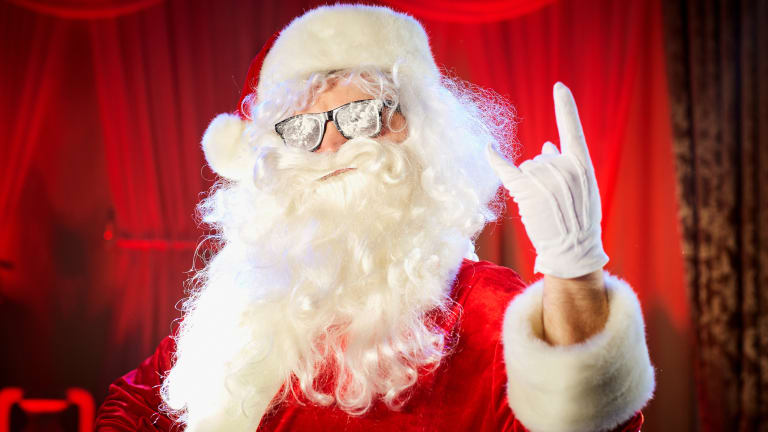 If These 2 Huge Deals Happen in 2018 It Will Rock Wall Street Forever
Top Wall Street strategists are wasting no time predicting some mind-blowing deals in 2018. Two predictions already making the rounds include Apple buying Netflix and Amazon scooping up Target.
OMG, yes, love these crazy predictions: There is little doubt now that tax reform has passed rumors will be coming in hot and heavy (probably starting this month) on Wall Street about which companies will be gobbling up rivals or complimentary pieces with their newfound cash. Two cray (crazy for you non-millennials) predictions have already caught my attention. A Citi note has started to make the rounds that said there is a 40% chance Apple (AAPL) - Get Report will buy Netflix (NFLX) - Get Report . The call is rooted in Apple possibly bringing back billions upon billions of dollars from overseas to fund a major acquisition such as Netflix. In addition to buying Netflix, Citi sees Apple also purchasing more of its stock. As for the other deal prediction, it's ridiculously juicy but would very unlikely pass government scrutiny. Amazon (AMZN) - Get Report could easily make a play for Target (TGT) - Get Report , according to Loup Ventures' founder Gene Munster. The long-time Apple analyst sees Target's focus on moms and families as a natural fit with Amazon. Yours truly will add his 2 cents having covered Target for 14 years: The two cultures of these companies couldn't be more different (Target's is Midwest and methodical, while Amazon is tech intense) and an integration may not be as easy as it seems.
Bitcoin ATMs are the real deal: Have a small business and want to drive new customers? Stick a bitcoin ATM inside and hang a sign outfront advertising its existence. According to bitcoin.com, convenience stores are seeing higher levels of foot traffic thanks to bitcoin ATM machines. The U.S. has more than 75% of the bitcoin ATM market share globally with about 1,270 tellers, per data from Coinatmradar.com. Coinsource, the largest bitcoin ATM provider, plans to reportedly install 1,000 new machines in 2018. The best way to invest in this budding trend from a stock market perspective: PepsiCo (PEP) - Get Report , which has a commanding presence in convenience stores with its snacks and drinks. 
To receive the FREE "Morning Jolt" daily newsletter, click here.
Time to better assess YouTube's risk to Alphabet: One reason among many that Alphabet's stock has soared 30% over the past year is consistent strong growth from YouTube and Wall Street believing that growth will continue. The platform now has more than 1.5 billion users. On average, these users spend about 60 minutes a day watching videos on mobile devices. Suffice it to say, this is a lucrative market for advertisers. But YouTube has had its issues with preventing extreme content (as has Facebook (FB) - Get Report ). Underscoring the strength of YouTube, Alphabet has yet to see advertisers abandon the platform following such incidents. Pointed out Alphabet Chief Financial Officer Ruth Porat on the company's third-quarter earnings call, "We've been doing a lot to protect the ecosystems and do the right things for advertisers and users and content creators and the overwhelming majority of advertisers never left and those who did, many are already back on the platform." That confidence could soon be tested. YouTube star Logan Paul apologized Tuesday after outrage followed a video he posted of a dead body swinging from a tree in a Japanese forest. Paul has about 15 million YouTube users. The video has since been deleted, but the uproar is enough to shed light on a potentially rising risk to Alphabet's YouTube cash cow. 
What's Hot
This Reality
For those predicting explosive growth in electric cars and usage of Tesla's (TSLA) - Get Report new semi truck, consider the below reality. That is: the U.S. needs more charging stations to support such heady growth estimates.
Apple, PepsiCo and Facebook are holdings in Jim Cramer's Action Alerts PLUS Charitable Trust Portfolio. Want to be alerted before Jim Cramer buys or sells these stocks? Learn more now.
Watch the replay of Jim Cramer's full NYSE live show:
More of What's Trending on TheStreet: