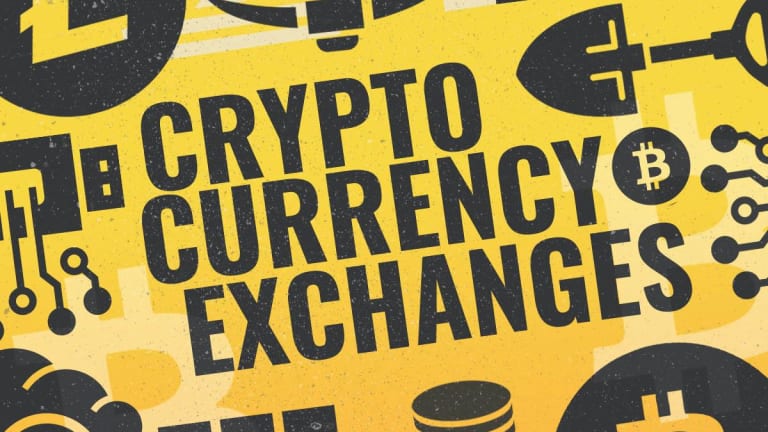 The 7 Best Cryptocurrency Exchanges in 2018
On board with cryptocurrency? You'll need to know which cryptocurrency exchanges to use before you go ahead and invest. But, what are the best cryptocurrency exchanges?
Despite a wildly volatile exchange rate (which saw bitcoin plummet below $5,000), cryptocurrencies like bitcoin seem like they'll be around for a bit longer to say the least. In fact, the cryptocurrency "industry" has a market cap of over $122 billion, according to CoinMarketCap. 
And while bitcoin had a disappointing drop right before Thanksgiving, tumbling 12% to around $4,915.06 on CoinDesk.com, cryptocurrencies have become increasingly popular - and exchanges are trying to keep up with it. 
For those brave investors wishing to get into trading crypto, there are a ton of options for exchanges and wallets. But, what are the best cryptocurrency exchanges, and which one is right for you? 
What Is a Cryptocurrency Exchange?
A cryptocurrency exchange is an exchange that allows investors to buy, sell and trade various cryptocurrencies often bought with fiat currencies - government legal tender like the U.S. dollar or the Euro. 
Cryptocurrencies are in that grey space between currency and stock - and, given that investors have noticed crypto fluctuating in tandem with the stock market, many seem to argue it may be more of a security. Still, cryptocurrency exchanges perform essentially the same service as regular exchanges on the stock or bond market - they allow people to buy or sell cryptocurrencies. 
There are a multitude of cryptocurrency exchanges that trade a variety of coins, including bitcoin, litecoin, ethereum and many, many more. While not all exchanges allow you to buy coins with U.S. dollars, those that do allow you to use your own cash to purchase coins or trade different coins - like buying bitcoin with litecoin and so on. 
Cryptocurrency exchanges will often have a USD value for the coin you are looking to buy reflected in the exchange rate. Exchanges may also show the exchange rate between different coins. 
How to Invest in Cryptocurrency
Given the somewhat ambiguous nature of cryptocurrency (is it currency? Is it a security? Is it all in our heads?), investing in cryptocurrency is something between a security and an actual form of currency. Because its value is so high (even though it has recently dipped, bitcoin is still worth a pretty penny), it is something of an investment. 
In fact, there are short-term, medium-term and long-term investments you can make in cryptocurrencies like bitcoin and the like - all subject to market fluctuations. But once you've decided you want to go for it and start investing in cryptocurrency, you're going to need a good cryptocurrency exchange. 
Many exchanges allow you to invest in cryptocurrencies directly with USD.
The Best Cryptocurrency Exchanges
A good cryptocurrency exchange is essential to beginning (or continuing) your journey of investing in cryptocurrency. So, what are some of the best cryptocurrency exchanges, and what makes them stand out? 
1. Coinbase
Touted by many as the "most beginner-friendly exchange," Coinbase has a lot to offer.
Founded in 2012, the San Francisco startup was the first to earn a "unicorn" status for a crypto exchange with its $1 billion valuation. 
The plus of Coinbase is that the service functions as an exchange, wallet and tool set for merchants. Currently, Coinbase trades in four different cryptocurrencies. Additionally, the exchange-slash-wallet accepts fiat and has a typical fee of 1.49% to 3.99% per purchase (for $1,000 of bitcoin, that would be about $14.90). However, you can't short-sell or margin trade on Coinbase.
Still, for beginners wading into the crypto waters, Coinbase is an easy-to-use platform that allows you to either purchase coins (like bitcoin or litecoin) through their wallet or trade through their sister platform GDAX, which allows more advanced traders the opportunity to trade with each other at lower trading fees. Coinbase's wallet is available on iPhone and Android interfaces as well, which certainly has helped its popularity. 
Additionally, according to Forbes, Coinbase is also partnered with companies that accept bitcoin like Expedia, (EXPE) - Get Expedia Group Inc. Report Overstock  (OSTK) - Get Overstock.com Inc. Report and Dish (DISH) - Get DISH Network Corporation Report . 
In terms of regulation, Coinbase is registered as a Money Services Business with FinCEN, and is licensed in most U.S. areas. But, for U.S. coin holdings, the FDIC ensures up to a maximum of $250,000 - a definite plus for U.S.-based investors. 
2. Binance
As the world's biggest cryptocurrency exchange, Binance has become somewhat of a household name in the crypto world. And, according to recent reports, they may be expanding.
"Right now, Binance is still a major cryptocurrency exchange and many people view us as that, but we are building the ecosystem. We want to be the infrastructure services provider for the blockchain space, so we have a number of different initiatives," Binance CEO Changpeng Zhao told TheStreet earlier this month. "Right now, our ecosystem is made up of the Exchange, a wallet, Labs, Charity, Info, Academy and more. We hope some of them will become the infrastructure for the industry." 
Still, Binance has attracted customers (who trade a volume of around $500 million per day) for good reason - Binance's $1 billion market cap is well earned. 
One of the major bonuses of Binance is its low transaction fee - about 0.1%. And, with over 130 tradeable currencies, Binance has got pretty much everything a crypto enthusiast could want. 
Additionally, you can set your trading mode based on your experience - with either beginner or advanced options. And as a unique feature, the exchange even has its own coin (called "Binancecoin" or BNB) that comes with a discount (on fees) when crypto-to-crypto trading. According to data from CoinMarketCap, the token's market cap is at around $1.7 trillion.
On the downside: you currently can't use fiat, and you also can't short sell or margin trade. And, the exchange has very minimal regulation. 
3. BitMEX
Hailing from Hong Kong, BitMEX (Bitcoin Mercantile Exchange) is one of the premiere bitcoin trading platforms often used by more serious crypto traders. 
BitMEX only trades one cryptocurrency - bitcoin. But the exchange has certainly gained popularity among bitcoin enthusiasts, reportedly doing over $2 billion in transactions over 24-hour periods. 
Still, it may just be BitMEX's special leveraged contracts that make it stand out. Yes, that's right - with BitMEX, you can buy leveraged contracts like futures contracts and perpetual contracts full of bitcoin instead of just owning the coin itself. Translated, that means that profits and losses are all still in bitcoin (not cash). However, if you are in the U.S., you're out of luck - BitMEX is currently not available in the states.
As a last word, BitMEX has typical maker and taker fees (made when adding or taking liquidity to or from an order book) of 0.05% to 0.25%, and does not accept fiat. Still, you can short sell and margin trade on BitMEX. 
4. OKEx
Another Hong Kong native, OKEx has become popular for its vast selection of coins (over 145) and its own token - called OKB. OKEx's token gives traders discounts, a voting capability in the company, and benefits like margin or fiat trading for verified customers. 
Additionally, OKEx has about a 0.02% to 0.2% taker and maker fee, and for some customers allows margin trading and short selling. According to OKEx's website, the exchange does about $1.5 million in bitcoin futures every day. 
However, much like BitMEX, OKEx still doesn't service the U.S. due to regulation issues - but the exchange is reportedly expanding to Malta. 
5. Kraken
Started in 2011, Kraken is reportedly one of the largest bitcoin exchanges in euro and liquidity, and is popular for its wide selection of fiat currencies available to trade - including the USD, euro, pound, yen and the Canadian dollar. 
And, Kraken is partnered with the first cryptocurrency bank.
Kraken trades 17 coins, accepts fiat currency, allows for margin trading and short selling and has a maker and taker fee of around 0% to 0.26%.
Still, the platform has gone under fire recently when its CEO Jesse Powell wouldn't comply with the New York Attorney General's inquiry into their regulation. Still, the company insists it is working on regulating. 
Because of its options for different kinds of trading, high liquidity and its variety of top cryptocurrencies (including those like Ripple), Kraken is ideal for more seasoned traders.
6. Huobi
Founded in China, Huobi is not yet available for U.S. investors but boasts a massive 248 tradeable coins. 
With maker and taker fees at around 0% to 0.2%, Huobi has become a favorite. The exchange also has different versions - the traditional Huobi OTC, which allows fee-free trading of cryptocurrencies with fiat currency, and the Huobi Pro, which allows for more advanced trading capabilities.
Additionally, according to Coindesk, Huobi is going to offer a cryptocurrency exchange traded fund (ETF) to be named HB10. The ETF will allow users to be exposed to a variety of assets at the same time.
For Huobi Pro users, 24/7 customer service is available. 
7. Gemini
Last but not certainly not least, the baby of infamous venture capitalists and almost-Facebook (FB) - Get Meta Platforms Inc. Report creators Cameron and Tyler Winklevoss, Gemini is a New York-based exchange. 
Gemini is open to both individual and institutional investors, and accepts fiat currency. With maker and taker fees at around 0% to 1%, Gemini is a pretty standard service. Currently, the platform only trades three coins, but has gained popularity and notoriety for its attitude toward cooperating with regulators. 
In fact, Gemini also provides FDIC insurance for cash (although once you've converted your cash into crypto, you're on your own). For many investors, this is a huge plus. 
And while Gemini does not have margin trading or short selling, the platform is regulated by the New York trust company, which in turn is regulated by the New York State Department of Financial Services - making it a great above-board option for crypto investors.
The Bottom Line 
Picking a cryptocurrency exchange will depend largely on your location and particular needs. For example, if you are U.S.-based, your options will automatically be more limited. You will have to make decisions based on your trading level, as many exchanges have beginner or advanced options and platforms.
Other elements to consider are: if you are set on using fiat currency to purchase crypto coins, or wish to margin trade or short sell currencies. 
As a disclaimer, cryptocurrency in general is a largely unregulated industry and investors should proceed at their own risk. But picking an exchange that has FDIC-insurance or is compliant with regulators can be a huge plus.