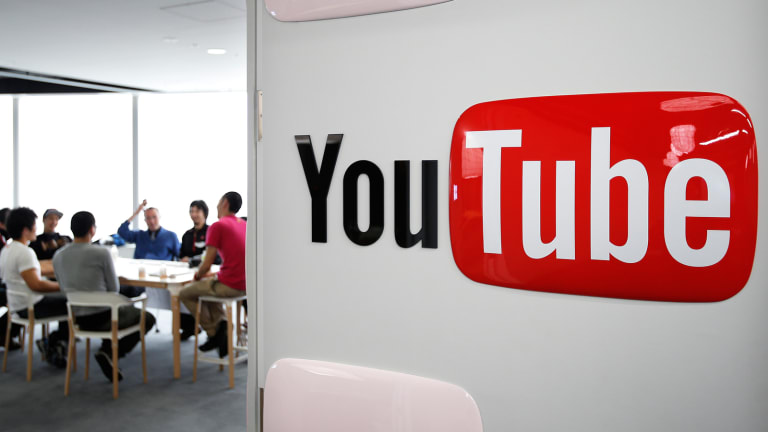 Alphabet Is Running the Risk of Destroying the Value of This Major Asset
Alphabet has taken action against one of YouTube's biggest stars. Bitcoin prices tank, and a cruise line CEO sails into the NYSE.
I want more questions from you: Going to be on the floor of the New York Stock Exchange around 9:45 a.m. ET to chat with Norwegian Cruise Line's (NCLH) - Get Report CEO. The company will be celebrating five years since its IPO. I want you to bomb my Twitter feed @BrianSozzi with questions to ask Frank Del Rio -- make my new iPhone X freeze up. Quick side story: First met Del Rio, who perhaps knows more about the cruise line industry than anyone alive, back in 2015 for this piece at a New York hotel. We sit down at the table and he drops a massive, massive document he plans to share with investors at a presentation the next day. I am looking at this thing and he proceeds to just rifle off what seems like every fact from inside the document with ease. It was pretty freaky, and served as a quick reminder I knew very little about the cruise line industry (despite preparing a lot). But it also left an impression that when Del Rio speaks, you should probably listen to him. And yes, would like to grab a bit more insight about the ship that recently sailed through the bomb cyclone.
The bottom line on bitcoin: Bitcoin is getting raked over the coals Thursday on fears of the crypto being banned in South Korea. Seeing as South Korea is such a key market for bitcoin, it makes sense people are dumping first and asking questions later. But let's keep in mind that bitcoin, the ultimate momentum play, has had two major knocks on its existence within the past day. Legendary investor Warren Buffett trashed bitcoin in an interview on Wednesday. "I can say almost with certainty that they will come to a bad ending," the CEO of Berkshire Hathaway Inc. (BRK.A) - Get Report said of cryptocurrencies. Then, a prominent Federal Reserve official bashed crypto more broadly. "Cryptocurrencies will never be credible competitors because the barrier to entry is so low," Minneapolis Fed chief Neel Kashkari told TheStreet in an interview. "I would stick with the dollar." With tough talk like that from these influencers, why would any dumb millennial try to get long bitcoin right now? Might as well wait for the next price surge and ride it.
To receive the free "Morning Jolt" daily newsletter, visit here.
Not enough here, Alphabet: Google (GOOGL) - Get Report  (a holding in Jim Cramer's Action Alerts Plus investor club) said it will not move forward with a planned YouTube Red movie with embattled influencer Logan Paul. The YouTube star is still feeling major heat for filming a dead body in Japan last month. Google also said Paul's channel has been removed from its top-tier preferred ad program. In short, this move isn't enough as TheStreet first debated quickly after the incident. YouTube is a major profit center for Alphabet and if it doesn't address these crazy issues swiftly and bluntly it could hurt the brand over time. Comments from Alphabet's Chief Financial Officer Ruth Porat on the matter during the fourth-quarter earnings call in two weeks will be critical to getting more comfortable with how these issues are being handled. Right now, efforts have been sub-par.
What's Hot
Walmart Steps Up Big-Time
Walmart (WMT) - Get Report said today it will raise starting wages to $11 an hour and hand out $1,000 bonuses to employees. Watch my interview from November with Walmart CEO Doug McMillon where we touched on the impact of tax reform.
More of What's Trending on TheStreet: