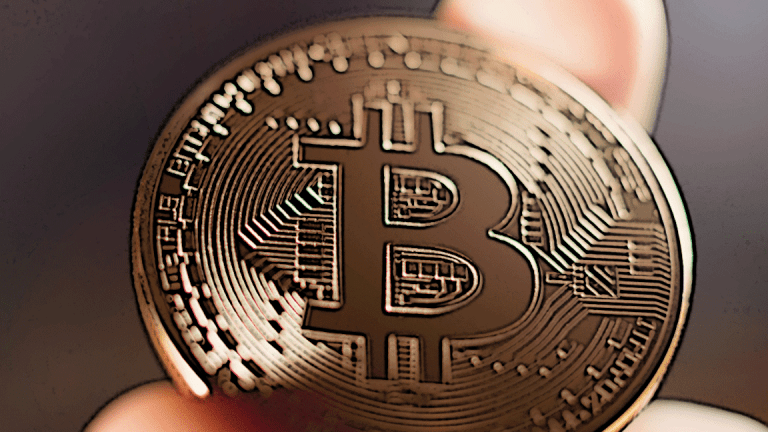 Bitcoin Will Soar to $5,000 Barring a Major Catastrophe
Bitcoin value has experienced a roller coaster ride this month, but things are looking up.
Bitcoin's value has experienced a rollercoaster ride this month. 
Earlier in September, Bitcoin peaked at $5,000. Then the cryptocurrency tumbled after news came from China that it would shut down cryptocurrency exchanges. And when JPMorgan Chase  (JPM)  CEO Jamie Dimon's declared Bitcoin a "fraud," the cryptocurrency's valuation dropped down further.
Since then, Bitcoin price has recovered to around $3,800. The question is will Bitcoin rise to $5,000 by the end of this year? Josh McIver, founder and CEO ULedger, believes Bitcoin will reach higher levels.
"Bitcoin is a relatively resilient system." said McIver.
However, we can expect further highs and lows.
"Any technical trader can see strong support for Bitcoin at the $3,000 and $4,000 levels," said Alex Mashinksy, the CEO of Celsius. "While the price may go up and down in the short term, we predict that in a years time baring any catastrophic news the price should test the $5,000 resistance levels again." 
Are you investing in cryptocurrency? Don't miss TheStreet's coverage:
Why Bitcoin Cash Prices Are Likely to Dive Again
Bitcoin to Take Over Civilization
How Cryptocurrency Mining Works Explains Why AMD and Nvidia's Sales to Miners Might Soon Fall
Global crypto movement increasing
Mashinksy explains that since so many new people around the world are "converted" as believers in the cryptocurrency movement and it's very hard and expensive to short Bitcoin and Ether, there is more money trying to get in than out.
"This means long term the price is going up and not down," he said. "One of the clear and most direct barometers for this demand is the premium to asset values that GBTC [Bitcoin Investment Trust] is trading at. When BTC got over $5,000, it was trading at over 100% premium ,which means people preferred buying an OTC share which only trades a few hours five days a week vs, the coin itself mwhich trades 24/7 and paying 100% premium for it." 
Yonatan Sela, senior vice president of business development at YouNow, also believes Bitcoin will rise to $5,000 again.
"If you buy into the thesis that Bitcoin would become the prominent digital reserve currency, you got to believe it will [reach $5,000]," he said. "The main reserve currency in the world is gold, with a market cap of $7 trillion. Bitcoin is currently at $66 billion, which is less than 1% of that. Even if it stays at just 2% of gold, it will surpass the $5,000 price point." 
There is still some hesitation in the industry as to whether Bitcoin will become mainstream. One commentator warns making price action is misguided.
"I think making near term predictions about price action is a fool's errand," said Zachary Karabell the head of global strategies at Envestnet. "Either Bitcoin will establish itself as a long-term viable alternate means of exchange or it won't. If it does, it will be worth considerably more over time; if not, it could be worth zero." 
Will we see Bitcoin lose marketshare to other cryptocurrencies?
Of course, Bitcoin isn't the only player in the cryptocurrency game, but it still looks to be able to weather any intermittent sell-offs. 
"Bitcoin will likely continue to lose market share to other cryptocurrencies--it's now 50% of total crypto market cap value, down from 85% earlier this year," said Sol Lederer, blockchain lead at LOOMIA. "But the cryptomarket overall is showing resilience to negative news -- for example, to China -- so will likely continue to grow." 
Lederer adds we can then expect Bitcoin to pass $5,000 again next year now.
And, of course, Bitcoin evangelist John McAfee thinks Bitcoin will rise even higher. Considering what he has on the line, he better hope it does.