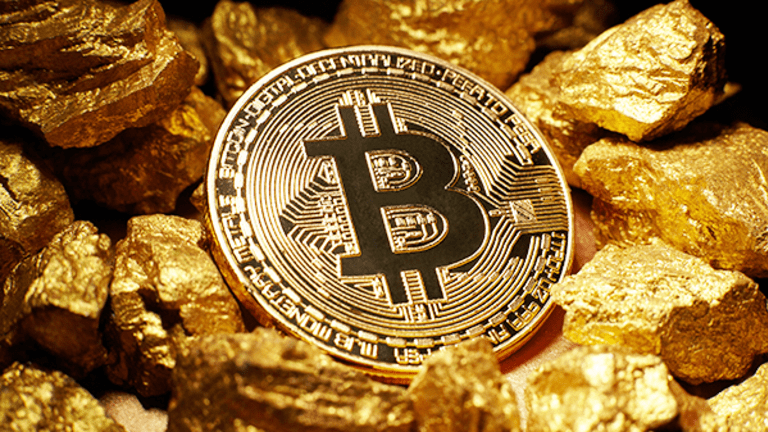 Bitcoin Is Coiled to Unleash a Rip Your Face Off Rally to $5000
Holy schnikes -- is this really possible? John McAfee has made a very bold wager that it will go even higher.
Bitcoin is expected to gain traction and hit the $5,000 mark this year, according to a number of market participants. 
Is this really possible? This weekend we saw Bitcoin reach $4,000. Hysteria is gripping crypto investors as institutional investors have started to move in and invest in cryptocurrency - grabbing a piece of the action. Today the cryptocurrency is at around $4,460, per Coindesk.
Aaron Lasher, co-founder and CMO of Breadwallet, believes it is certainly possible the currency will reach $5,000 but warns Bitcoin is in bubble territory. He explains the real way to win the Bitcoin game is to look three or four bubbles ahead. 
10 Top Bitcoin Digital Wall Apps Worth Buying to Watch All Your Profits
"Make no mistake, Bitcoin is in a bubble, but it's not necessarily a bad thing," Lasher said. "It's not the first time this has happened nor will it be the last. When you take a long term view, such as 15 or 20 years, the analysis you should entertain is determining from what financial instruments that bitcoin can "steal" market share, and then back into a number that represents that value."
John McAfee, CEO of New York-based MGT Capital Investments and the founder of a antivirus software company, also made a public forecast on Twitter that Bitcoin will jump to $5,000. McAfee promised to eat his penis if the price of Bitcoin does not reach $500,000 in three years.
Bitcoin is becoming more and more mainstream especially in the U.S. - Goldco recently introduced "Coin IRA" which allows investors to roll over an existing IRA or 401(k) into a Bitcoin IRA. Investors can now opt to save for retirement by investing in digital currencies and cryptocurrencies. 
"On Sunday Bitcoin broke through $4,000, doubling in value since last month," said Trevor Gerszt, CEO of Goldco. "It's already worth four times more that its value at the start of the year. With so much growth in digital currencies this year, this new sector offers incredible potential for return on investment." 
"Let's imagine that as an investment vehicle, Bitcoin replaces 5% of the global demand for stocks ($69 trillion), bonds ($82 trillion), and real estate ($217 trillion)," Lasher continued. "That would put Bitcoin at around $18.4 trillion total valuation. Divide that by the number of bitcoins there will be in 20 years (~20.5 million) and you get approximately $900,000 per coin. Is that a realistic goal? Nobody really knows. But is it possible? Yes, it's definitely possible."
Investors should also keep on eye on Asia.
"With respect to the Bitcoin market through the end of the year, I expect to continue to see growing inflows into the market via Asian economies where crypto-asset awareness has begun to hit a tipping point," said Laurent Kssis, Managing Director at XBT Provider. "Specifically, over the last three months, the most visible inflows into market have been via South Korea & Japan; a trend which I do not expect to slow down anytime soon."
Are you investing in cryptocurrency? Don't miss TheStreet's coverage:
Why Bitcoin Cash Prices Are Likely to Dive Again
Bitcoin to Take Over Civilization
How Cryptocurrency Mining Works Explains Why AMD and Nvidia's Sales to Miners Might Soon Fall
Bitcoin Skyrockets to Record $3,525 as a Buying Binge Is Unleashed
"Through the rest of the year, I would not be surprised to see the price break through the $5,000 per coin threshold," said Ryan Radloff, head of investor relations at XBT Provider. "I also think we will see the adoption of a smaller unit of Bitcoin, and an increase of 'delta-1 securities' emerge on top of the Bitcoin ecosystem. I believe the more products that emerge like futures, options, swaps and ETFs, the more stable it will make bitcoin, but don't expect high degrees of volatility to go away until we are close to a $350,000 to $450,000 per coin in the future."
Krzysztof Kolaczynski, the founder of STABLE, warns cryptocurrencies are only risky, if you devote them all or a substantial part of your portfolio. "But, if you simply lower the exposure to just 10%, or 15% of your entire portfolio, such an approach will suddenly start to make sense," he said. "The simplest strategy of reducing volatility (therefore also allocation) is called volatility targeting/scaling on constant basis, so each time you are adjusting allocation in Bitcoin in order to keep such a portfolio volatility at the level equal to the S&P500 index volatility."
It's all about diversifying.
"Such a strategy means that instead of investing 100% of your portfolio into Bitcoin one investor could lower exposure into cryptocurrency to the level of volatility of the popular equity indices such as S&P 500, Nikkei 225 or Eurostoxx 50," he said. "If equity index volatility is at level of 15% and Bitcoin volatility is at level of 110% it means that instead of investing 100% of capital into Bitcoin based on rules of volatility target strategy, the allocation into the Bitcoin should be about 13% - the remaining part of portfolio Investor could put on deposit or money market fund."
There are over 900 crytocurrencies, which ones will last?
More of What's Trending on TheStreet: