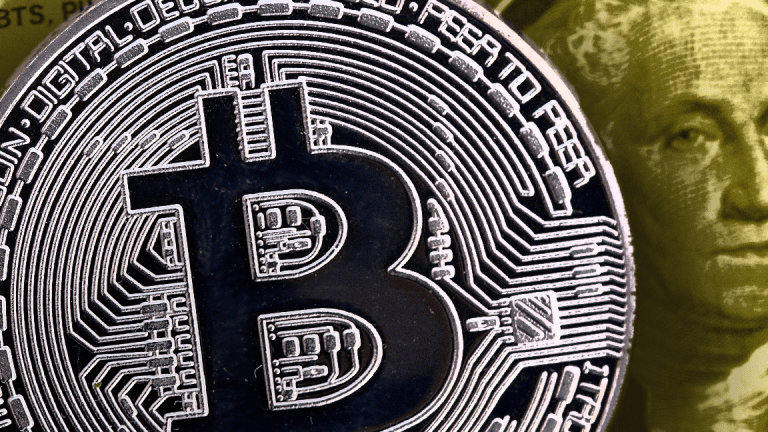 Bitcoin Is Within Spitting Distance of $10,000; Can It Surge Past?
After 2018's brutal 'crypto winter,' bitcoin has been on a tear in 2019.
It's been a busy week for the "crypto economy." Details about Facebook's long-awaited cryptocurrency brought significant attention to the industry as a whole and created anticipation that markets could move higher. And by Friday early afternoon, bitcoin was trading at about $9,900, just shy of the psychologically important $10,000 level. 
The collective optimism isn't without cause.
Not only will Facebook's (FB) - Get Facebook, Inc. Class A Report cryptocurrency, Libra, introduce the platform's 2.5 billion users to cryptocurrencies, but the project doesn't take direct aim at bitcoin. Rather than striving to supplant the first and still-most-popular digital currency, Libra caters to the 1.7 billion unbanked around the world by striving to provide a fast, affordable and reliable way to send and receive money.
Bitcoin prices rose in anticipation of Facebook's announcement and dropped slightly in the immediate aftermath on Tuesday.
Now, the currency could be ready to reach a new milestone in its recovery soon. With $10,000 within reach, many are looking for signs that the token could be about to make another jump, something that is evident some many market forces.
Can It Continue to Climb?
Biitcoin is having an excellent year as it continually reaches new 12-month highs, reviving investors' interest in the currency. In fact, bitcoin is outpacing more traditional investment instruments such as stocks, bonds, gold and oil, buoying its role as an integral financial vehicle.
With that in mind, there are some things that investors should look for in determining the token's future value.
For one, it could benefit from the ongoing publicity and sentiment boost accompanying the launch of Facebook's Libra based on the idea it could help spread crypto adoption, which would benefit bitcoin as well as Libra. "Libra doesn't seem to be a real challenger to Bitcoin as a store of value," says Nir Kabessa, the head of Columbia University's student body Blockchain association -- in reference to Bitcoin's position as a "safe haven" against fiat currency.
Regarding Libra's direct impact on bitcoin's price, Kabessa added that "if the consortium of companies supporting Libra announced that Libra will hold a portion of its reserves in bitcoin, it could easily drive the price over $10K. I do expect this to happen eventually -- but not any time soon, considering bitcoin's volatility."
At the same time, bitcoin block rewards for mining are scheduled to be cut in half in May 2020, and, in the past, those halvings have ignited a bitcoin bull run roughly six months in advance. "We're moving a bit ahead of schedule this time -- with a bull market starting one year in advance (instead of six months) since an advance has followed 'halving' twice in a row and people are trying to get in early on the party," says Michael Terpin, CEO of cryptocurrency advisory firm, Transform Group and co-founder of cryptocurrency angel-investor network, BitAngels.
"In the short run, there are two scenarios," Terpin added. "[One], bitcoin nearly meets a key price level [$10K] and a 'big whale' investor brings the price down -- as was the case last month from $7K to $8k. Or we could run through $10k. But either way it looks like we're in an early bull market and once we hit $10K, that won't be the end of it."
From a fundamental perspective, the price of bitcoin tends to react to positive sentiment. Libra's announcement is providing some of that push, and additional headlines around bitcoin's upcoming halving could propel its price higher. But bitcoin-related headlines aren't the only thing impacting the currency's value.
Bitcoin as a Hedge
There is growing evidence that investors view bitcoin has a hedge against global instability, and several factors are creating FUD (fear, uncertainty and doubt) in traditional financial markets.
In the U.S., concerns about interest rates and an extended trade war with China are increasing the pressure on financial markets. Meanwhile, an ominous inverted yield curve, which frequently predicts a recession, appeared at the end of May.
Meanwhile, news that Europe was preparing stimulus actions to prevent its economy from plunging into a recession sent the Euro down significantly.
Regardless of the region, signs of instability are everywhere, which could boost the price of bitcoin.
As global instability rises, bitcoin's potential improves as investors consider the digital currency to be a hedge against negative market forces in other areas. Combined with the positive sentiments arising from bitcoin's fundamentals, it could be ready to reach $10,000, a new high point in an already incredible year for the currency.
Facebook is a holding in Jim Cramer'sAction Alerts PLUS Charitable Trust Portfolio. Want to be alerted before Cramer buys or sells FB? Learn more now.
Watch: Will Facebook's New Crypto Venture Kill Bitcoin or Fuel the Fire?
The author holds stock in investment holding company, Leucadia (Jeffries), and remains a partner in an emerging-technology fund. He holds no positions in cryptocurrencies nor in any companies that invest in them.