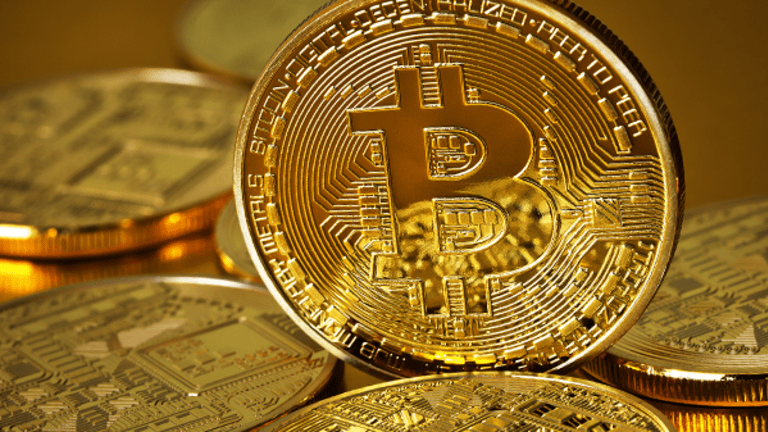 Top 10 Bitcoin Digital Wallet Apps That Will Hold All Your Profits
The Bitcoin phenomenon has become impossible to ignore. Downloading these apps to your smartphone will be essential as an investor or enthusiast.
The Bitcoin phenomenon has become impossible to ignore, especially in light of futures trading. In this day and age apps have become an everyday part of our lives so it makes sense to explore and access your Bitcoins from your mobile device.
Recently I had to open a Bitcoin account in order to accept payment from a client. I was overwhelmed with the number of Bitcoin wallets available. To make things easier for those looking to download their first Bitcoin wallet I've rounded up a list of apps.
These apps allow you to send Bitcoin like a text with a few clicks.
Here are some of the best Bitcoin apps out there today...
More of What's Trending on TheStreet:
ABRA is a bitcoin-based digital wallet app that lives on your smartphone. One of the advisors of the app is Hollywood actress Gwyneth Paltrow. Abra is an easy-to-use mobile app with low fees that allows you to send bitcoin to any external bitcoin wallet or to any Abra user. The app supports bitcoin as well as 50 other global currencies, allowing you to convert currency easily and hassle-free.
Bitcoin Core is also a software that helps run the Bitcoin network. It can be installed and run of the following operating systems such as Windows, Mac OS X and Linux Bitcoin Core will give you control over both your public and private keys, which ensures safe storage.
Major Bitcoin payment website BitPay aimed to bring "one-touch" Bitcoin payments to mobile devices -- and achieved that through its Bitcoin Checkout app. This app has even allowed Bitcoin users to send BTC donations to the Red Cross in Nepal.
Coinbase is often recommended to newcomers as one of the easiest ways to acquire their first bitcoins. Coinable has numerous banking partnerships which allow transactions to be made via EFT payment, ACH / SWIFT / SEPA transfer and, as a recent introduction, major credit cards and PayPal.
Crypto Pro also tracks over 100 cryptocurrencies including Bitcoin. If you own the currency you will want real time information about its value. Crypto Pro tracks multiple currencies and presents the information in detailed interactive graphs, which can be fully customised. It is also compatible with Apple (AAPL) - Get Apple Inc. Report watch. You can also use the app to request bitcoin with a QR code.
Gliph, which lets users send and receive bitcoins while also handling secure messages, was originally conceived as a means of shielding identities online. Gliph's main advantage is that it allows cloaked email addresses, which lets people to hide their real email addresses behind a pseudonym address. Like the Bitcoin Core app, Gliph also has a desktop version too. In the latest version your Facebook account may be connected during signup and when editing your profile.
Watch this space ... The full version will be launched later this year. Currently, there is a coffee versions only -- which allows you to spend at your local Starbucks. Go to coffee.foldapp.com on your phone and click "Load Bitcoin." Enter the amount of bitcoin you want to load in dollars and confirm. Fold allows you to start spending bitcoin in the real world. Currently available in the U.S., Canada, Mexico, Australia, the UK, Ireland, South Korea, and Hong Kong and Macau.
The Xapo App is a mobile Bitcoin and multi-currency wallet that combines convenience and industry-leading security for managing your Bitcoins and sending money to friends and family instantly all over the world. Key features of the include functions like a checking account for managing daily spending. It is very similar to the other apps you can easily send, receive, and convert funds in all currencies worldwide. Use your Xapo Debit Card for in-store purchases, online, and at ATMs worldwide. Xapo has raised $40 million from Benchmark, Greylock Partners, Index Ventures, Fortress Investment Group, Ribbit Capital and Emergence Capital Partners.
Circle
Circle promises you extra privacy claiming it is extremely important. Your account details with Circle are double encrypted: you can set limits and enable text verification and fingerprint ID.
Blockfolio offers complete cryptocurrency management, with easy-to-use tools to keep track of all your cryptocurrency investments. Get detailed price and market information for individual currencies and your entire portfolio all in one place.