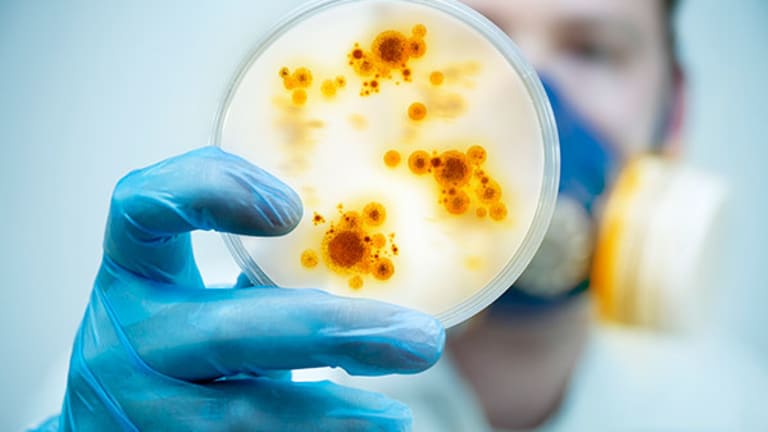 Biotech Pop-Up Party in Full Swing
The beaten-down biotech sector is making an impressive comeback. The sector seems to be rebounding after tumbling by more than 40%.
Don't look now, but the long beaten-down biotech sector is making an impressive comeback. The segment plunged by more than 40% between late July 2015 and what appears to be a series of bottoms in 2016's first half, but has rebounded some 20% since then.
Biotech gained about 10% in July alone, with much of the rally powered by an uptick in M&A activity and expectations that large firms would report good second-quarter earnings.
Well, the sector certainly didn't disappoint. AbbVie (ABBV) , Amgen  (AMGN) , Bristol-Myers Squibb (BMY) and Celgene (CELG) all beat consensus estimates for both the top and bottom lines and have been some of the biotech rally's prime drivers. The only major firm to buck the trend was Gilead Sciences (GILD) , which beat analysts' earnings estimates but reported soft hepatitis C sales.
Biotech M&A activity also seems to be on the upswing, as we got word recently of two mega-acquisitions. Galencia cut a deal to buy Relypsa (RLYP) (a former "Best Idea" of mine) for $1.5 billion (a 60% premium), while Sanofi (SNY) has bid $9.3 billion for mid-cap oncology concern Medivation (MDVN) .
However, MDVN is hoping for a "white knight" to beat that, and it wouldn't surprise me if the firm cuts a friendly deal this month for north of $10 billion. That should ignite the "animal spirits" in the sector, bidding up other small- and mid-cap concerns that look attractive as buyout targets.
Biotech also broke through a stubborn resistance level on Monday that had stifled the segment's previous 2016 rallies. If we can get some follow-through buying over the rest of the week, then I think the next leg of a long-overdue biotech rally could finally be at hand.
Now, I always recommend keeping 50% to 75% of your biotech holdings in large-cap growth names as a good way to lower volatility. After all, you want to be able to sleep at night when this high-beta segment has one of its frequent, inevitable "hiccups."
The exact percentage of how much to keep in big caps depends on your risk profile. However, I think all biotech investors can slowly move a little bit out on the risk curve and put more money into the sector's smaller-cap names.
I particularly like what I dub "Tier 3" biotech stocks -- companies that aren't yet profitable, but that have recently gotten their first product approvals and are ramping up sales. I've found that these stocks can have nice runs as they change from developmental firms to profitable enterprises.
They also historically see lots of buyouts as larger players pay up to simply add a promising company's products to its existing portfolio and sales force. Relypsa is a good example of this. So is Anacor Pharmaceuticals, which Pfizer (PFE) recently bought for $5.2 billion (a better than 50% premium).
ABBV and PFE are holdings in our Dividend Stock Advisor Portfolio. Learn more now.
Other Tier 3 biotechs that I wouldn't be surprised to see larger firms bid on in the next few quarters include Merrimack Pharmaceuticals (MACK) , Acadia Pharmaceuticals (ACAD) and Aratana Therapeutics (PETX) . I own all three, and I like them even if they remain stand-alone companies.