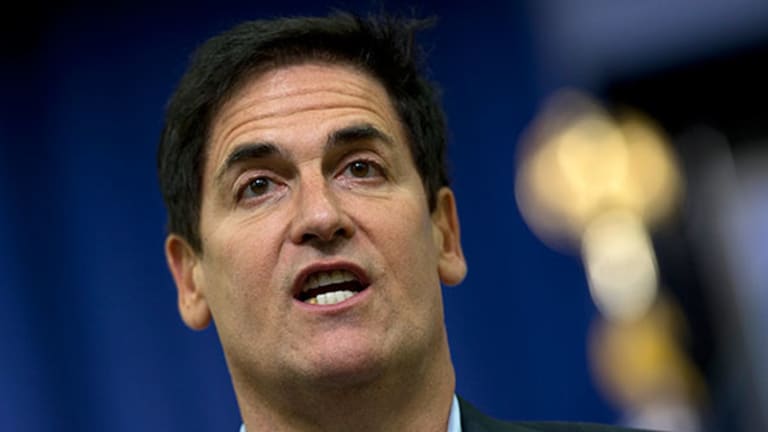 Billionaire Mark Cuban: The Rise of Technology Will Cause a Lot of Unemployment
Cuban talks Trump and artificial intelligence.
Billionaire Mark Cuban made an appearance on July 22 in New York City's Central Park at the second annual "OZY Fest", and he didn't disappoint.
Naturally, the conversation first gravitated towards President Trump, with moderator Carlos Watson leading a panel that also included Republican presidential candidate Jeb Bush and comedian Samantha Bee. Watson first asked if any of the panelists would join President Trump's cabinet.
Cuban proclaimed that he wouldn't join Trump's cabinet, but he would meet with the President to converse about the state of our nation.
When it was Jeb Bush's turn, the former governor simply replied: "Let's move onto something [more] fun."
Here's Your Bearish Apple iPhone 8 Note Just Hours Before Earnings Are Revealed
Watson then shifted gears to the hot-button topic of police brutality. 
"I think every city is different," Cuban responded when asked if our police system nationwide is broken. "Different forces in different cities have different cultures."
Cuban also touched upon artificial intelligence during a one-on-one panel with Watson.
"However much change you saw over the past ten years with the Apple (AAPL) - Get Apple Inc. Report iPhone, that's nothing," Cuban continued. Cuban also claims that Montreal and China are "kicking our ass" with artificial intelligence.
Cuban also expressed concern about technology usurping the current standard of everyday business practices, leaving many unemployed.
"There's going to be a lot of unemployed people replaced with technology and if we don't start dealing with that now, we're going to have some real problems," said Cuban.
Dubbed as "TED meets Coachella", OZY Fest marries music, intellectual thought, food, and comedy into an all-day festival under the foliage of Central Park. Featuring a medley of speakers, this year's lineup is headlined by pop star Jason Derulo, HBO's Issa Rae, celebrity chef Eddie Huang, news anchor Katie Couric, and drag superstar Ru Paul.
More of What's Trending on TheStreet:
This Is Why President Trump Can Now Blame Apple for Atlantic's Reporting