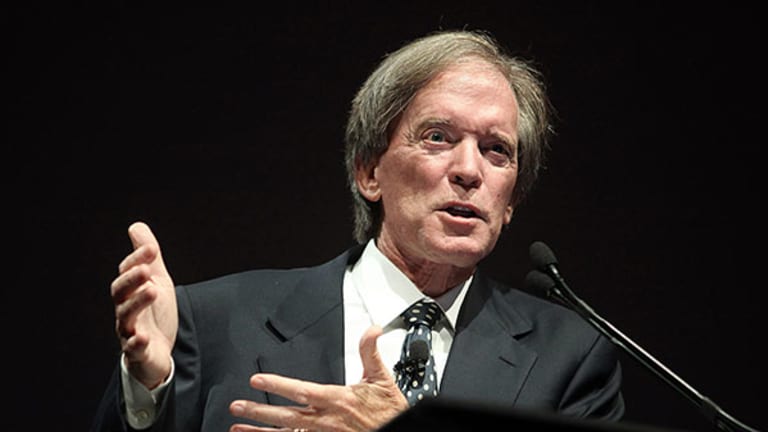 Bill Gross Says Low Rates Are Stretching Markets to the Breaking Point
Investors can't make money when money yields nothing, 'Bond King' Bill Gross argues. The U.S. and other developed countries need to produce economic growth soon, he says, 'or else.'
Editors' pick: Originally published March 30.
Bill Gross has no doubt that the appliance-store employee griping about rock stars raking in cash for precious little work, whose MTV-inspired frustrations were captured in Dire Straits' chart-topping hit from late 1985, was wrong.
There is no Money for Nothing. Nor is there a cash return from nothing, or less than nothing, which means central banks with extremely low interest rates, like the U.S., or negative rates, like Europe and Japan, are running out of time for those policies to reignite economic growth.
"Losses from negative rates result in capital losses, not capital gains," Gross, the Pimco co-founder who now manages the $1.26 billion global unconstrained bond for Janus Capital, argued in his most recent monthly investor outlook. "Investors cannot make money when money yields nothing."
Gross, who has expressed concerns about low rates in the past, reiterated them just a day after Federal Reserve Chair Janet Yellen said the U.S. central bank was likely to remain cautious about further rate increases. The Fed raised short-term rates by 25 basis points in December, the first increase since cutting them to nearly zero during the financial crisis of 2008, but has since halved the number of likely hikes this year amid market turmoil in January and February, a slowdown in China and low oil prices.
While the Fed has downplayed the likelihood of negative rates, in which central banks charge finance companies to hold their reserves in an attempt to get them to lend the money instead, such a scenario was included in the regulator's annual bank stress tests. Central banks in Europe and Japan, meanwhile, have both set negative rates in attempts to stimulate their economies.
Such structures can remain in place for only a limited time before the harm they cause outweighs the potential benefit, Gross said. The U.S. now needs to boost yearly economic growth from 3% to a range of 45 to 5% by 2017, while the European Union would need growth of around 3% and Japan would require about 2%, he said, "or else."
Otherwise, he said, "markets and the capitalistic business models based upon them and priced for them will begin to go south. Capital gains and the expectations for future gains will become Giant Pandas -- very rare and sort of inefficient at reproduction."
Already, low rates have curbed net interest margin -- a measure of what banks earn from lending money after paying interest to depositors -- at financial institutions for years. Bank stocks benefited in December when the Fed forecast as many as four rate hikes this year -- which would take the benchmark short-term interest rate in the U.S. to a range of 1.25% to 1.5% -- but pared gains after the outlook clouded.
"Developments abroad imply that meeting our objectives for employment and inflation will likely require a somewhat lower path" for interest rates than monetary policy committee members anticipated in December, Yellen said Tuesday. "Given the risks to the outlook, I consider it appropriate for the committee to proceed cautiously in adjusting policy."
Her remarks prompted a spike in U.S. markets, with the S&P 500 Index wiping out the remainder of its year-to-date losses; the gauge is now up 1.14% for 2016. The KBW Bank Index, which includes companies like JPMorgan Chase (JPM) - Get JPMorgan Chase & Co. Report, Citigroup (C) - Get Citigroup Inc. Report and Action Alerts PLUS holding Bank of America (BAC) - Get Bank of America Corp Report , fell. It's now down about 11% for the year.
The pain isn't likely to stop there, Gross predicts. "Unless real growth/inflation, commonly known as nominal gross domestic product, can be raised to levels that allow central banks to normalize short-term interest rates, then south instead of north is the logical direction for markets," he said. "All financial assets are ultimately priced based upon the short-term interest rate."
In short, his assessment of keeping rates lower for longer could borrow one of the tag lines from Money for Nothing: "That ain't workin.'"