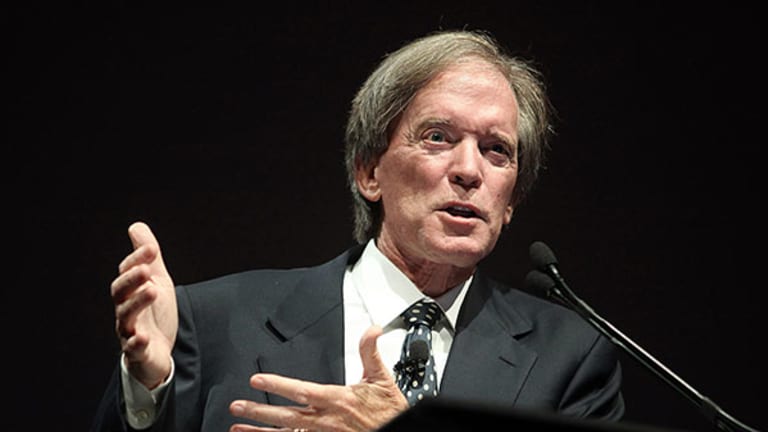 Bill Gross Says Trump's Policies Will Keep 'Status Quo' for Washington Elites
Bill Gross says American voters were fooled by the populist message from Donald Trump, and his policies as president won't give them what they expected.
Bill Gross says American voters were fooled by the populist message from Donald Trump, and his policies as president won't give them what they expected.
Investment guru Bill Gross says it's time for American populists who backed Donald Trump to wake up: The president-elect isn't looking out for them but supporting the very elite he claimed to be campaigning against.
Trump's policies will benefit mostly the wealthy and corporations, which will keep U.S. economic growth slow, the fund manager said in his monthly investor outlook on Wednesday. Lower taxes on the richest 1% of the population, corporate tax breaks and higher defense and infrastructure spending will be "a continuation of the status quo," argued Gross, the Pimco co-founder whose investing acumen earned him the nickname "Bond King" before he moved to Janus Capital (JNS) .
And the "status quo" is exactly what made the populists angry with the so-called establishment in the first place, says Gross, who supported neither Trump nor his Democratic rival Hillary Clinton. The plans of both candidates favored Wall Street over Main Street, he said, and populists who bought into Trump's message to the contrary were duped. 
Already, Trump's focus on a temporary "moratorium" on new financial regulations and his call to repeal the Dodd-Frank Act passed after the 2008 financial crisis, has driven a post-election rally for Wall Street banks such as JPMorgan Chase (JPM) - Get Report , Well Fargo (WFC) - Get Report , Citigroup (C) - Get Report , and Bank of America (BAC) - Get Report . 
"I write in amazed, almost amused bewilderment at what American voters have done to themselves," Gross wrote. "The Trumpian Fox has entered the Populist Henhouse, not so much by stealth but as a result of Middle America's misinterpretation of what will make America great again."
The fund manager highlighted a poll of 10,000 people that showed 75% believe that "America needs a strong leader to take the country back from the rich and powerful" and 72% believe the country is rigged in favor of its elite.
While Gross agrees, he noted that Trump's desire to reduce corporate tax rates jibes with the GOP platform that U.S. companies are among the world's most heavily taxed when just the oppose is true. Of the 50 biggest companies in the S&P 500, the average tax rate is 24%, not the 35% top rate that CEOs gripe about, he said. 
Further, history has shown that even when corporations are given a "tax holiday" as Trump proposes, a period in which the government offers a lower rate to entice executives to bring overseas investments back to the U.S., the results are minimal.
During a holiday in 2004, Gross said, "no noticeable pickup in investment took place" and "most went to dividends, corporate bonuses, and stock buybacks," not earnings and economic growth.
While Trump promised to bring back jobs and "make America great again," his actual policies would continue to favor Wall Street over Main Street, Gross said.
"His tenure will be a short four years, but is likely to be a damaging one for jobless and low-wage American voters," Gross wrote. "They were the force for Trump's flipping the Midwest into a Republican Electoral College victory."
But the real estate mogul's policies aren't risk-free for investors either, Gross said.
"Higher deficits resulting from lower taxes raise interest rates and inflation, which in turn have the potential to produce lower earnings and P/E ratios," he wrote.
If Trump wants to actually help average Americans, Gross wrote, then "government must step in, not by reducing taxes, which will only increase profits at the expense of labor, but by being the employer of last resort in hopefully a productive way," perhaps through a job corps program.
The burden should not solely fall on corporations to invest as Gross lists a growing set of issues that businesses have to contend with, including, "demographic aging, technological displacement of jobs (robotization), deglobalization, and overleveraged balance sheets."
The populist movement is now a global movement as the gap between the extremely wealthy and the poor and middle-class has widened and the issue of inequality has become a topic weighing on government policies and decisions.
"Unless the worker's share of GDP reverses its downward trend, and capital's share peaks, then populists worldwide will reject establishment parties in almost every future election -- initiating in some cases growth-negative policies revolving around trade, immigration, and yes, in Trump's case, lower taxation that may lower GDP growth, not raise it," he said. 
EXCLUSIVE LOOK INSIDE: Wells Fargo and Citigroup are holdings in Jim Cramer's Action Alerts PLUS charitable trust portfolio.Want to be alerted before Cramer buys or sells these stocks? Learn more now.