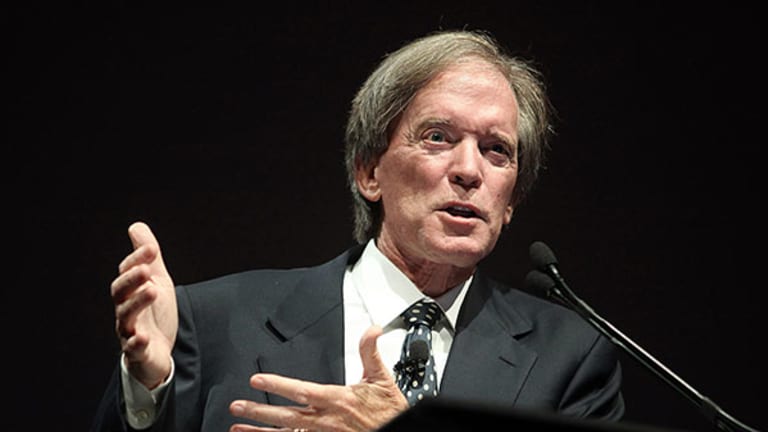 Bill Gross Says Americans Getting 'Burned Alive' by Fed Policy
Savers hoping for 8% returns on their portfolios to pay for college, retirement and vacation are drawing a fraction of that amount, says Bill Gross. The answer? Get off zero.
NEW YORK (TheStreet) -- Bill Gross disagrees with The Fixx: Americans aren't being 'Saved by Zero.' They're being burned alive by it.
The savers hoping for 8% to 10% returns on their portfolios to pay for college, retirement and vacation are drawing a fraction of that amount, thanks to interest rates the Federal Reserve has held at nearly zero since the 2008 financial crisis.
That means they'll be living with less, the Buddhist principle espoused in the British new wave band's 1983 hit, whose title Gross borrowed for his most recent investment outlook. The result, though, will be a far cry from nirvana.
"Low or zero interest rates, it seems, do wonders for asset prices and for a time even stabilize real economies, but they come with baggage," says Gross, the PIMCO co-founder nicknamed the 'Bond King,' who's now a lead portfolio manager at Janus Capital Group (JNS) . "As zero or near zero becomes the expected norm, the luggage increasingly grows heavier." 
By Gross' own admission, proving the harm of sustained low rates is difficult. In the short term, low rates encourage borrowing because the cost of money is cheap. However, while paying little to borrow is enticing, not earning interest on savings is frustrating, and it poses a problem for an aging population.
In the corporate world, even though companies are able to borrow at low rates, they often use the funds to buy back their stock, he says. That may generate more than it cost to borrow the money, but it generally doesn't yield the same long-term return as investing in research and development or upgrading factories and equipment.
It's an argument similar to the one billionaire investor Warren Buffett, the CEO of Berkshire Hathaway (BRK.A) - Get Berkshire Hathaway Inc. Class A Report, has long made against paying dividends: The money can be be better spent expanding Berkshire's own businesses or buying others.
"The developed world is beginning to run on empty," Gross says. "Investments discounted at near zero over the intermediate future cannot provide cash flow or necessary capital gains to pay for past promises in an aging society." 
Life insurance and pension funds are particularly harmed by low rates, he says.
In order to pay out benefits, insurance companies need yields of 7% or 8% a year from their stocks and bond portfolios. With bond yields compressed by low rates, the businesses must rely on stocks to produce annual returns of 10%, a difficult benchmark to achieve consistently.
While near-zero rates have certainly produced double-digit returns in the S&P 500 in recent years, the effectiveness is likely to wane.
"Don't think that those poor insurance companies and gargantuan pension funds in the hundreds of billions are the only losers," Gross adds. "Mainstream America with their 401(k)s are in a similar pickle. Expecting 8% to 10% to pay for education, healthcare, retirement or simply taking an accustomed vacation, they won't be doing much of it as long as short-term yields are at zero."
Small investors and savers are "not so much in a pickle barrel as they are on a revolving spit, being slowly cooked alive" by central bankers's reluctance to raise rates. Indeed, the Federal Reserve -- once widely expected to raise interest rates in September -- delayed action last week amid concerns that China's slowing economy would hurt U.S. trading partners, eventually crimping growth in the U.S. 
To get off the spit, Gross says the Fed should start raising rates now. "Near-term pain?" he asks. "Yes. Long-term gain? Almost certainly."