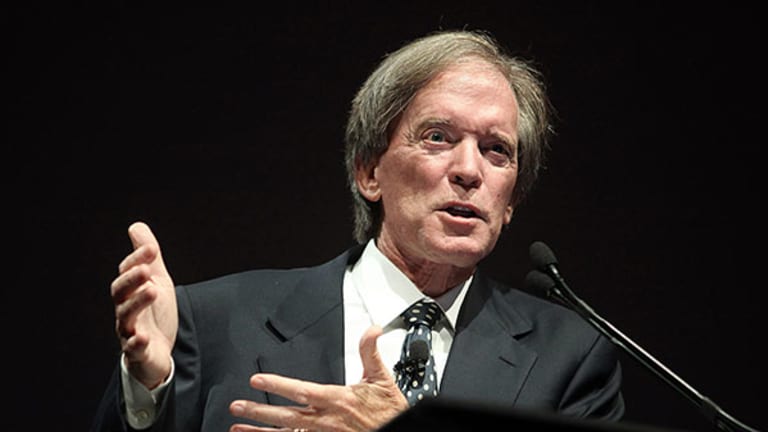 Bill Gross Discusses His Failed Basketball Career and Why He's Watching the ECB
Bill Gross is out with his monthly investment outlook and is keeping a close eye on the European Central Bank's massive $1.2 trillion quantitative easing program.
NEW YORK (TheStreet) -- Bill Gross is out with his  monthly investment outlook and in addition to giving plenty of details about his failure to make the freshman basketball team at Duke, he says he's keeping a close eye on the European Central Bank's massive $1.2 trillion quantitative easing program.
Gross, the well-known bond-fund manager who co-founded Pacific Investment Management, or PIMCO, and now is a portfolio manager at Janus Capital Management, said Europe's stimulus will keep yields in Germany low and subsequently "anchor" yields on U.S. Treasury securities, keeping them low as well.
Gross expressed caution about buying these securities, saying:
"I would not buy these clearly overvalued assets but sell 'volatility' around them, such that much higher returns can be captured if say the German 10-year Bund at 20 basis points doesn't move to -.05% or up to .50% over three months' time."
Quantitative easing typically lifts stock prices by pumping liquidity into financial markets and pushing interest rates lower. Lower rates make stocks look more attractive, as bonds become less valuable and returns on CDs and savings accounts plummet.
Gross also indicated the unconstrained funds he manages will closely follow the strategy of Bridgewater Associates, the hedge fund led by Ray Dalio that manages about $169 billion.
Gross sums up Dalio's investing strategy: "If borrowing costs center around 0% real, then assets can be cautiously levered, being cognizant at the same time of the fat tails inherent in our new world of leverage and extreme monetary policy."
The Fed is contemplating its first hike of the fed funds rate since 2006, a benchmark rate that has remained near zero since December 2008, following the financial crisis. Back in January, Gross said higher rates in 2015 wouldn't hurt stocks, but asserted that rates have been too low for too long.