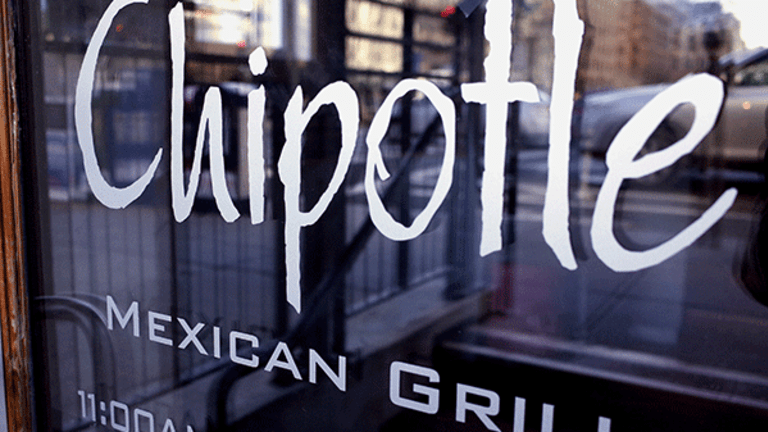 Bill Ackman Sees Healthier Future for Chipotle
Ackman's Pershing Square hedge fund is more optimistic about the fast-casual restaurant.
(Editor's note: This article originally appeared at 4:51 p.m. ET on Real Money, our premium site for active traders. To get great columns like this from Jim Cramer and other top columnists earlier in the trading day, click here.)
Despite a year of being plagued by food-safety problems, Chipotle (CMG) - Get Chipotle Mexican Grill, Inc. Report  shares could be set to take off as sales look ready to rebound, analysts with hedge fund Pershing Square said Thursday.
Pershing Square, the hedge fund managed by billionaire activist Bill Ackman, acquired its 9.9% stake in Chipotle in early September -- an investment that now represents about 10% of the capital in Pershing's main fund -- and shares have since fallen roughly 5%.
"We've had a very good relationship since we bought a stake in the company and we believe that will lead to a good outcome in this investment," Ackman said on a Thursday teleconference with investors.
Pershing Square argues that Chipotle's primary strengths include comparatively little debt-to-earnings, a "strong authentic brand," a differentiated product offering and limited global macroeconomic risk exposure -- including foreign-exchange headwinds.
Most recently, Chipotle stands to gain given its substantial tax rate of about 40%, as any cuts to Chipotle's corporate tax rate will be disproportionately beneficial to shareholders relative to peers, especially in light of Tuesday's surprise Republican election sweep, according to Pershing Square.
"Now we've always believed a good time to buy a great business is when it's in temporary trouble," Pershing Square partner Ali Namvar said on the call. "Unfortunately, the timing of Chipotle's sales recovery will be neither smooth nor predictable over the next few quarters."
Namvar added that Pershing Square has admired Chipotle's ability to disrupt the fast-food industry with a "winning blend of high-quality, declicious and customizable meals that are prepared extremely fast and at affordable price points," but that investors have yet to fairly value Chipotle since health concerns arose over E. coli cases at some of Chipotle's restaurants. 
"Despite pioneering the fast-casual industry, the company hit a significant speed bump recently," he added, referring to 2015's E. coli scare, which sent shares into a tailspin. Shares are still down roughly 46% from 2015 highs.
A Special Invitation
It's not how you voted, it's how you invest. So how can investors win in the wake of this historical election? If you're planning to be in New York on Tuesday, Dec. 6, you are invited to join senior editors from TheStreet and our special guest experts for a cocktail party and lively conversation about the outlook for the U.S. financial markets. Which companies and sectors are poised to profit? What shocks and opportunities await investors in the new year? Listen to and meet our panelists: Lew Altfest, CEO of Altfest Personal Wealth Management; Barry Ritholtz, founder of Ritholtz Wealth Management; and Larry Siegel, director of research at the CFA Institute Research Foundation, with moderator Robert Powell. This evening event is free and will be held in midtown Manhattan. Reservations are required. For more information or to RSVP, please email events@thestreet.com