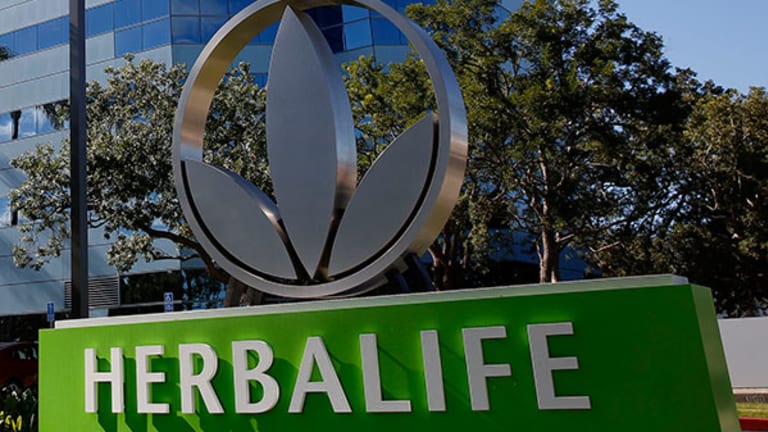 NEW YORK (TheStreet) -- Pershing Square Capital Management's Bill Ackman said on Monday he has spent $50 million to press a public relations battle against Herbalife (HLF) - Get Herbalife Nutrition Ltd. Report, after the hedge fund staked an about $1 billion bet against the multi-level supplements seller and called it a pyramid scheme.
Ackman told Bloomberg TV he's spent $50 million of Pershing's limited partners' capital to research and publicize the fund's negative views on Herbalife. Those comments come ahead of a Tuesday presentation Ackman is holding that he said "will give the market sufficient information to shut the company down."
The hedge funder also indicated to Bloomberg TV his presentation, which will be made in Midtown Manhattan at 10 a.m. ET, may expose fraudulent activity at nutrition clubs run by the company's distributors.
Herbalife Has Spent 10X Pershing in Washington
Cliffs Natural Resources Heads to Shareholders
eBay Is Smartly Treating StubHub Like Uber
Herbalife disclosed earlier in 2014 it is being subjected to reviews by the Federal Trade Commission. In April, the Financial Times reported that the Federal Bureau of Investigations and the Department of Justice were also investigating the company, however, Herbalife has said it is not aware of any ongoing FBI or DoJ inquiry. Thecompany also has vehemently rejected Ackman's assertions and indicated on Monday it will present counter-arguments to his newest presentation.
Spending is nothing new in the battle between Ackman and Herbalife. As TheStreetreported in January, Herbalife has spent nearly 10 times the money on lobbying in Washington than Pershing Square has. That is logical given the range of lobbying issues a near $5 billion revenue company like Herbalife may have. Pershing, by contrast, has focused its lobbying efforts exclusively on the  Herbalife campaign.
Interestingly, it is Pershing that may have spent more on its Herbalife PR battle. In 2013, Herbalife spent $29 million on legal work, advisory services and other expenses to respond to Pershing's allegations, and it spent a further $4.3 million in the first quarter of 2014.
Perhaps, Pershing's $50 million in Herbalife research, lobbying and publicity will finally pay off. Ackman said on Monday his newest Herbalife presentation will be the most important in hedge fund's multi-year campaign.
Some Herbalife bulls, however, aren't convinced the presentation will have an impact.
Sahm Adrangi, chief investment officer of hedge fund Kerrisdale Capital said the fund continues to be long Herbalife in spite of Ackman's presentation on Tuesday. "I doubt Ackman will show anything especially material at tomorrow's presentation," Adrangi said in an e-mail to TheStreet late on Monday.
Carl Icahn, a hedge funder whom recently reconciled with Ackman after years' of hostility, remains Herbalife's largest shareholder with an over 17% stake in the company, according to a first quarter filing with the Securities and Exchange Commission. Icahn also holds four seats on Herbalife's board of directors.
Herbalife shares fell 11.21% to close at $54.02 in Monday trading on Ackman's media appearances. TheStreet will be attending Pershing's presentation on Tuesday.
-- Written by Antoine Gara in New York