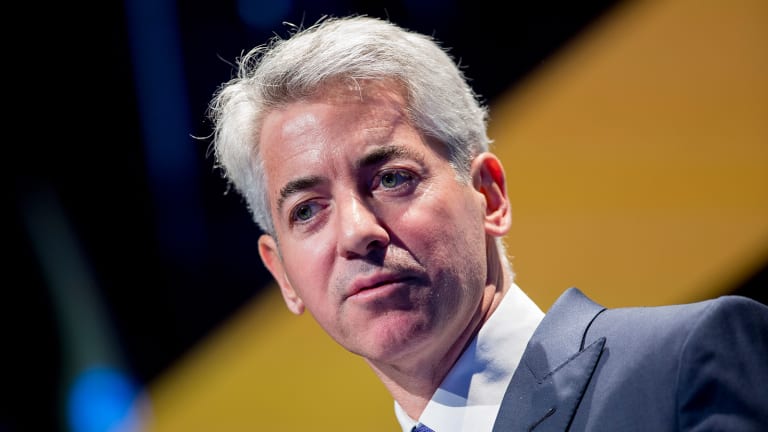 Bill Ackman's Battle to Bring Down Herbalife Hits Big Screen in New Documentary
The billionaire says he's willing to pursue his mission "to the end of the earth" despite big losses for his hedge fund.
Bill Ackman isn't giving up on his quest to bring down Herbalife (HLF) , despite the fact that shares of the nutrition-products distributor have more than doubled since he announced his hedge fund's roughly $1 billion short position in the company back in 2012.
In fact, the billionaire activist said he's willing to pursue his mission "to the end of the earth" in a new big-screen documentary, which debuted Thursday at the Tribeca Film Festival.
Betting on Zero, the new film by Ted Braun -- who had previously directed the 2007 documentary Darfur Now, illuminating the Sudanese humanitarian crisis -- recounts Ackman's more-than-three-year effort to see a collapse in Herbalife stock.
But Herbalife shares have gone up significantly since Ackman, the CEO of hedge fund Pershing Square, first revealed his massive short position against Herbalife in December 2012. The film tracks Ackman's continuing quest to prove that the company's central business equates to a "pyramid scheme."
The film opens with Ackman preparing for a July 2014 investor presentation, which he says will be "the most important presentation of my career" and that "you're going to learn why Herbalife is going to collapse."
But unfortunately for Ackman, Herbalife certainly has proven to bring Ackman and his Pershing shareholder's far less than he then confidently boasted that the stock will not go up, noting the company has become "Robin Hood in reverse."
Braun appears to share many of Ackman'sconcerns about Herbalife, with the film's tone very similar to a video Pershing Square recently released on its own website, "American Dream Denied," which shows former Herbalife distributors against ominous black backdrops and a dark music track.
Braun's take also focuses on the extreme incomes and lavish lifestyles promised to Herbalife distributors, with some flaunting Ferraris and dream houses at corporate extravaganzas, and some claiming to have made $8,000 a day as a distributor of the nutrition products. The film then tracks several low-income, largely Hispanic communities that have been hurt by Herbalife, with distributors in many cases saying they have lost their savings and friends in an attempt to climb the so-called pyramid.
Ackman's failure to realize the collapse of Herbalife is also attributed to the entrance of Carl Icahn on the stage in 2013, when the fellow billionaire bought up 13% of Herbalife's shares, candidly saying, "It's no secret I don't like Ackman. I don't like him, I don't respect him."
Icahn's bullish rhetoric, along with what Ackman views as sluggish and inadequate investigations by the Federal Trade Commission, have frustrated Ackman's plans, but Ackman said in a post-screening panel that "justice will be served."
Meanwhile, although Herbalife executives refused to take part in the film, they have over the course of the events returned fire at Ackman, calling him "a Wall Street gambler who placed a reckless $1 billion short bet," and arguing he's unfairly pressured Herbalife shares in order to make a profit for his investors.
However, as Real Money reported, federal investigations into both Herbalife's business model and allegations into whether Ackman unfairly smeared Herbalife's image seem to have come up empty-handed so far.