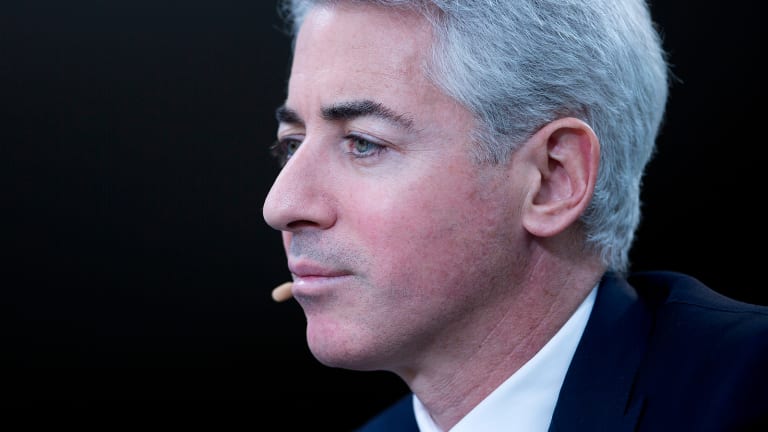 Here's How Bill Ackman Is Trying to Appeal to Big Investors In ADP Battle
Embattled billionaire activist Bill Ackman hopes his target payroll company will set up a "universal proxy card" system.
Embattled billionaire activist Bill Ackman late Friday appealed to institutional investors in his boardroom battle at Automatic Data Processing (ADP) - Get Report  by urging the payroll processor to set up an election system giving shareholders more flexibility to pick among dissident director candidates and incumbent board members.
Ackman is seeking to elect a minority slate of ADP directors at the company's upcoming annual meeting and he has been pushing the company to cut staff, integrate operations and focus more on innovation and technology.
Currently, shareholders who don't go to company meetings can vote either for director candidates offered on the activist's proxy card or on the company's card. This means they can't support only a few of the dissidents offered at the same time that they back the rest of the company's slate. Though investors attending shareholder meetings are able to make these voting distinctions, most institutional and retail investors vote remotely. Large pension funds and other institutional investors have been pushing for companies and regulators to set up a so-called "universal proxy card" system that gives investors flexibility to pick exactly the directors they want. 
"We believe that it is incumbent upon Pershing Square and the company to pursue this approach for the benefit of all stockholders who via use of a universal proxy card would be afforded the opportunity to vote for the combination of candidates of their choice," Ackman said in a statement.
The Securities and Exchange Commission, under its previous chairman, Mary Jo White, introduced a proposal that would require companies to set up such a system. However, it is unclear whether the agency's current chairman, Jay Clayton, has any interest in pushing for its adoption.
Nevertheless, companies and activists can agree together to set up a universal proxy card. In practicality, companies and activists have never reached such an agreement. In his letter, Ackman said he can't offer a universal proxy card unless the company's board nominees consent to such an arrangement.
"We hereby request that the company arrange for its nominees to provide their consent to being named in the Pershing Square proxy statement and to serve on the board if elected," Ackman said.
ADP did not return a request for comment on whether it would permit such an approach. 
More of What's Trending on TheStreet: