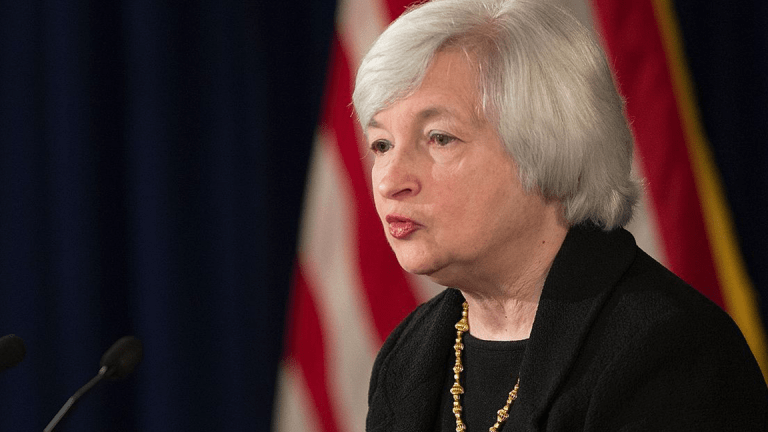 The Biggest Question the Federal Reserve Meeting Won't Answer
Speculation about who President Donald Trump might appoint as Fed chair is intensifying as the real estate mogul drops provocative hints.
Speculation about who President Donald Trump might appoint as Fed chair is intensifying as the real estate mogul drops provocative hints.
The biggest question surrounding the Federal Reserve is one today's monetary policy committee meeting can't answer.
It's whether Chair Janet Yellen will be asked to serve another term after her appointment expires in February, and only President Donald Trump knows for sure. So far, in tactics reminiscent of reality television, he has merely dropped hints about who his choice might be and when he might announce it.
The White House said last week that Trump would do so before leaving for a trip to Asia on Nov. 3. "It'll be a person who hopefully will do a fantastic job," the president said in an Instagram video. "I have somebody very specific in mind; I think everybody will be very impressed." 
His choice is a pivotal one for Wall Street, since the Fed chair plays a role in determining monetary policy as well as regulating the largest U.S. lenders. Yellen has generally supported making only moderate adjustments to the stricter rules imposed on banks after the 2008 financial crisis, a position at odds with Trump's plan to loosen regulations more broadly.
With that at stake, and the Federal Open Market Committee -- the Fed's monetary policy arm -- widely expected to leave short-term rates alone at the meeting that concludes on Wednesday, Nov. 1, the typical interest in the U.S. central bank's decisions has waned. Futures trading indicates a 99% chance that rates will remain at the 1% to 1.25% range for now, with high odds of a 25 basis-point hike in December.
"The Fed chair announcement will likely overshadow what should be an uneventful" meeting, Deutsche Bank economist Brett Ryan said in a note to clients on Oct. 27. "All eyes will be on Washington."
The White House disclosed its finalists in October, and the most recent speculation has focused on the possibility of Fed Governor Jerome Powell moving into the role of chair, Bill Stone, chief investment strategist for PNC Asset Management (PNC) - Get Report , said in a note to clients on Monday.
If Trump doesn't reappoint Yellen, Powell "would provide the highest degree of continuity to current policy," Deutsche Bank (DB) - Get Report economist Peter Hooper said in a report. "As such, markets should take a Powell announcement largely in stride, keeping financial conditions easy and providing little disruption to an economy that is experiencing solid growth."
Should Trump also decide to move another of his finalists to the Fed's board, Stanford University economist John Taylor, a monetary policy hawk, might be appointed vice chair, Hooper suggested.
While first-term presidents have typically reappointed sitting Fed chairs in recent decades -- Alan Greenspan, a Ronald Reagan appointee served throughout the terms of Presidents George H.W. Bush and Bill Clinton; and Ben Bernanke was reappointed by President Barack Obama -- Trump has shown little regard for Washington norms.
Yellen, for her part, has repeatedly declined to comment on whether she would remain as Fed chair if asked.
If Powell were appointed chair and Taylor joined him in a supporting role, he would "be guarding the chair's hawkish flank, and likely succeeding in pushing policy modestly in that direction," Hooper wrote.
Taylor had criticized the central bank for keeping policy rates too low for too long after the 2008 crisis, the economist said. Indeed, the central bank has raised interest rates only four times since the crisis, starting in 2015 when rates were nearly zero.
And an initiative to gradually pare the Fed's securities holdings, which ballooned to $4.5 trillion with securities purchases intended to buoy the economy, began just this month and will likely continue unabated, barring a significant downturn, Yellen said in September.
Adjustments to interest rates remain the Fed's preferred tool for calibrating growth, she said. In addition to the bump at the end of this year, which would take rates to a range of 1.25% to 1.5%, the central bank is considering as many as three more next year.
The pace of the Fed's actions is pivotal for banks from JPMorgan Chase & Co. (JPM) - Get Report to Citigroup Inc. (C) - Get Report and Bank of America Corp. (BAC) - Get Report , which typically boost their margins by passing increases on to borrowers more quickly than depositors.
Citigroup is a holding in Jim Cramer's Action Alerts PLUS charitable trust portfolio. Want to be alerted before Cramer and the AAP team buy or sell the stock? Learn more now.
Their interest revenue has climbed since the Fed first moved rates off the so-called zero bound in late 2015, a welcome change from seven years of crimped returns.
At JPMorgan, net interest income rose 10% to $13.1 billion in the three months through September, reflecting higher rates and continued growth in lending volumes, Chief Financial Officer Marianne Lake told investors in mid-October.
More of What's Trending on TheStreet: