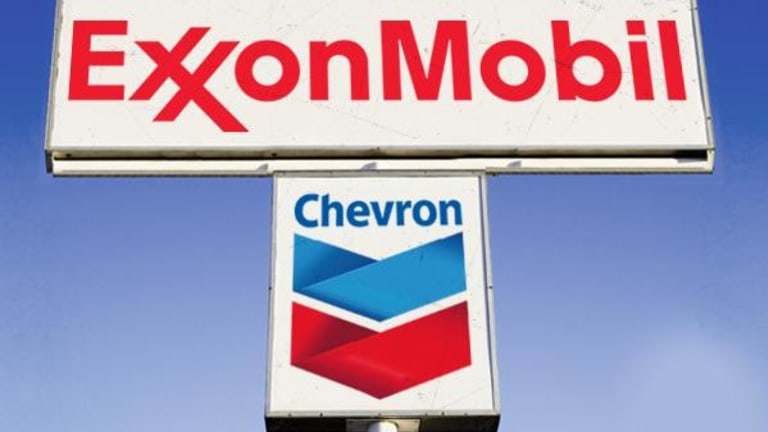 Big Oil, Big Setbacks: Avoid These 3 'Super Majors'
The numbers for companies in the turbulent energy patch don't bode well for investors.
Put aside the political noise and punditry and just focus on the numbers, especially corporate earnings reports. This rule especially applies to the turbulent energy patch, which continues to get whipsawed by rumors, hopes and fears.
Full-year 2016 earnings are now on the books for the world's largest integrated oil and gas companies, all based in the U.S. or Europe. These "super majors" are the bellwethers of the worldwide energy industry and in recent months they've witnessed their share of roller-coaster rides.
Let's take a quick look at the latest operating results of the world's three biggest energy companies, in descending order of market capitalization. The upshot from these numbers, as you'll see, is that Big Oil continues to struggle and investors should avoid the following stocks for now. There are better places for your money.
ExxonMobil (XOM) - Get Exxon Mobil Corporation Report
The world's largest oil company reported fourth-quarter earnings of $1.7 billion, a year-over-year decline of 40%. The plunge was largely caused by a one-time impairment of $2 billion. Excluding the impairment charge, fourth-quarter earnings per share were 90 cents, exceeding the average analyst estimate of 70 cents. Upstream earnings from producing oil and gas reached $1.4 billion, an increase of $528 million from the previous year.
For full-year 2016, Exxon Mobil earned $7.8 billion (which includes the $2 billion impairment), a plunge of 51% from the $16.2 billion earned last year. Cash from operations for the year was $22.1 billion, down from $30.3 billion the previous year.
For the first time in more than two decades, ExxonMobil failed to find as much new oil as it produced. The company's reserves replacement ratio for the year dropped to 67%. ExxonMobil also executed its sharpest reserves drawdown in modern history, removing 3.5 billion barrels of oil sands in western Canada from its reserves. If you're looking for growth, seek opportunities elsewhere until XOM turns around its fortunes.
Royal Dutch Shell (RYDAF)
Shell reported fourth-quarter earnings of $1 billion vs. $1.8 billion in the year-earlier quarter. The company blamed the earnings decline on lower oil and gas prices, but expenses associated with its merger last year with BG Group also played a role.
Shell's buyout of BG lifted reserves from 11.7 billion barrels of oil equivalent (BOE) at the end of 2015 to 13.2 billion BOE at the end of 2016, for a reserves replacement ratio of 208%. BG added about 2.4 billion BOE, which means without the acquisition Shell's reserves would have fallen on a year-over-year basis, as they did in 2015.
Chevron (CVX) - Get Chevron Corporation Report
Chevron whiffed on Wall Street's earnings expectations. The culprits: reduced refining margins, lower oil and gas prices, and tax charges. The company reported fourth-quarter earnings of $415 million, compared to a $588 million loss in the same period a year ago. However, EPS came in at 22 cents, far below expectations of 64 cents.
For full-year 2016, Chevron posted a loss of $497 million. Cash from operations for the year was $12.8 billion, down from $19.5 billion the previous year.
Chevron generated 2.59 million BOE per day for the full year. Total proved reserves by the end of the year were 11.1 billion BOE, for a reserve replacement ratio of 95%. Chevron spent $22.4 billion on capital expenditures last year, down from $34 billion in 2015.
After a rough year, all three companies face further dangers in 2017. To be sure, oil prices are hovering above $50 a barrel, the threshold considered to be the "break even" point for energy companies. But oil prices have been volatile and could easily plunge again on any indication of bad news.
Most analysts are calling for a market correction as well as a recession in 2017. President Trump's "America First" trade policies also could launch a full-blown trade war. In light of rising economic and geopolitical risks and in the wake of the energy sector's generally poor operating performance in 2016, your best bet is to avoid the super majors for now.
Boring, Predictable, No-Surprises Strategy Safely Generates $67,548
If big, triple-digit winners get your adrenaline pumping, then stop reading this right now. Because this probably isn't for you... Only traders who would calmly enjoy raking in an extra $67,548 with no surprises or hiccups will appreciate this strategy. In fact, over the course of 1,586 days, I've been leisurely collecting giant payouts with this boring approach. I win 8 out of every 10 trades - GUARANTEED. Click here to join me.
John Persinos is an analyst and editor at Investing Daily. At the time of publication, he owned none of the stocks mentioned.