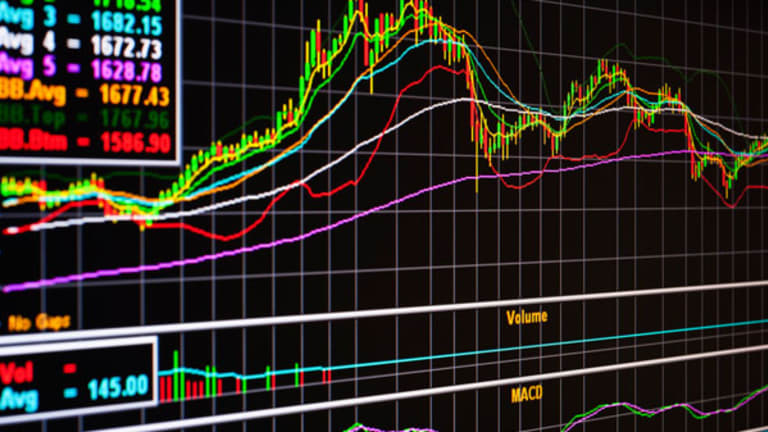 DELAFIELD, Wis. (Stockpickr) -- Small-cap stock trading is not for the faint of heart.
>>5 Stocks Set to Soar on Bullish Earnings
Trading in the small-cap universe requires one to be very flexible and able to stomach large volatility moves. Small-cap stocks tend to have lower share prices, and when a stock trades at around $1 a share, it doesn't have to move much to cause large swings from a percentage-point basis. That being said, when you find a compelling opportunity in the small-cap world, you can generate fat gains when a swing goes in your favor.
One small-cap stock that's piqued my interest here is Body Central (BODY) - Get Beachbody Report, which operates as a specialty retailer of young women's apparel and accessories in the South, Southwest, Mid-Atlantic and Midwest regions of the U.S. This is an extremely small-cap stock, with a market cap of just $19.6 million and an enterprise value of $11.7 million. This stock has been absolutely annihilated by the bears so far in 2014, with shares down sharply by 69%.
>>5 Rocket Stocks Ready for Blastoff
Shares of Body Central have been under heavy selling pressure of late after the company said it was possible it would not be able to continue as a going concern after reporting poor numbers for its year-ending quarter. Net revenue for the quarter in question dropped 18.3% to $66.2 million, vs. $81 million for the fourth quarter. Losses from operations were $26.6 million, vs. income from operations of $3.9 million for the fourth quarter of 2012. The company's gross for the quarter dropped by 45% to $13.4 million, vs. $24.5 million for the same quarter last year.
These disastrous results are putting a big crunch on Body Central's liquidity, but the company did say on its conference call that they believe they have enough cash to survive through 2014. At the moment, Body Central as $20.1 million of cash on hand, which includes $12 million drawn on a recent term loan. To put things in perspective, with shares of BODY trading around $1.18 as I type this, the stock is basically trading at par on a cash-per-share basis.
The market is pricing shares of BODY as if the company is about to go out of business soon. There's definitely a chance that that could happen, but the reason I am warming up big-time to this stock is due to the fact that some large players have started to move in at these levels. On April 4, hedge fund Lane Five Partners reported that it had taken a 7.5% stake in shares of BODY after the firm bought 1,247,000 shares. Then yesterday, mergers and acquisitions advisory firm Blackwood Capital Group reported it has taken a 5.4% stake in BODY after the firm bought 900,000 shares.
Blackwood's announcement is what has me really warming up to BODY here. It's starting to look like BODY is going to be a target for a merger or a private equity deal, since the company has fallen on hard times. I wouldn't be surprised to see more hedge funds and M&A firms taking stakes in shares of BODY in the coming weeks, considering how beaten up the stock is. Those firms might also see a silver lining in comments made by the company on its conference call, regarding its new concept store in Orange Park. Body Central mentioned that the new concept store saw as much as a 30% jump in traffic on a weekly basis. This new store format is significantly outperforming the rest of its store base, and that's something the company could really build on if it can obtain the capital to make it happen and execute more on its turnaround strategy.
>>4 Stocks Breaking Out on Big Volume
Another reason I am starting to warm up to BODY here is that the chart is starting to look very interesting from a technical standpoint. If you take a look at the chart for BODY, you'll notice that this stock gapped down sharply a few weeks ago from close to $2 a share to its low of 86 cents per share. That move has now pushed shares of BODY into extremely oversold territory, since its current relative strength index reading is well below 30. If you pull the chart back on an even longer timeframe, you'll see that BODY has absolutely collapsed from its January high of $4.36 a share. Make no mistake about it; smart funds are moving in here because they think the selling is way overblown.
Shares of BODY have now started to bounce off that 86 cents per share low, with the stock now trending at around $1.18 a share. Another key technical indicator that's starting to draw my attention for shares of BODY here is the MACD momentum indicator that's starting to trigger a bullish crossover. That MACD crossover, if it can sustain, is also happening as the stock nears a key breakout trade.
>>Chart Smarts: Trade These 5 Big Stocks for Gains in April
Traders should now look for long-biased trades in BODY as long as it's trending above some key near-term support levels at $1.10 or at $1 a share and then once it breaks out above some near-term overhead resistance levels at $1.26 to $1.31 a share with high volume. Look for a sustained move or close above those breakout levels with volume that hits near or above its three-month average action of 711,516 shares. If that breakout starts soon, then BODY will set up to re-fill some of its previous gap-down-day zone from March that started near $2 a share. Shares of BODY could even tag its 50-day moving average of $2.55 a share if that gap gets filled with strong upside volume flows.
One last reason that BODY could rip significantly higher from current levels is due to the large short interest in the stock and the very low float. Those shorts have been dead right by the way, but now might be a good time for them to think about covering. The current short interest as a percentage of the float for BODY is very high at 13.2%. That means that out of 15.99 million shares in the tradable float, 2.12 million shares are sold short by the bears.
The bottom line: Considering the improving technical picture for shares of BODY, the interest from hedge funds and M&A firms at current levels and the large short interest and small float, you need to have this stock on your trading radar for a breakout play into that gap.
-- Written by Roberto Pedone in Delafield, Wis.
RELATED LINKS:
>>5 Utility Sector Trades to Beat Wall Street
>>This Relative Strength Play Is Ready to Explode
>>5 Stocks Insiders Love Right Now
Follow Stockpickr on Twitter and become a fan on Facebook.
At the time of publication, author had no positions in stocks mentioned. Roberto Pedone, based out of Delafield, Wis., is an independent trader who focuses on technical analysis for small- and large-cap stocks, options, futures, commodities and currencies. Roberto studied international business at the Milwaukee School of Engineering, and he spent a year overseas studying business in Lubeck, Germany. His work has appeared on financial outlets including CNBC.com and Forbes.com. You can follow Pedone on Twitter at www.twitter.com/zerosum24 or @zerosum24.