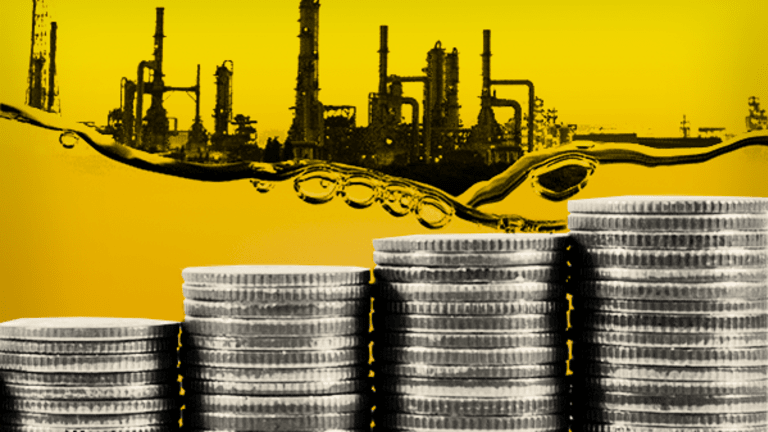 Big Banks Trim Crude Outlooks
Analysts think OPEC may just be delaying the inevitable in the face of exploding U.S. production.
Goldman Sachs on Tuesday cuts its price target for crude oil arguing that OPEC's announced production cuts would not be deep enough or sustained for long enough to offset rapidly rising U.S. production.
OPEC's announced output is expected to be about 1.8 million barrels a day below the 2016 year end levels, Reuters reported earlier.
Collective output by OPEC and other producers would be held around 1.8 million barrels per day after the cartel's agreement last week.
"While we are bullish on near-term prices as inventories normalize ... 2018-19 futures need to be in the $45-$50 range," Goldman said.
Goldman kept its Brent crude 2018 forecast unchanged but cut its outlook for U.S. benchmark WTI crude to $52.92 from $54.80 for 2017.
The OPEC ministers said they would cut supply by 1.8 million barrels a day from the market during their meeting on Thursday in Vienna. Non-OPEC exporters are also expected to participate in the cutback.
Oil prices continue to see pricing pressure because OPEC "keeps kicking the proverbial can down the road," said Chris Faulkner, CEO of Breitling Energy, a Dallas oil and gas exploration and production company. "The previous cuts have only done so much to stabilize the markets. The global supply swamp has depressed markets since 2014. The pricing outlook for oil has far more downside than upside potential."
U.S. shale producers ramped their production in 2017, "eroding" the benefits of cuts by OPEC, which refuses to slash production, even more, he said.
Analysts at JP Morgan took a bigger axe to their estimates, trimming their Brent target by $11 for 2018, to $5 from $55. The bank made a similar cut to its 2018 WTI outlook, slashing it by $11, to $42 a barrel.
"The longer-term consequences of OPEC's actions will likely prove unpleasant for the cartel's members." The report concluded.
Also, Bank of America Merrill Lynch trimmed its Brent outlook to $54 a barrel in 2017, down from a previous $61 target. For 2018 the bank expects Brent crude to average $56 a barrel versus a previous $65 estimate.